The first couple of N.H. culture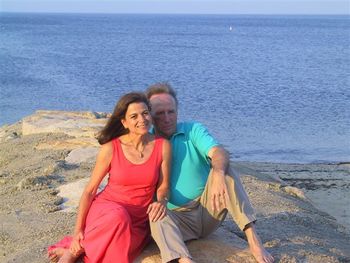 Van McLeod, New Hampshire's commissioner of cultural resources, oversees the state's divisions of the arts, historical resources and libraries. His wife, Joan Goshgarian, is executive director of the New Hampshire Business Committee for the Arts, which seeks to educate, motivate and recognize business' support of and participation in the arts. Together they are two of the Granite State's most powerful voices for culture, bringing together for-profits and non-profits to prove "ars gratia artis" makes us stronger as a state and as a people.
Q: Do you work together much? Is there overlap?
Joan Goshgarian: Not really. We have complementary fields, but I wouldn't say we work together a lot. When I have big projects at work, I think of ways that he can help me with them because he's much more performance-oriented than I am. But basically, we've carved out different interest areas.
Van McLeod: We certainly do communicate about a variety of things. I count on Joan's advice a lot on things that she has a good perspective on.
Q: Van, what's a day in your life like?
VM: For me, my major job is to try and get people to think about and talk about the value of culture in the community. In New Hampshire, we have a lot of people who are traveling on parallel roads, going 90 miles an hour, whether it's economic development or international trade, tourism – all of which we're involved with. We need to meet at the crossroads so we can start working and talking with each other. There's a much bigger bang for the buck if we work with each other.
Q: What's a day in your life, Joan?
JG: I try to structure my day either totally in the office or totally out of the office. I find I don't get as much done in the office after a long series of appointments. I can get a call about the Lawyers for the Arts program – artists seeking legal help – I assess whether that is a referral we could make. I might be asked to be a speaker for something, so I have to set up something for that. I'm the only person in my office, so I also do administrative things like get letters out from board members. I spend a fair amount of time seeking people out from businesses to be on the board of directors of arts organizations.
Q: Let's talk a little about the "creative economy." We've lost so many tech jobs, and who knows if they're coming back. Is the creative economy going to be the next big thing?
VM: Because of things like the creative economy, Richard Florida's work and others, we're all of a sudden now starting to realize the creative community has a much larger impact on who we are financially, socially and how we define our community.
I think what we're looking at is a shift in work force. We're demanding the work force to be much more creative than it was 25 or 15 years ago. Businesses are interested in folks who think creatively, whether they come from an arts background or not.
JG: I think it's interesting how the New England Creative Economy Initiative Council broke the creative economy down into creative work forces as well as by industry, and also its effect on communities. It's interesting to look at a workforce where you wouldn't necessarily think you would have creative workers and they are working in totally unrelated industries. I think separating out those kinds of areas was really helping in defining the whole movement.
But, while the creative economy and the work skills that are so similar between entrepreneurs and artists are really important, art is about humanity and that sometimes can get lost in all the conversations about economic benefits. We don't want to lose art and culture and caring in all of that.
VM: "Art for art's sake" is a valid argument. I think a lot of the economic development data was to engage those that weren't engaged. And now that they are engaged, they start to take a look at art for its own sake.
Q: What or where do New Hampshire businesses do well in supporting arts?
JG: I think because New Hampshire is a small state, there is good engagement between the arts and business. I think there are a number of New Hampshire companies that are engaged with specific arts organizations at all levels of the company, from the staff person to the executives.
VM: There are a variety of ways in which business organizations support the arts besides financially. They are printing things for them. They'll put notices in their billing. They will dedicate a certain amount of ad space to a particular cultural organization. Is there room for more? Obviously. But there are some good corporate sponsors and some incredibly caring people who understand that connection.
Q: What do New Hampshire businesses need to understand about the arts that they don't?
JG: I think that it's very difficult for businesses to understand how hard it is to get the job done when you're working for a small arts organization and you have no money — having somebody take care of printing needs or fixing your computer when it's broken. When you're working in a corporation, you just pick up the phone. You don't have that luxury at a non-profit. So not only do you have to pay for it, you have to figure out how to get it done.
VM: It's really a two-way street. Arts need to understand business as well. Businesses have perceptions that see non-profits coming to them only for handouts. The arts organizations need to help businesses understand that it's more than that.
Q: Van, what's your most pressing need right now?
VM: Time. My days are made up of things that are important and things that are urgent. Still, I've always believed you can't do anything unless you're invited to the table for the conversation. Just be careful what you ask for.
Q: What about you, Joan? What's your most pressing need?
I'd have to say my pressing need at the moment is NOT finding businesses. Of course, finding new ones is really important, but we have a really good core.
The most pressing need for me is also the time element. My board of directors and I have chosen not to become a big organization. We've chosen to remain small and work more in a consulting way on a project-by-project basis. However, the frustration comes from pulling it all together while the day-to-day stuff doesn't drop just because you've taken on a great project.
Q: If you weren't doing what you're doing, what line of work would you be in?
VM: If I wasn't working for the state, I would be producing and directing theater.
JG: My job really suits me. Actually, my druther would be not to be working, not be going to a job. But since I have to work for a living, I have the best job I could possibly have.