The curious custody battle for Skyhaven Airport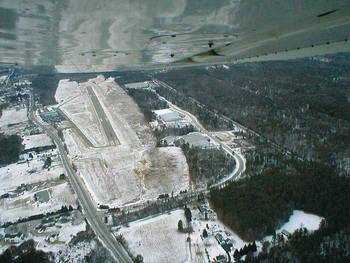 Skyhaven Airport in Rochester is typical of the state's smaller municipal airports. It has a 4,000-foot runway, more than three dozen hangars, tie-downs for planes based there, a fixed base operator and, for the first time in years, it recently began to turn an operations profit.
But what separates Skyhaven and its 140 acres from other airports is that it is the only one owned and managed by the state — and it has been involved in a relatively quiet but curious custody battle for almost a decade.
The state wants to relinquish control to the city of Rochester, which wants to take possession. But city officials are not ready to take it over until issues about the airport's future are resolved.
"Because we've talked about this for such a long time, it's been a bit frustrating because the perception out there is that Rochester has been stalling," said Kenn Ortmann, Rochester's planning and development director. "But there is no stalling. The state has been an active and constructive participant. We are being very careful because we can't take on an obligation of this type until we cover all the costs and make sure this is more financially secure."
Gov. Craig Benson made his feelings about the situation known last year, when he vetoed House Bill 724 sponsored by four Republican legislators from Rochester. The bill altered language from earlier legislation by changing the airport transfer date from July 1, 2003 to July 1, 2006. At the time, Benson said he didn't want the state to be in the business of running airports and that it should divest itself of Skyhaven sooner rather than later.
In reality, HB 724 itself and Benson's veto made no difference, because the state has management responsibility for Skyhaven until a transfer to a public or private entity actually occurs. And despite Benson's entrepreneurial inclinations, no private party is likely to take over, much less buy, Skyhaven because airport entrepreneurs are virtually non-existent, and any private company acquiring Skyhaven would be required to pay back more than $3 million to the federal government for more than $3.5 million in capital improvements made at the airport during the past two decades.
The capital improvements were made under a 90/10 funding ratio between the federal and state governments. FAA regulations call for reimbursement if the facility is no longer run by municipal authorities.
"Why the hell did I bother?" said Sandra Keans, HB 724's main sponsor who also is the chair of the Skyhaven Airport Operations Committee. "This was as non-controversial as a bill can get. I wonder if he (Benson) even looked at it or understands the situation. The state can't just walk away and dump this on the city of Rochester, and everyone knows that."
Benson's veto of HB 724 was overridden last month, and negotiations over the transfer are ongoing. What the city needs before it takes control, said both Keans and Ortmann, is completion of an airport expansion project estimated at $100,000. That project depends on a wetlands mitigation project covering 65 acres of land that will allow the airport to expand the number of hangars, tie-downs and, most importantly, expand the runway by 1,000 feet.
Bigger and better
Besides being the city's planning and development director, Ortmann is a private pilot and keeps his small, 1960s-vintage Cessna based at Skyhaven, a no-frills facility located directly off a main road into downtown Rochester.
As he took a reporter for a flight over the Skyhaven area, Ortmann said changes at the airport are necessary to insure long-term financial stability. "We have a waiting list for planes looking for hangar spots, and we need to bring the existing hangars up to code before taking over," said Ortmann.
He also pointed out a practical change that's required — one runway exit location abruptly comes off the main runway before the end. "Maybe this wasn't a big deal when the airport was first constructed, but we have a lot more traffic now, and it's not the safest to have planes use the main runway as a partial taxi area."
The reason the airport's 4,000-foot runway needs to be lengthened, Ortmann said, has to do with insurance concerns for jet planes. "Many insurance companies require 5,000 minimums for jets to land and that means we are losing out on some business — the type of business we need in the future to make the airport work financially for the city."
The state originally took over Skyhaven in 1968 because "there were no other paved runways (of this length) in the Seacoast area," said Ron Wanner, the state's aeronautics division administrator. (At the time today's Pease International Tradeport was an Air Force base.)
There are 11 general aviation airports (among 25 public use facilities) in the state, ranging in size from Manchester Airport to Keene to Berlin and Pease, which reverted to civilian municipal control more than a decade ago.
Over the years, the state has run the airport on a contract basis with local fixed base operators, or FBOs, and has overseen the construction and leasing of 39 hangars, along with extending and widening the runway. The state is responsible for a variety of maintenance duties, including brush-cutting, servicing lights and rotating beacons, repairs and snow plowing.
The city of Rochester would assume those maintenance costs, said Ortmann, and would have to hire an airport manager, or contract out the duties, to oversee day-to-day operations.
"Our goal, revenue-wise, is to take break even in the worst-case scenario and make modest profits to pay for improvements in the best case," he said.
Wanner agreed with the city's vision of how to make the airport financially viable in the long run.
"It would make a big difference if we could get more corporate use, which there isn't a lot of right now. We could tie down more planes and double the amount of hangars. It's possible up to 200 planes could be based there, but without the wetlands mitigation, it can't happen."
He added: "We know Rochester is waiting to make sure this airport is run in the black before taking over."
Turning a profit
Wanner said he understands the political difficulty city officials face in taking over Skyhaven.
"There's a sentiment out there that airports like Skyhaven are just a rich person's playground, but the airport also serves basic transportation and economic needs," said Wanner.
In particular, Wanner said, medical evacuation helicopter flights involving Frisbie Memorial Hospital, while infrequent, are important. "What is it truly worth?" he said.
According to Ortmann, the airport lends an important status to the city. "It's in the city's and region's best interests to have this airport. Cities like Keene and Concord have them, and for Rochester, it helps us distinguish ourselves economically. We also want to attract folks who do business here and the recreational flyer who come up for the day" during prime flight days in the summer and fall.
One future consideration for Skyhaven, Ortmann said, is to use some of the proposed expanded space for a restaurant or expanded amenities.
The good news of late at Skyhaven is that for the first time in many years, airport operations turned a $98,4000 profit in 2003. Both Ortmann and Wanner credit FBO Manager Glen Horn, who runs Ossipee Valley Aviation at the airport.
Horn, who signed a five-year contract in March 2001 to take over FBO duties, said his company is approaching $700,000 in annual revenues — far exceeding original estimates. Horn said his company (which has seven employees) has succeeded mostly because the airport needed a committed FBO. Horn installed 24-hour, self-service fueling capability and expanded airplane maintenance services, offering competitive rates compared to larger facilities like Pease.
A reliable FBO, Horn said, leads to more aircraft rentals: "A lot of our customers rent airplanes for business trips to destinations like New York."
Horn believes the airport's popularity will grow even more if and when proposed changes are made. "I would like to remain because I do think it has a great future."
Ortmann also is bullish about Skyhaven's future and is optimistic about ongoing negotiations with the state Department of Environmental Services, U.S. Army Corps of Engineers and local property abutters regarding the wetlands mitigation.
"It's a complicated process, and we've compiled so much information to make sure we do it right."
(The state Aeronautics Division recently released a statewide airport report assessment which can be found at www.nh.gov/dot/aeronautics/sasp/sasp-report.htm)