Tesla praises Manchester Community College's advanced manufacturing program
California manufacturer offers six students jobs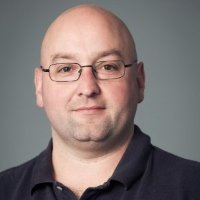 When Manchester Community College Professor and Advanced Manufacturing Department Chair Dan Larochelle saw Tesla's automotive facility in Fremont, Calif., he knew it was emblematic of the future of manufacturing and exactly what the community college wanted to replicate.
"It blew me away," says Larochelle, who was able to visit the lab two years ago.
Last month, a representative from Tesla met with Larochelle and offered six students in MCC's advanced manufacturing program a job in California. The gentleman told Larochelle that after looking up and down the East Coast, MCC was one of the only community college teaching students programmable logic controllers (PLCs), robotics, machining and the critical thinking skills that Tesla needs to grow.
"He said we have excellent lab settings, great students and are heading in the right direction at the right pace," says Larochelle.
Since Larochelle visited Tesla's lab, it has grown to three times the size, the gentleman told him. In fact, Tesla is running out of space.
Larochelle said he modeled the certificate and associates degree programs after Tesla's automated factory – "the factory of the future," as he calls it.
Within the program there are specialization areas including mechatronics, robotics and a new mechanical engineering technology focus.
With local manufacturers including GE Aviation, Macy Industries and Hitchiner Manufacturing on the program's advisory board, Larochelle often sees workers returning to school to further themselves – either gaining an associates degree or bachelors – sometimes funded by the employer.
"The opportunity this opens up is unbelievable because they'll get to the ground floor and work their way up," said Larochelle, who wants to increase outreach and promote the program to high school seniors, with his eye particularly on Manchester High School West.
As for Tesla, Larochelle expects further communication between the manufacturer and the college.
"We're looking to build a long-term relationship with Tesla because our automation technician program provides the exact skills they need for their production lines."