TechWomen to honor three women at April 4th luncheon
Meera Kurup, Edna Conway and Petra Bonfert-Taylor are the 2018 recipients of TechStudent, TechProfessional and TechTeacher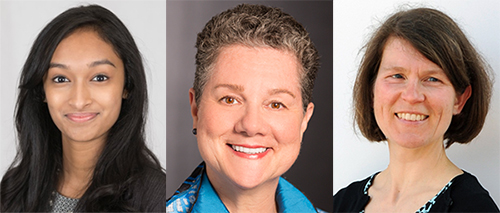 The New Hampshire High Tech Council's TechWomen|TechGirls Committee has announced the three recipients of its 2018 awards that will be honored at a special event on April 4. Three distinguished women with the designations of TechStudent, TechProfessional and TechTeacher of the Year will be honored at the annual TechWomen|TechGirls Awards Luncheon at the Bedford Village Inn on Wednesday, April 4 from 11:30 a.m. to 2:30 p.m.
The annual event honors women who work in science, technology, engineering and math (STEM) who have advanced the role of women and girls in New Hampshire's technology sector. The event also features a keynote address by Jessica Gelman, CEO of Kraft Analytics Group.
"We're so pleased to honor these three individuals. They have all made incredible strides in their fields, not only for women, but for all. They serve as role models for others who desire to have an impact on the role women and girls play in our state's continually growing and flourishing technological environment," said Shannon Herrmann, chair of the annual luncheon committee and senior recruiting manager with Alexander Technology Group.
The 2018 award winners are:
Meera Kurup is a junior at Bishop Guertin High School. Kurup is this year's TechStudent of the Year. Her interest in STEM began at a young age, leading her to join the Technology Student Association and hold several leadership roles. As a sophomore in high school, she was a recipient of the Aspirations in Computing from the National Center for Women in Technology. She used her winnings, as well as funding from the University of New Hampshire, to start an initiative called CodeIT Girls to encourage and teach young girls how to code. Kurup used her passion for volunteerism to create an application called ALZPoetry, which enables family members to record poetry for their loved ones. The app is intended to elicit old memories. The app won her the 2018 Congressional App Challenge winner in her district.
Kurup also came in third place in the TiE Young Entrepreneurs national competition. Her company, CheckUps4All, provides subscription-based diabetes and blood pressure testing in developing countries. She also represents New Hampshire in the United States Youth Senate Program, which is hosted by the Hearst Foundation. Kurup also plans on majoring in computer science and minoring in business or political science in college.
Edna Conway is this year's TechProfessional of the Year. She currently serves as Cisco's chief security officer, global value chain. In her role, she creates clear strategies to deliver secure operating models for the digital economy. Conway has built new organizations that deliver cybersecurity, compliance, risk management, sustainability and value chain transformation, and she drives a comprehensive security architecture across Cisco's third-party ecosystem. She has been recognized domestically and globally as the developer of architecture delivering value chain security, sustainability and resiliency. Conway has been featured in a range of publications including Forbes, Fortune, Bloomberg, CIO Magazine and the Wall Street Journal.
She has been recognized as a member of the Fortune Most Powerful Women community and has received a Fed 100 Award, Stevie "Maverick of the Year Award," has been named a "Machine to Machine and IOT Trailblazer," has received an SC Media Reboot Leadership Award and CSO of the Year Award. Conway's experience also includes serving on numerous boards, as well as being a partner in an international private legal practice and serving as assistant attorney general for New Hampshire.
Petra Bonfert-Taylor has been named the 2018 TechTeacher of the Year. Bonfert-Taylor is a professor and instructional designer at Dartmouth College's Thayer School of Engineering. She received her PhD in Mathematics from Technical University of Berlin and went on to hold positions at the University of Michigan and Wesleyan University before filling her current position at Dartmouth. Bonfert-Taylor is widely published and has lectured for national and international audiences. Her work has been recognized by the National Science Foundation, and she has recently designed and created a Massively Open Online Course (MOOC), and is the process of creating a seven-MOOC Professional Certificate on C-programming.
Bonfert-Taylor has received the Binswanger Prize for Excellence in Teaching from Wesleyan University and the Excellence in Teaching Award from Dartmouth's Thayer School of Engineering. She is driven by her interest in broadening access to high-quality higher education and educational innovations that aid in providing equal opportunities to students from all backgrounds.
Tickets to the April 4 awards luncheon are $45 per person. Tables of 10 are also available for purchase. All ticket or table purchases must be done in advance and are available here or by calling 603-935-8951.