TechWomen speaker addresses how to navigate a startup's challenges
SURFSET Fitness founder shares insights on forging a global brand through technology and passion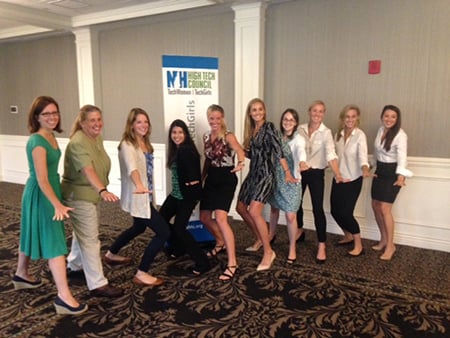 Sarah Hartwick, founder of SURFSET Fitness and the company's director of marketing, knew she always wanted to be an entrepreneur. And, with two successful surgeons for parents, the New Hampshire native grew up not knowing the difference between a "woman's job and a man's job" – a mindset that helped her, and her husband Mike, grow their surfing workout platform from a garage to a global brand.
"I never thought about whether or not I was facing sexism," Hartwick said of the fitness apparel and equipment industry that she says is largely dominated by female decision-makers. "I never wondered, 'Is this experience different because I'm a woman?' Being a woman was a strength for me in determining how to sell the product to women."
Hartwick, who shared her story at the Aug. 14 NH High Tech Council's TechWomen Power Breakfast, described the typical and not-so-typical challenges she encountered in growing SURFSET Fitness, a full-body workout done on a floor-mounted surfboard that requires balance and strength.
More than 90 women attended the breakfast meeting to hear strategies for addressing an intellectual property challenge (be your authentic self, have the superior product, and keep going), marketing (inbound marketing and find ways to have customers come to you), and other common wipeouts startups encounter from the business owner who appeared on ABC's television hit show, "Shark Tank" and earned funding from investor Mark Cuban.
The Hartwicks started SURFSET in their garage in northern New Hampshire after quitting their full-time jobs to build a prototype with materials purchased from home improvement stores and the Internet, all while bartending part time.
They began with a $5,000 investment from friends and family after realizing surfing was becoming a mainstream, cultural trend. And then they moved fast. They used an online upscale group-purchasing website, GiltCity, to sell SURFSET classes as a form of market research, created a website, analyzed and re-analyzed their sales structure and adjusted the business model to accommodate what their prospective customers wanted.
"The ability to pivot where assumptions are proven wrong is the difference between life and death for most companies," Hardwick said. "We sold out of classes before we had one board built, and that feeling from going from a bartender working on this crazy idea to having $4,000 come in in an hour forced us to get out there and get people on board."
Instead of selling the product through retail channels, SURFSET made the most sense as an offering at a fitness studio or a gym, similar to the format of spin classes. SURFSET developed an online program to train and certify instructors to teach classes with the SURFSET board, and brought on board smart, entrepreneurial-minded people as ambassadors to sell the concept and equipment to new gyms across the world.
The Internet, technology and social media were enabling tools for the Hartwicks to build awareness and brand loyalty, and their passion for the business convinced well-qualified entrepreneurs – 5,400 independent trainers now represent the brand – to jump into the water with them.
"The startup world is missing out on a lot of very talented individuals … the risk is so high, how do you convince someone to join your startup or start their own?" she said. "The rewards are absolutely there if you are passionate and you push through."
For Hartwick, pushing through meant overhauling her original vision. Now, a large portion of SURFSET's revenue comes from monthly service charges for using the training technology software rather than sales of the surfboards themselves. Marketing to fitness studio owners takes precedence over public relations efforts, but one thing that remains from the initial business vision is passion.
"Building the brand, carrying the torch of your mission – that's what's going to make you successful," Hartwick said. "A huge advantage with our state is that you can get in front of the right people through networking and knock on the governor's door. People identify not with what you do, but why you do it."