Technology, service at heart of Papergraphics' business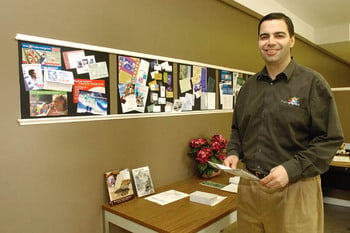 Papergraphics of Merrimack offers fast, quality printing services to the corporate marketplace through traditional offset printing, digital printing and graphic design.
"We cater to projects from the tens to the tens-of-thousands on items such as direct mail, marketing collateral, light packaging, instruction sheets, manuals and catalogs," says Papergraphics President Frank Lagana.
Papergraphics offers several printing methods. Traditional offset press uses ink on plates with heavy metal printing presses. Digital printing uses electronic files sent directly to a printer using dry ink (toner), like the common desktop printer. "However,' says Lagana, "our 'desktop' printer, the Nexpress, is 18 feet long and weighs in at almost 4,000 pounds. There is no other dry ink press like it in the state of New Hampshire and very few in the country."
The Nexpress dry-ink press produces a print quality that approaches that of an offset press, but with minimal setup time and materials, making even the shortest-run lengths feasible.
For longer runs, Papergraphics also operates a two-color and a five-color Heidelberg press.
Rapidly changing developments in print technology have created better opportunities to serve customers. Several years ago, the only choices were a small print and copy shop for simple one- or two-color print jobs or a large commercial shop requiring a minimum run of thousands of pieces regardless of how many actually needed. "We've been able to bring the two services together at our shop. There is not a business out there that cannot use or benefit from our services," says Lagana.
Lagana also prides his experienced staff for his company's success. "We have an awesome staff. I spend a lot of time in the trenches, hands on, so I surround myself with the best in the industry."
While Papergraphics has the latest advances in print technology, customer service is at the heart of what the company offers. Lagana says, "We look forward to educating and helping our customers exploit the digital advantage. We offer our customers what they want, when they want it and we make it as easy as possible."