Tech Tidbits From Around New Hampshire
Neoscope ranked in MSP 501 list, UNH seeks businesses for internship programs ... and more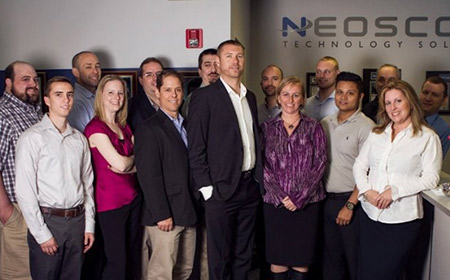 Neoscope, a Portsmouth-based IT managed services provider, has been ranked among the top 501 Global Managed Service Providers by Channel Futures in its 11th annual list. The MSP 501 is the largest and most comprehensive ranking of managed service providers worldwide.
University of New Hampshire's Peter T. Paul College of Business and Economics is developing a Business in Practice (BiP) program to provide students with hands-on learning opportunities and is looking for employers to participate. For more information, click here.
Last week, Senators Jeanne Shaheen and Maggie Hassan introduced the STOP ACT with Senator Jon Tester (D-MT) to overturn the Supreme Court's decision that will force New Hampshire businesses that sell online to collect sales taxes on behalf of the more than 12,000 state, county and city tax jurisdictions across the United States. Earlier this year, Shaheen and Hassan introduced legislation opposing the Marketplace Fairness Act, which would have imposed a mandatory internet sales tax collection requirement. In April, Shaheen and Hassan joined a bipartisan, bicameral group of members of Congress to file an amicus brief in the South Dakota v. Wayfair case, in opposition to South Dakota's argument.
The Greater Manchester Chamber of Commerce, Greater Concord Chamber of Commerce and the Greater Nashua Chamber of Commerce have opened registrations for exhibitors for the 2018 Tri City Expo on Thursday, September 27. For more information, visit http://tricityexpo.com/.
The Peter T. Paul College of Business and Economics at the University of New Hampshire is seeking businesses within an hour's drive of the Durham campus to host interns during the fall semester. The internships are part of an entrepreneurship internship course, offered only to students in their senior year who have an interest in gaining experience in a variety of areas including marketing, sales, real estate, finance, management, information systems, business analytics and new product development.
The students are required to work eight to 10 hours per week for 13 weeks, starting the week of Aug. 27 and ending the week of Dec. 3.
The internships will be unpaid, but participating companies must pay a fee ranging from $500 to $750 per student intern based on the distance from Durham, to offset some of the students' travel expenses and administrative costs associated with the program. The fee is collected toward the end of the semester.
The company supervisor will also be required to complete a mid-term and final evaluation of the intern's performance. In addition to on-the-job experience, company supervisors will be encouraged to mentor the students, answering questions and helping them gain insight from other business professionals about their experiences in the business world.
For more information, contact Laura Hill at 603-862-3341 or laura.hill@unh.edu.
University of New Hampshire's Entrepreneurship Center is seeking nominations for its Alumni Entrepreneur Hall of Fame. The Hall of Fame is newly formed, so the winner will be the first inductee. Nominations are due Wednesday, August 1. Click here for more information.
The BioTech/MedTech Cluster, an initiative of the New Hampshire High Tech Council, will host its networking event, the Millyard Mingle, on Thursday, August 16 from 5:30 to 7:30 p.m. at the Manchester Historic Association's Millyard Museum, located at 200 Bedford Street in Manchester. The event will focus on how the city of Manchester has adapted and transformed throughout history, including once being a textile mill town to today's innovation hub, filled with Fortune 500 companies, start-ups, rapidly growing companies and top institutions of higher education. Registration is available here or by calling 603-935-8951. Tickets are $15 for Council members, $25 for not-yet-members, $10 for students, and include light refreshments.
The Chamber Collaborative of Greater Portsmouth is seeking nominations for Big Business of the Year, Small Business of the Year, Collaborator of the Year, Citizen of the Year and Volunteer of the Year. All of the awards will be given out during street.life! 2018. Nominations can be emailed to valerie@portsmouthcollaborative.org. For more information, click here.