Tech Tidbits From Across NH
LeBlanc gets more national recognition, Dartmouth's virtual player … and more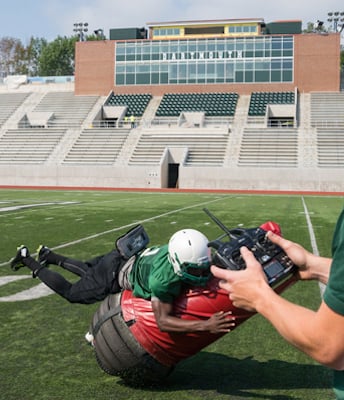 Paul LeBlanc, president of Southern New Hampshire University, has been named as one of "America's Ten Most Innovative College Presidents" in an article in Washington Monthly magazine.
LeBlanc was praised for his efforts to reduce the cost of a college education, most prominently the launch of SNHU's online College for America, which offers the first fully accredited $10,000 online bachelor's degree program. "It's an attempt to bridge the gap between academic study that most colleges cherish and the vocational training that employers are calling for," said the magazine.
More than 100 Granite Staters gathered at Alpha Loft in Manchester on Aug. 6 at NH Innovation Nights: Focus on Clean Energy, co-hosted by NH Innovation Nights and Environment New Hampshire.
Ten New Hampshire businesses with innovative made-in-state solutions driving reductions in carbon pollution were featured at the event. Attendees talked with the exhibiting companies and heard short "pitch" presentations from LighTec, Anar Solar, HeetMeter and Ground Energy Support.
The crowd voted Revision Energy as their favorite exhibitor. In second place was Anar Solar; Therma-Hexx took third place.
The event was sponsored by the NH Clean Tech Council, Alpha Loft, Milly's Tavern and The Bridge Café, and was presented in partnership with NH Sierra Club, League of Conservation Voters, Union of Concerned Scientists, Climate Reality, National Wildlife Federation and Mom's Clean Air Force.
Bedford-based Kentico Software has reported another successful quarter in which the company saw significant gains across North America, Europe, the Middle East, Africa and the Asia-Pacific region.
Among the achievements, the firm said, was the addition of new customers BTG International and Lockton Affinity.
The firm also added six European clients, including CarPhone Warehouse, the British mobile phone retailer; HMV Retail, the British entertainment retailing company; KBC Bank of Ireland; Sazka, the largest lottery in the Czech Republic; Ysoft, an Eastern European software company; and the UK's Music Publishers Association.
The Dartmouth College football team has unveiled the first robotic mobile tackling dummy. Developed at Dartmouth's Thayer School of Engineering, the wheeled, self-righting, remotely controlled Mobile Virtual Player (MVP) simulates a football player in size, weight and agility, allowing players to make full contact while minimizing head and neck injuries.
Big Green head coach Buddy Teevens said he expects the MVP will reduce injuries and give all of his players virtually unlimited practice time on the field.
John Currier, a research engineer at Thayer, has worked with Elliot Kastner, a former defensive tackle, and other Thayer students to develop the prototype.
The researchers have a patent pending and are developing a business plan with the Dartmouth Entrepreneurial Network. Plans call for the MVPs to be marketed to pro, college, high school and youth teams in the near future.