Tech Tidbits From Across New Hampshire
TechWomen Power Breakfast: networking, Merrimack County Savings aids MakeIt Labs … and more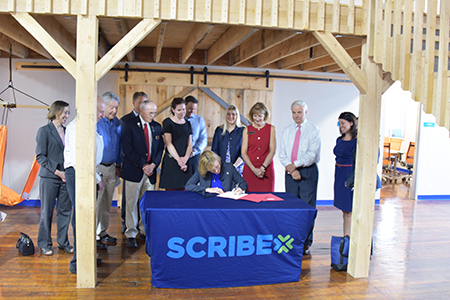 The NH High Tech Council's next TechWomen Power Breakfast will focus on networking "do's and don'ts," how to prepare for networking events, how to practice your "pitch" and suggestions for effective networking strategies.
The interactive program will include a panel of three speakers: Heather Ladue, managing director of Patina Solutions; Shannon Hermann, recruiting manager at Alexander Technology Group; and Deborah McLaughlin, a certified executive coach.
The breakfast runs from 7:30 to 9 a.m. Wednesday, July 13, at the Manchester Country Club in Bedford. Tickets are $10 for members and $20 for others.
To register, visit nhhtc.org or call 603-935-8951.
Scotia Technology, Laconia, is hosting the WinnAero ACE (Aerospace Career Education) Academy in July. Students and staff of the academy will be visiting Scotia to learn about the manufacturing of complex tubular assemblies for use in the aerospace industry.
Retail Control Systems, Enfield, has entered into a partnership with point-of-sale software developer Toast, which company provides an integrated platform for complete restaurant operations management. RCS specializes in retail management software and hardware solutions.
Concord-based Merrimack County Savings Bank has pledged $10,000 to MakeIt Labs of Nashua through the NH Community Development Finance Authority tax credit program. The pledge supports MakeIt Labs' efforts to renovate the second floor of the former Gregg & Son Nashua millworks building for a technology-focused co-working and business incubator space to help start-up companies.
Hanover-based Hypertherm has released its annual Corporate Social Responsibility report, measuring 2015 progress on Hypertherm's social and environmental goals The company reports an increase in hours spent volunteering, success engaging more students in STEM fields, the opening of a regional recycling center and the hosting of Hypertherm's first Supplier Sustainability Summit to discuss shared challenges and best practices.
After more than five years as dean, Samuel Mukasa is leaving UNH's College of Engineering and Physical Sciences to join the University of Minnesota as dean of science and engineering.
He will be succeeded on an interim basis by Charles "Chuck" Zercher, who's currently associate dean. Zercher has agreed to serve as interim dean for one year.