Tech Tidbits From Across New Hampshire
Hyndsight Vision Systems recognized by Entrepreneur magazine, deadline for early bird rates approaches for BIOMEDevice ... and more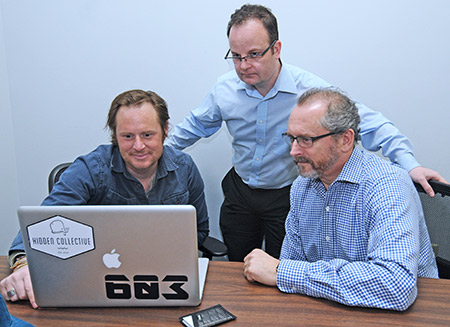 Hyndsight Vision Systems, a Peterborough-based vision technology company, was recently recognized as one of the "Best Entrepreneurial Companies in America" by Entrepreneur magazine's Entrepreneur360 List, a premier study delivering the most comprehensive analysis of private companies in America. Based on this study forged by Entrepreneur, Hyndsight Vision Systems was ranked 236 out of 360 companies, and is recognized as a well-rounded company that has mastered a balance of impact, innovation, growth and leadership.
Last month, Globe Manufacturing Company in Pittsfield, NH, DuPont Protection Solutions and the National Volunteer Fire Council awarded state-of-the-art turnout gear to volunteer fire departments including Buffalo Fire Department in Kentucky, the Cherokee Volunteer Fire Department in Alabama and the Pulaski Township Volunteer Fire Department in Pennsylvania. A total of 52 sets of turnout gear were distributed to 13 departments in 2017.
Alpha Loft is accepting applications for its accelerator program, Accelerate NH, through Sunday, Jan. 14. Accelerate NH is a free 3-month program that will take a small batch of startups through an aggressive program to iterate through their business and product hyothesis to identify what works, and grow. The 2018 cohort will run from late February through late May. Early stage startups in NH are encouraged to apply.
Early bird rates for this year's BIOMEDevice end Friday, Jan. 5. BIOMEDevice is an annual conference presenting the latest trends in medical and bioengineering equipment. The event will be held April 18-19 at the Boston Convention & Exhibition Center.
Grafton County businesses and entrepreneurs are encouraged to utilize available resources for free one-on-one business advising. The Grafton Regional Development Corporation has developed a distinguished network of partners with specialized economic development organizations and programs in order to help Grafton County's businesses succeed. If you need assistance starting, managing, or building your business, contact the Grafton RDC at 603-536-2011 or email Scott.Stephens@unh.edu to set up an appointment.
NHADEC (the New Hampshire Aerospace and Defense Export Consortium) has partnered with the State of New Hampshire Office of International Commerce and the U.S. Commercial Service to provide businesses the opportunity to participate in a shared booth space in the U.S. Pavilion at The Farnborough International Airshow. The Airshow will run July 16 – 22, 2018. For more information about exhibiting and pricing, contact Nathaniel Nelson at Nathaniel.Nelson@livefree.nh.gov.
For defense contractors and subcontractors, the cybersecurity requirements of DFARS 204.73 and the clauses at 252.204.7008, 7009, and 7012 have gone into effect as of the end of the year. For more information about being compliant, courtesy of the state's Division of Economic Development, click here.
The Wicked Good Web husband-and-wife team will be presenting methods and tools regarding "Getting Your Business on The Web," on Tuesday, Jan. 16 from 9 – 10:30 a.m. at the Enterprise Center at Plymouth. If you provide your business name and URL when registering, Wicked Good Web will even take a look at your web presence before the seminar and have feedback specific to you. For more information, or to register for the free event, click here.
New Hampshire employers will receive much-needed investments in workforce skills training as a result of grants announced by the New Hampshire Department of Business and Economic Affairs. The public-private Job Training Fund investments will result in over $400,000 to be used for skills enhancement training for over 800 New Hampshire workers.
Grants were awarded to:
D. Bean & Sons Co., of Jaffrey; $1,940 to train 10 employees in intermediate and advanced Quickbooks, and intermediate/ddvanced Microsoft Excel, at Nashua Community College;
L. King & Associates of Nashua; $982.50 for one employee to obtain a construction superintendent certification from the New Hampshire/Vermont Association of Builders and Contractors;
WH Bagshaw of Nashua; $1,500 to train 10 employees in GDT/blueprint reading at Nashua Community College;
Benchmark Senior Living LLC, with five facilities in New Hampshire; $46,900 for 45 workers to receive LNA training from LNA Health Careers; medication nursing assistant training from Manchester Community College, and training in quality service, quality excellence and business excellence from the Disney Institute;
Northeast Delta Dental of Concord, $7,500; Red River Computer Co., of Claremont, $7,500, and Mascoma Bank, $9,750, for training a total of 10 employees in the University of New Hampshire's New Level Leadership Consortium Program.
Vapotherm Inc., of Exeter; $60,000 for training 100 employees at Nashua Community College in Lean Process Improvement; injection molding; quality-risk project management; customer service, and management and leadership practices;
Lindt & Sprungli USA of Stratham; $65,950 for 626 workers to participate in the Train the Trainer program and English as a Second Language, both at Great Bay Community College; the mechanics training program at Scientific Management Technologies; Ametrol eLearning with Technical Education Products Inc., and power lift training by Safe Lifting Techniques.
For more information about the New Hampshire Job Training Fund, visit nhjobtrainingfund.org.