Tech Tidbits From Across New Hampshire
Worthen Industries completes 80,000-square-foot rooftop solar panel array, Sen. Ayotte joins Cirtronic's board of advisors ... and more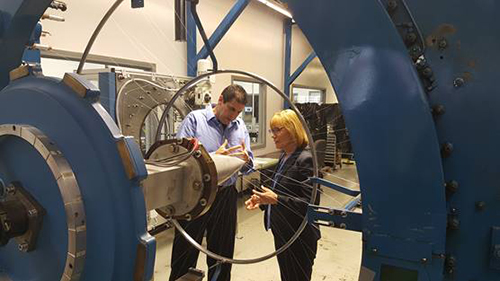 During Monday's visit to Washington, D.C., Gov. Chris Sununu met with FCC Chairman Ajit Pai to press him on the state's need for expansion of high-speed internet access, particularly in its more rural regions. Sununu followed up with a letter to Pai on Tuesday, calling for more investment from the Universal Service Fund to finance broadband expansion in New Hampshire.
Worthen Industries, Inc., a manufacturer headquartered in Nashua, has completed a 1 megawatt solar photovoltaic installation at its 34 Cellu Drive facility in Nashua. The project includes 2,710 LG high-efficiency PV panels on 80,000 square feet of roof and is deemed to be the largest rooftop solar panel array in
the state. The solar PV system will produce approximately 1,222,000 killowatts an hour annually, which equate to about 50 percent of its operational electricity requirements at the manufacturing location. Worthen is currently evaluating the feasible of solar projects at two other company manufacturing locations, the Spit Brook Road facility in Nashua and our Richmond, Va., facility.
The New Hampshire High Tech Council appointed three new members to its board of directors. Colleen Cone, Mike Decelle and Gary Sloper will each serve a three-year term. Cone is vice president of talent and culture at Skillsoft. She previously spent five years managing human resources function at Dyn (now Oracle). Decelle became dean of University of New Hampshire Manchester in 2016 after a 35-year technology career as an engineer, corporate executive and startup CEO. He also serves as the chief workforce officer for the Advanced Regenerative Manufacturing Institute. Sloper runs the Global Solution Design and Customer Success for Oracle. He previously was the area vice president of sales engineering and sales operations for CenturyLink, where he ran a 200-person organization supporting $1.5 billion in revenue for its cloud and managed services business.
Last week Senator Maggie Hassan visited Manchester-based engineering firm Mentis Sciences to highlight her commitment to supporting innovative businesses and building a stronger workforce to boost economic development in New Hampshire. Mentis Sciences manufactures innovative products to support the Department of Defense and provides a comprehensive internship program that focuses on engaging young Granite Staters in the STEM fields.
Former Senator Kelly Ayotte has joined the board of advisors at Cirtronics, an employee-owned manufacturing company in Milford. Ayotte has been recognized as an advocate for employee ownership, receiving the 2013 Employee Stock Ownership Plan (ESOP) Advocate of the Year Award by the ESOP's Association New England Chapter.
Helix Design, Inc., a full-service product development firm based in Manchester, has announced John Dalessio, Jr., has joined its newly formed Relationship Management Group in the role of business development. Dalessio is returning to Helix after working in other business development roles.
ProPhotonix Limited, a high technology designer and manufacturer of LED illumination systems and laser diode modules based in Salem with operations in the U.K and Ireland, announced it has delivered more than 50,000 laser modules for use in 3D printers and 3D scanners. Laser diode modules can be utilized in a number of ways in 3D printing applications including 3D scanning. ProPhotonix has designed custom laser modules for the stereo lithography 3D printing process, also known as additive manufacturing.
Alpha Loft raised $2,010, just above its goal, during NH Gives on June 7. The funds will be used to purchase equipment to livestream and record Alpha Loft's events.
The 2017 Gateway Hills Summer Concert Series — a free series of summer concerts at the Outdoor Ampitheater at 100 Innovative Way in Nashua — will feature the Brickyard Blues Band on Thursday, June 29 from 5:30 to 7:30 p.m. More information can be found here.
A free workshop providing an overview of the GSA Schedules application process will held on Friday, June 16 from 9 to 11:30 a.m. at Nashua Community College. The Schedules program is an expedited method of procurement used by all government agencies. The seminar will discuss both the advantages and disadvantages of being on a GSA Schedule. To register for the workshop, click here.
The DFARS Cybersecurity Conference will be held on Thursday, June 29 from 8:30 a.m. to noon at Nashua Community College. The conference will focus on compliance with the DFARS Cybersecurity requirements, which have been on the books for several years, but have an implementation deadline of December 31, 2017. Companies at any tier in the defense and homeland security supply chain should attend. More information and registration can be found here.
Nashua-based Plexxi, a provider of hyperconverged network infrastructure for public and private cloud deployments, has released new Switch 3eq Ethernet switches and updated versions of Plexxi Control and Plexxi Connect software. The new products will make it easier for products using Nutanix Integration Pack to create a single solution to streamline datacenter operations and consolidate IT assets.
"Facebook Advertising: Be where the eyeballs are," a free seminar offered at the Enterprise Center at Plymouth, will take place on Thursday, July 13 from 9 to 10:30 a.m. More information can be found here.
The U.S. Congress has passed the Streamlining Energy Efficiency for Schools Act of 2017 (H.R.627), a bill co-introduced by Congresswoman Carol Shea-Porter (NH-01). If passed by the Senate, the bill would amend the Energy Policy and Conservation Act by directing the Department of Energy's Office of Energy and Renewable Energy to establish a clearinghouse for disseminating information regarding available programs and financing mechanisms that may be used to help initiate, develop, and finance energy efficiency, distributed generation, and energy retrofitting projects for schools.
ARRIS, Calix, Huawei, Metanoia, Nokia and Technicolor have worked with the Broadband Forum and University of New Hampshire Interoperability Lab to achieve the Gfast Device Certification. The announcement of the certification follows the continued success of UNH-IOL's Gfast Chipset & System Integrator Interoperability Plugfests – held in conjunction with the Broadband Forum – where engineers from 12 member companies continued testing the latest advancements to the ITU-T specifications and their Gfast products. The first set of certifications include products based on chipsets from Broadcom, Metanoia and Sckipio, ensuring service providers will have choice of products, form factors, and features. The full list of certified devices is available on the Forum's public site Gfast certification page, which will grow over the coming months, as additional certifications are achieved.