Teaming up on a pilot pipeline
NH aircraft company partners with nearby flight school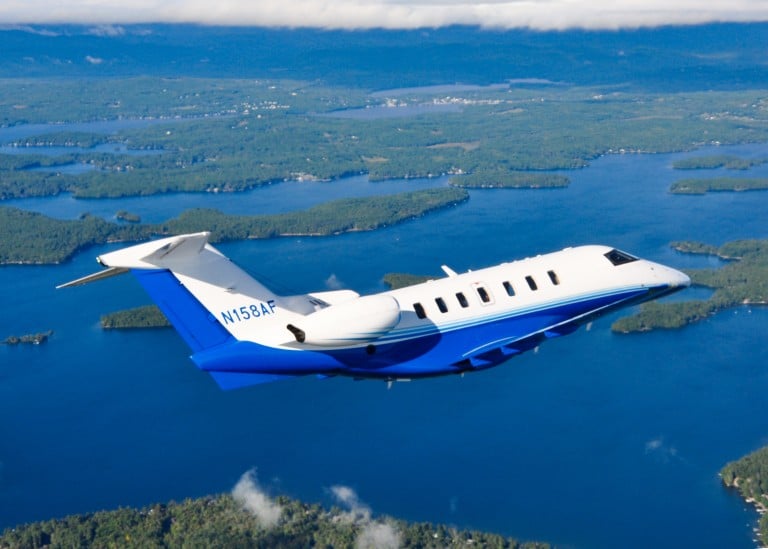 PlaneSense and CHI Aerospace are neighbors at the Portsmouth International Airport at Pease. PlaneSense, at 115 Flightline Rd., is a provider of fractional aircraft ownership and private flight. Less than a half mile away is CHI Aerospace at 58 Durham St., a flight school for budding pilots.
The two Pease International Tradeport businesses now share a partnership — they offer a path for CHI students who advance to the level of licensed flight instructors to become PlaneSense pilots.
PlaneSense has had existing relationships with such flight academies as Embry-Riddle Aeronautical University in Florida. But it saw an opportunity closer to home, according to Kevin Gordon, vice president of flight operations at PlaneSense.
"In seeing the great product that CHI was putting out with their instructors, and the familiarity that we have here at the Tradeport, it just seemed like a match made in heaven," said Gordon.
"We approached them about establishing a relationship, and they were excited about it," added Gordon. "It helps them attract talent as well. It allows them to be able to tout a common sense progression in a pilot career right here without having to move."
CHI was opened in 2017 by Chris Hosford, founder of CHI Engineering Services, as a way to give back to flying — something inspired by an uncle who flew fighters during World War II.
"CHI Aerospace looks forward to a long and successful relationship with PlaneSense, and cannot wait to see where this opportunity will take our aviators," Hosford said in a statement announcing the partnership.
With 50 Pilatus-made airplanes — nine jets and 41 prop-drive — PlaneSense likes to keep a roster of five pilots per plane. That's 250 pilots. It currently has a headcount of about 200, according to Gordon.
The market for pilots is very competitive right now. Estimates in the commercial flying industry put the current deficit of pilots at about 8,000 right now, or 11 percent of the total workforce. The shortfall could reach 30,000 pilots by 2025.
To attract pilot candidates, Gordon said PlaneSense is touting not only compensation and benefits but work culture as reasons to come work for them.
"We want to make this a career place, so we're super competitive with our compensation," said Gordon. "When I look at the levers that we're pulling in order to stay competitive, it's a fantastic culture, we fly terrific airplanes, and we hire terrific people."
……….
PlaneSense was founded by George Antoniadis in 1992 as Alpha Flying Inc., changing its name in 2012 to PlaneSense. Originally based in Norwood, Mass., it provided rental and management of high-performance, piston-and-turbine-powered general aviation aircraft.
In 1995, the PlaneSense program of fractional ownership was created with the first Pilatus PC-12 propeller-driven planes delivered in 1995. With fractional plane ownership, multiple owners share the cost of purchasing, leasing and operating the aircraft. Owners are allocated time on the airplane, flown by PlaneSense pilots, based on the size of their share.
In 1998, the company moved to a facility at Nashua Airport, then in 2000 relocated to a facility at Manchester-Boston Regional Airport. In 2007, it moved to a new custom-built facility at the Tradeport, along the airfield apron of the Portsmouth airport with a 40,000-square-foot hangar and 62,000 square feet of corporate space that includes pilot training and flight operations.
The PC-24 jets came into service in late 2017, having what Antoniadis described at the time as "faster, longer legs."
CHI Aerospace, which has expanded its school to the airport in Biddeford, Maine, uses the Van RV-12 as its primary teaching aircraft. CHI describes it as "a fun airplane to fly and great to learn in."
It offers instruction on various levels of licenses: sport pilot, private pilot, instrument pilot, commercial pilot and flight instructor. Each requires different levels of instruction, instrument proficiency and flight hours.
In its announcement about the program, CHI said: "PlaneSense recognizes the quality of training that CHI provides and the pilots our programs produce. Through this partnership, we are now able to offer a pathway opportunity from Private Pilot to PlaneSense."
At a minimum for PlaneSense consideration, a CHI student needs an instructor-level certification, according to the partnership agreement.
"With CHI, our requirements for one of their pilots to be considered is that they have to have 820 hours of total flight time. They must be recommended by the manager over there," said Gordon. "And they have to have an appropriate medical certificate, which is a first- or second-class medical."
If they are hired by PlaneSense, the company has its own training program that the candidate must then complete.
"We have a two-week ground school, then we have a week in a flight training device and then another week in a full motion simulator that provides another level of training," said Gordon. "Then they're out with an instructor on the line. Our training is very, very robust. When these pilots fly in our program, they're ready to go because of that rigorous training we provide."
It's the same rigorous training for all pilot candidates, no matter where they come from.
"Our screening and hiring processes are going to remain stringent because it's what our clients expect and demand. It's a non-negotiable. We'll never sacrifice safety," said Gordon, who joined PlaneSense as its vice president of flight operations about four years ago after retiring from the U.S. Air Force as a colonel.
An additional level of training and licensing, called Airline Transport Pilot (ATP), is needed to fly the PC-24 PlaneSense jets.
While the Covid pandemic hurt commercial airline travel, it spurred more interest in the kind of private air travel that PlaneSense provides. People have more control over their environment and who they're traveling with, important considerations given the highly contagious nature of the virus.
"Our demand really dropped off; nobody was traveling," said Gordon, recalling the early days of the pandemic. "After probably a couple of months, after the initial shock of Covid, our demand really picked up."
"We've been very, very aggressive in hiring and establishing these relationships like the one we have with CHI, and making sure that we hire quality candidates," added Gordon.
"Having that relationship allows us to vet pilots a little earlier in the process. It's worked out; we've hired five instructors over the last year from CHI right here in New Hampshire."