Tax incentive doing its job by saving barns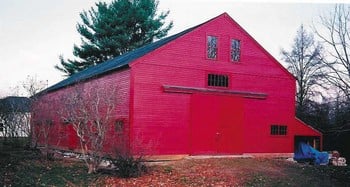 A tax incentive in effect since spring that's aimed at preserving barns around the state has been twice as successful as advocates had hoped.
According to data from the state Department of Revenue Administration, coupled with anecdotal evidence, barn preservationists have employed the tax break in some 40 municipalities across the state.
Described as an "innovative tool for addressing the threats to New Hampshire's barns" by Jennifer Goodman, executive director of the New Hampshire Preservation Alliance, the tax break is modeled after the state's open space discretionary easement program. The barn tax incentive (RSA 79-D) authorizes towns to grant property tax relief to barn owners who can show the public benefit of preserving their barns or other old farm buildings while agreeing to maintain their structures through a 10-year renewable easement.
In return, the local board of selectmen or city council sets the amount of tax relief within a range of a 25 percent to 75 percent reduction of the full assessed value of the building. The assessment will not increase as a result of maintenance or repair work performed while the easement is in effect.
The town of Hampton leads the state with nine easements to date. Lyme also is considered a trailblazer, with a system in place for reviewing applications that has been shared with other communities around the state.
"This is a great start," said the bill's lead legislative sponsor, state Rep. David Babson, R-Ossipee. "Laws that are left to the discretion of municipalities are often slow to get going."
The barn preservation legislation grew out of more than two years of work by concerned citizens, non-profit organizations, state agencies and legislators.
"Many barns are being demolished or are not maintained because of the adverse impact of property taxes," said Carl Schmidt, chair of New Hampshire's Historic Agricultural Structures Advisory Committee, "but this measure gives local authorities ways to encourage these important parts of New Hampshire's heritage."
For more information, contact the New Hampshire Preservation Alliance at 224-2281 or visit nhpreservation.org.