Tank put in at Superfund site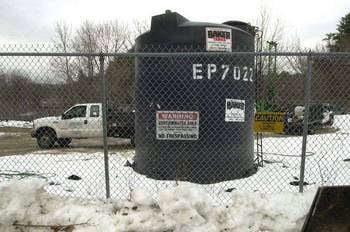 MILFORD – Fourteen years into the process of cleaning up the Fletcher's Superfund site, the program has its most visible marker since the old paint factory was torn down: A 6,000-gallon tank for holding dirty water.
Subcontractors hired by Syracuse, N.Y.-based engineers Blasland, Bouck and Lee Inc. arrived at 39 Elm St. late last week and installed the tank before beginning to drill monitoring wells and take soil and water samples.
"The information gathered will provide engineers with the necessary information to develop a remedial design. We are scheduled to submit those results (to the Environmental Protection Agency) in June 2004," said Jonathan Klein, spokesman for General Electric, which is bankrolling most of the work.
It is unclear when the actual cleanup will begin, because details about the process are still being hashed out between GE and the EPA.
The tank, which sits alongside the chain-link fence that has surrounded the site for two years, will hold water used or pumped out of the ground during the tests, Klein said. The water will be carried away and disposed of properly before the cleanup begins.
The Fletcher site has a long history of use leading to pollution: as a burning dump for the town in the early 1900s, then as the site of Fletcher's Paint Works from 1949 to 1989, when it was put on the Superfund list. Industrial solvents of all types were dumped into the ground over the years and polluted a nearby well that once provided a third of the town's drinking water.
GE has been found liable for most of the cleanup because it made the solvents, particularly PCBs, that caused the pollution.
For several years the Fletcher's factory held the Milford Consignment Outlet. It was torn down in 2000, and the lot has been chained off ever since.
The most likely cleanup plan is that GE will build a small factory on the site to "bake" pollutants out of tons of contaminated dirt at the 1.7-acre Elm Street site, plus a much smaller site on nearby Mill Street, before replacing the dirt in the ground.
This would cost at least $14 million and take at least a year, and would be followed up lengthy water cleanup similar to that happening at Milford's other Superfund site, the OK Tool location at the west end of Elm Street.
Eventually, the site, which is adjacent to a cemetery and the Korean War monument, will become a parking lot or a small park.
Plans for the cleanup are available for viewing in the Milford Public Library.