Taking the pulse of New Hampshire's health care industry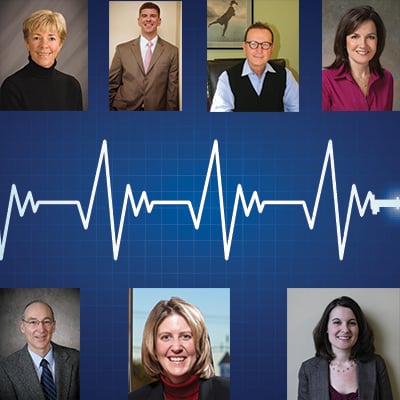 NHBR's editors recently asked executives of health care organizations around New Hampshire how they view the current state of their industry and find out their expectations for the future. Participants were:
• Charles Blitzer, M.D., Seacoast Orthopedics & Sports Medicine, Somersworth, past president of the New Hampshire Medical Society and board member, American Academy of Orthopaedic Surgeons
• Mary DeVeau, president and CEO of Concord Regional Visiting Nurse Association
• Al Felgar, president/CEO, Frisbie Memorial Hospital, Rochester
• Lisa Guertin, president and general manager, Anthem Blue Cross and Blue Shield in New Hampshire
• Lisa Kaplan Howe, policy director, New Hampshire Voices for Health
• Beth Roberts, vice president of northern New England, Harvard Pilgrim Health Care of New England
• Peter Wright, CEO, Valley Regional Hospital, Claremont
What have been the positive and negative effects of the Affordable Care Act on the New Hampshire health care industry in general and your organization specifically?
Charles Blitzer: I think the real positive is it has raised the dialogue and consciousness about the issues of insurance coverage and the number of folks who have no insurance. As of yet, it is so early that we haven't really seen truly what is going happen. I think the big disappointment is that only one insurance company has elected to venture into the exchange, so there isn't the competitive market that was envisioned. It hasn't affected our organization in any tangible way at this point. It is just rolling out. We haven't seen significant effects yet.
Mary DeVeau: There are opportunities for providers to collaborate in redesigning care delivery and evaluating how partnering can reduce costs. Since the law, Concord Regional VNA has worked even more closely with physicians and hospitals to develop and implement ways to help patients achieve their desired outcomes and prevent avoidable re-hospitalizations. We hired a pharmacist who works with our home care team on ensuring our patients are taking the correct medications, and to teach them about side effects and how medications interact with other medications. Also, a nurse visits patients at risk of re-hospitalization to specifically review their medications following hospital discharge.
Al Felgar: It's too soon to assess any good news. The bad news is the exclusion of one-third of New Hampshire's hospitals and doctors from the ACA provider network.
Lisa Guertin: The implementation of the ACA is an extraordinary opportunity for the uninsured and those who struggle to afford insurance coverage – and it is transformational for our industry. While all other carriers have chosen to sit out the launch of the exchanges in our state, Anthem Blue Cross and Blue Shield in New Hampshire is proud to be an essential player.
To date, we have enrolled thousands of new members, many of whom now have access to health insurance for the first time in their lives. Those newly insured now have access to preventive care and other benefits that will not only result in better personal health, it will also reduce the number of people who use hospital emergency rooms as their sole source of health care.
Lisa Kaplan Howe: As of January, over 11,000 Granite Staters had already enrolled in insurance through the marketplace, over 72 percent with financial assistance. If New Hampshire moves forward with extending Medicaid, around 50,000 more people will become eligible for affordable coverage. As a result, more people can access health care to stay healthy and productive members of their communities and workforce. Increased coverage also reduces cost-shifting.
We've also seen the increase in health care costs moderate since passage of the ACA. Voices' own insurance plan changed this year with the introductions of new protections. This means, however, that we're getting better value for our premiums.
Beth Roberts: Positive aspects of the ACA include guaranteed issue or no coverage exclusion for individuals with pre-existing medical conditions, enabling young adults to stay on their parents' plans until age 26, no lifetime or annual benefit limits and coverage of certain preventative services with no cost sharing. The ACA encourages new care delivery systems, patient-centered medical homes and affordable care organizations.
Cost remains a concern. We worry about potential future increases in medical trend for small groups that could result in higher premiums for some. Another concern is tax included in the law that will translate into higher premiums.
Peter Wright: The ACA has expanded access to insurance to people who couldn't afford it. When people have insurance, they are more likely to seek care, rather than wait until a crisis. The cost of care should go down or at least increase at a slower rate. However, the process has been left up to insurance companies, whose decisions tend to favor shareholder return.
The limited Anthem network means people in our area cannot be cared for at their local hospital, except in emergencies. This is not in the best interests of patients. In addition, the ACA has politicized health care.
What do you think of limited provider networks?
Blitzer: There is certainly a real concern for us. At my practice, we work at both Wentworth-Douglass and Frisbie, so we work with a hospital that is involved in the network and a hospital that has been excluded. I think that makes for some real challenges. Philosophically, I think that an insurer should have the ability to say that we are going to work with a limited network. That is logical to me in a market-driven situation. But it is a disaster if there is no competition and there is only one entity making those decisions.
DeVeau: In the home health and hospice provider community of health care, I have not heard any issues related to the limited provider network for those individuals who are insured through the health care exchanges. There are many changes that have and will continue to be faced by providers and consumers of health care. One positive trend is that individuals are much more aware of how important it is for them to understand their insurance plan and must be educated and engaged consumers when seeking and receiving health care.
Felgar: They're a bad idea. Too many providers are left out, and patients will have to travel to seek care.
Guertin: Anthem has built a specific network, called Pathway, to offset premium increases that would otherwise be necessary in 2014. Independent studies performed by both the New Hampshire Department of Insurance and the Society of Actuaries predicted that the average increase, driven primarily by higher claims of the previously uninsured and those covered through existing high-risk pools, could be significant, as much as 30 to 40 percent.
In order to offset this average increase, the providers in Anthem's Pathway network are offering rate concessions for our individual exchange customers. This enables Anthem to offer rates that are 30 percent lower than they would have otherwise been. Without the use of the new network, all individual exchange members would have seen much higher premiums than they will now see.
Howe: Limited provider networks can be a tool to make health insurance more affordable. However, that goal of affordability must be balanced against people being able to access care within a reasonable distance from their homes. We believe an appropriate balance can and must be struck and ongoing oversight is critical.
Roberts: It depends. The key is to build a network that focuses on sustainable pathways to coordinated care, rather than simply extracting lower rates from providers. We feel we have done this with our ElevateHealth network. A joint venture with Dartmouth Hitchcock and Elliot Health System, ElevateHealth is dedicated to raising the bar on quality, coordinated medical care and comprehensive health insurance coverage.
The contracting arrangement between the systems and Harvard Pilgrim, with its intense focus on care coordination within the network, will provide high-quality care that zeros in on individual patient needs while enabling premium savings.
Wright: A limited provider network can be just fine, if fair and focused on quality. The way it has been implemented in New Hampshire has been all about decreasing costs for Anthem, with little or no regard to quality of service. The limited network also means that people in our local area must travel to receive primary, specialty or inpatient care, and many people here do not have ready access to reliable transportation. I fully support the "any willing provider" model, where insurance companies agree to include any health care provider that is willing to accept the fees they offer in their network.
Are there shortages of health care providers in New Hampshire? If so, where are those shortages and what can be done about them?
Blitzer: The shortages are very clearly in the North Country. It has had the biggest issues with coverage, both primary care and specialty. That is a concern. I think the use of midlevel providers – nurse practitioners, physician assistants – is what is going to be generally the approach to the shortages.
That does not solve the issues of if you have an acute obstetrical need or a broken leg. You need the full qualified specialist and midlevel doesn't solve that, but a midlevel does supply some greater coverage.
DeVeau: In the community health field, there is a shortage of health care workers in our region. Our agency helps by collaborating with colleges, universities, health career training programs, and secondary schools to offer students clinical settings for training in nursing, physical therapy, occupational therapy, social work and medical students.
The greatest shortage is found in the physical therapy workforce. There is not a shortage of individuals who can be trained to be licensed nursing assistants or paraprofessional direct care workers. There is a need for ongoing workforce development for this type of health care worker.
Felgar: Family practice and internists are needed everywhere. One way to approach this is through tax breaks for certain high-demand providers.
Guertin: New Hampshire is fortunate to be home to high-quality health care facilities staffed by highly qualified and caring providers. Anthem is pleased to invest in a broad range of programs, such as our Quality Hospital Incentive Program and Anthem Quality Insights, which reward providers for improved patient outcomes, and our Enhanced Personal Health Care – EPHC – program.
Launched in 2013, this leading edge payment innovation program now includes 85 primary care practices (42 percent of New Hampshire's primary care physicians) and over 135,000 Anthem members. One of the areas of focus for EPHC is to help practices expand access to care. The program provides tools, data and clinical support staff to help practices become more efficient and improve their care coordination activity. We support the clinical teams with population health management tools, help them implement more efficient protocols and support their efforts to utilize all clinicians to the full capacity of their licensure.
Howe: The capacity of the health care workforce varies across the state and across practice areas. Some of the most challenging areas as far as workforce are the North Country and dental care. The solutions to provider shortages need to be multi-pronged.
The ACA includes a number of tools to increase the workforce "pipeline" and also incentivize and support providers who serve in shortage areas. Another place to look is expanding our workforce and the role of allied care providers.
Roberts: We don't feel that we have the information to comment accurately on this question and would refer you to two sources, the New Hampshire Public Policy Institute and the New Hampshire Medical Society.
Wright: There are shortages, but it's not as bad as many people think. We have close to the right number of providers, but they are not distributed geographically as evenly as desirable. We collaborate with other small rural hospitals in our region, and with Dartmouth-Hitchcock, to bring in the most needed providers, while avoiding competition and redundancy. We also work to ensure all providers are working to the top of their license.
It's not always necessary for a patient to see a physician; in many cases, a nurse practitioner or physician assistant can provide the care patients need.
How are you coping with cutbacks in Medicaid and Medicare at the state and federal level, including the Medicaid enhancement tax? And what will be the effect of Medicaid managed care and the possible expansion of Medicaid?
Blitzer: Our practice historically has accepted Medicaid and Medicare, and that has significantly been a philosophical commitment to our community. There are now more and more practices around the state, including in our community, that are not accepting and that puts a particular burden on us to a point that it is quite clear that at some point in the future it's going to be become untenable not to have some sort of restrictions in the volume. Rates are going from not very desirable to less desirable.
DeVeau: We are funded primarily by Medicare. If Medicaid is expanded, it should reduce the number of uninsured who may need home health or hospice services. Our Medicaid managed care reimbursement is consistent with Medicaid reimbursement, so we will continue to lose money on all the services we provide.
Some of the ways we cope with reimbursement reduction is by monitoring our key data and business measures to ensure that we are operating as efficiently as possible, along with monitoring our quality of care outcome measures. Our longtime investment in technology has also helped us be more efficient.
Felgar: We have cut our operating costs by almost $5 million annually without a reduction in services. Medicaid managed care will mean even less money to providers.
Guertin: Access to insurance is critical to improved health for all residents, and while the ACA addresses many of those without insurance, gaps still remain which need to be addressed.
For our part, we continue to work with key stakeholders on the public policy side of the equation to seek solutions. We are also proud to support many of the state's key safety net agencies via significant investment of charitable donations, giving from our associates and foundation grants.
Howe: We are watching the managed care transition closely and hope it will support more coordinated and high-value care.
The expansion opportunity makes federal funds available to the state to cover people who don't otherwise have access to affordable insurance – hard-working families, including childcare providers, direct-care workers, janitors, people who suddenly find themselves unemployed. It would save the state millions of dollars currently being spent on ER care for the uninsured. The federal government will pay the full cost through 2016 and then 90 percent indefinitely. Experts have estimated there will be no net state cost.
Roberts: We are concerned about cost-shifting. Any cutbacks in government-funded programs have a direct effect on medical trend. Providers make up for their shortfall by shifting costs onto the commercial sector, and premiums will continue to rise.
We have supported Medicaid managed care and Medicaid expansion. Medicaid expansion will enable more people to have health coverage, which also means that hospitals and providers will receive reimbursements for the care they deliver. Medicaid managed care is a prudent way to ensure that Medicaid dollars are spent effectively and patients receive coordinated care in place of fragmented care.
Wright: We continue to struggle with cuts. New Hampshire ranks 51st in the U.S. in Medicaid reimbursement, behind all other states and Puerto Rico. The Medicaid enhancement tax is a burden for every hospital, yet other health care providers are not obligated to pay. Funds from the MET continue to be diverted to the state's general fund.
Medicaid expansion is critical, as well as expanding access to those in need. The new managed care Medicaid system will require us to spend more money, time and effort to justify care and fight denied claims, with less money available to provide care.
Do you think health care costs too much in our region? What can be done about that?
Blitzer: Truly effective tort reform. Defensive medicine is very costly. Certainly, you cannot be a physician in a high-risk specialty – neurosurgery, orthopedics, obstetrics – where issues of the liability climate don't affect interactions with patients.
Another thing that the Academy of Orthopedic Surgery has been working on, is what is referred to as appropriate use criteria, which can try to diminish the variation in care and to try to figure out what is truly an appropriate way to manage a condition, which equates to both quality and cost savings.
DeVeau: Yes. We play a role in trying to reduce costs and improve outcomes. We improve care coordination for patients of Concord Hospital and Dartmouth-Hitchcock Concord primary care providers. We work with patients who have chronic illnesses and are at risk or had a recent hospitalization to prevent them from being re-hospitalized. We focus on those at end of life to help patients with life-limiting illnesses have a higher quality of life. Our palliative care physician assists patients in managing their symptoms prior to a crisis. We teach individuals how to prevent illness and live a healthy life.
Felgar: Health care consumption is high. If people took better care of themselves, we could consume less and "costs" would go down.
Guertin: It is well documented that New Hampshire has among the highest health costs in the U.S. and the status quo of simply passing along these costs in the form of higher insurance rates is unacceptable. That is why Anthem has developed a number of tools and processes designed to lower costs, educate consumers and reimburse providers based not on the quantity of care they provide, but on the quality of that care.
In addition to our Pathway network, which offers consumers lower rates, member incentive and savings program like Compass SmartShopper and Anthem's Site of Service benefit plans offer our customers financial incentives and lower their out-of-pocket costs.
Howe: Though the rise of health coverage costs has diminished recently, New Hampshire has among the highest health care costs in the country. The result is barriers to needed care and challenges to the financial stability of families and businesses. New Hampshire must move forward on innovations so payments are based on quality, not volume.
The ACA promotes pilots (many of which are also moving forward under the New Hampshire Citizens Health Initiative), including patient-centered medical homes, accountable care organizations, bundled payments, value-based purchasing, etc. It will be critical to build upon and advance those pilots in a thoughtful and state-specific manner.
Roberts: Yes. Government programs need to cover the true cost of care, to focus on coordinating care for patients in a seamless manner and eliminating fragmented care. We need to move away from the fee-for-service payment model, which rewards the number of procedures performed, as opposed to a holistic approach to caring for the patient and creating care models that focus on individual patient needs. We also need to bring transparency into play so that patients understand the choices they have.
Finally, we need to do a better job promoting healthy lifestyles.
Wright: Even though New Hampshire offers some of the highest-quality health care at the lowest cost in the country, we have a responsibility to continue to lower the cost of care and increase quality. We will accomplish this by continuing to adopt evidence-based medicine and implementing best practices, and by collaborating with others to reduce redundancy and waste.
Here in the Upper Valley of New Hampshire, we are on the leading edge of collaborating, especially in the area of recruitment, to avoid redundant services or overcapacity.
How do you see technology changing health care in the next 20 years?
Blitzer: I have not seen any technology that decreased the cost, though there are a lot of examples of improving quality of life. We used to do myelograms to look at the spine, but now that's rarely done because we can get an MRI. We have all sorts of people who are in their 50s or 60s that had to give up on a lot of activities and recreation because of their arthritis. We have solved those. There are tons of people going around with hip, knee and shoulder replacements that are independent, happy, active, but it all comes with some costs.
DeVeau: Technology has and will continue to change health care. Technology allows clinicians to work more closely, and have access to and share more information with patients. As seniors age in their home, devices like telehealth monitoring alerts families or providers about condition changes quicker so that interventions can prevent a health crisis. Today we use simple devices to monitor when a fall occurs.
In the future, we will have data about how patients' ambulation may increase or decrease changing their risk of a fall. Today's electronic medical records are not connected, and that barrier will be eliminated.
Felgar: Technology will create more demand for more services. It's a two-edged sword. The more doctors know, the more they can "do." Less consumption is the real answer.
Guertin: Technology and its growth is an important factor in virtually every part of health care. Tools such as electronic medical records and e-prescribing have enabled providers to transmit data and provide care in a more efficient manner. Anthem is pleased to be a strong supporter of the Health Information Exchange through the New Hampshire Health Information Organization. The program is designed to support the eventual efficient and seamless transfer of clinical information between health care providers to improve care transitions and decrease redundancy of testing.
From the member/consumer perspective, Anthem has long embraced technology in support of better health. From online tools designed to help members better understand costs, to provider directories to assist them in choosing a doctor, access to technology will continue to play an important role in the health care environment.
Howe: We will likely see an increase in electronic medical records and information exchange in the years to come, helping to support greater coordination of care, more efficient and quality care and less inappropriate duplication of care. Telemedicine is also likely to increase.
Roberts: Technology has brought many positives to medical care. Not only is technology producing improved medical devices, diagnostic equipment and drugs, it is also helping to coordinate care. The electronic medical record, telemedicine and the use of mobile applications are fostering interconnectivity among health care systems and ensuring that patients get better care. We will see more great things from the intersection of technology and health care in the next 20 years.
Wright: Technology in health care will advance more in the next 20 years than in last 20. The biggest advancements will enable people to monitor and improve their health independently and interact with providers remotely. People will be able to transmit their health stats via their cellphone and other such devices, improving the management of chronic conditions. Telemedicine will continue to permit specialists to diagnose treat patients hundreds of miles away. Patients and providers will have access to their electronic health records from anywhere in the world.