Taking precautions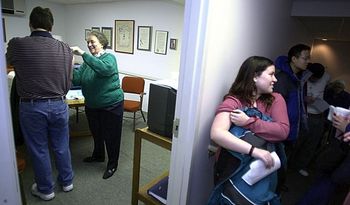 NASHUA – Forty minutes after the city's last flu clinic of the season opened Wednesday at Home Health and Hospice Care, all of the available vaccine – 110 doses – was gone.
After, an agency employee stood in the parking lot, telling people not to bother parking because the clinic had ended almost two hours earlier than planned.
The line snaked slowly, but quietly, from the front entrance to the lobby to a conference room where workers took registrations and directed clients to retrace their steps, then walk a little farther to another conference room where nurse Nancy Leppanen administered the shots.
Media reports of flu-related deaths – children in Colorado, a college student in Massachusetts – have raised public awareness about the early arrival of the annual winter scourge, which some are predicting could become widespread and virulent.
There has been further concern because the vaccine, which is produced in advance of the season, targets a different strain than the one the Centers for Disease Control has identified in between 70 percent to 80 percent of cases.
The prevailing strain is the Fujian strain, a "cousin" to the Panama strain for which the vaccine was developed. But the vaccine will provide cross-coverage, and those who are vaccinated and later contract the flu are likely to suffer a milder case, according to health experts.
Local hospitals and doctors' practices are taking precautions. In the waiting area of the emergency department at Southern New Hampshire Medical Center, patients are being asked to wear masks if they are coughing or sneezing. Likewise, masks and antiseptic towelettes are available in physician waiting rooms, and at the receptionist's desk at the hospice agency.
Dr. Desmond Curran, head of the emergency department at Southern New Hampshire Medical Center, said he was seeing plenty of cases of winter illnesses: Sixty or more a day for the past week.
"There's a lot of it. It's bad, and we need to be careful," Curran said.
But Curran also cautioned against panicking, echoing the CDC when he said the flu is no more virulent or prevalent than in previous years. He also noted that the children in Colorado who died of complications from the flu were already ill and hospitalized when they came down with the virus.
"We have seen an enormous number of viral illnesses in children," Curran said. "Most last three to four days and (the patients) do fine."
Curran also said there have been no flu-related deaths in Greater Nashua.
Dr. Mike Marshall, medical director of Foundation Medical Partners, affiliated with Southern New Hampshire Medical Center, agreed that public panic has been misplaced.
"The idea is this is a deadly flu across the United States, but there's no evidence to support it yet," he said.
According to Marshall, the federal immunization program has promised 500 additional flu vaccine doses to New Hampshire, which will be available to doctors, who in turn will make them available for their highest-risk patients.
But those who lined up at Home Health and Hospice Wednesday morning – some as much as three hours before the clinic started at 11 a.m. – were hedging their bets.
"I made an appointment with my doctor, but they ran out. My doctor called me and told me about this clinic," said Vicki Green, 51, a teacher, who arrived at the agency 15 minutes before the clinic opened. "My husband got his more than a month ago. I had to take time off to get the shot."
Another client, who requested anonymity, said he slipped out of work without his boss' permission to get his flu shot.
Others said they were advised by their doctors about the late clinic, or discovered it after searching the Internet and making calls to federal and state offices. Alessandro Sinfonico, 21, a college student, said he was concerned after learning of the death of a Massachusetts college student from complications of the flu.
"All of the reports say college kids are getting it," he said, adding the shot would be his first flu vaccination.
Janette and Phil Desmond, Bedford residents, said they were advised by their children's pediatrician to get the flu shot because their two children are at risk for complications from the flu. But finding a place to get the shot was work: Janette Desmond said she called the Centers for Disease Control and "all over" to find a clinic.
Merrimack resident Alexis Lint, 20, and her friend Tania Figueroa, 19, of Nashua, both health-care workers, said they were concerned about passing on the flu to their elderly clients.
Agency staff, who passed out numbered red tickets, worried about turning people away, and the vaccine went quickly. With one dose left, two friends who had showed up together had to decide which of them would get the last shot.
But vaccinations weren't the only protection offered.
While the line slowly moved, Barbara Lafrance, quality and infection control director at the home health agency, talked about other ways to prevent or minimize the effects of flu. Some of her suggestions were hand-washing, covering the mouth and nose when sneezing or coughing, staying home from work with a cold or other respiratory illness, and keeping doorknobs, phones, refrigerator handles and other surfaces clean.
For Lafrance, a registered nurse whose career is dedicated to public health, the clinic was heartwarming.
"We're happy to be able to provide it," she said, obviously touched by the words of thanks many offered as they left the building after receiving their flu shots.
Hattie Bernstein can be reached at 594-6439 or bernsteinh@telegraph-nh.com.