Sustainability Slam brings Just One Thing to life
12 finalists named for NH Businesses for Social Responsibility Oct. 20 event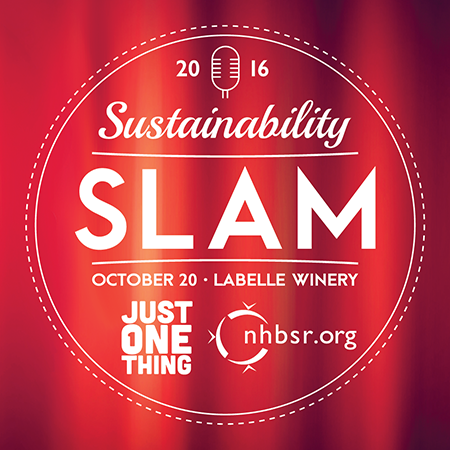 Twelve finalists have been selected to present their stories live at NH Businesses for Social Responsibility's second annual Sustainability Slam, to be held Thursday, Oct. 20, at LaBelle Winery in Amherst.
The Sustainability Slam is an evening of storytelling about the environmental, community and workplace initiatives of businesses and organizations around the Granite State. They share their stories with the audience, which selects the winners by using a polling app on their phone.
At the event, some of the state's leading businesses "will bring their sustainability stories to life through fast-paced presentations that focus on content, brevity – think 90 seconds – and most importantly, fun," said NHBSR Executive Director Michelle Veasey.
The Sustainability Slam is part of NHBSR's Just One Thing campaign, which is designed to recognize businesses and organizations for their environmental, community and workplace initiatives while encouraging more businesses to get involved with Just One Thing.
The 12 finalists are:
Community category: Large company, Coca-Cola Northern New England and NH Electric Cooperative; Small company, Loureiro and NH Citizens Alliance
Environment category: Large company, Goodwill Northern NE and Timberland; Small company, Great Bay Fertilizer and ReVision Energy
Workplace category: Large company, Cirtronics and Medtronic Advanced Energy; Small company, D.N. Lukens and W.S. Badger Company
W.S. Badger is a returning presenter, and "we are super-excited to be invited back again," said Deirdre Fitzgerald, marketing and PR manager of the firm. "Participating in the Just One Thing Sustainability Slam last year was a fun and unique way for us to tell our story, make new friends, and hopefully inspire others."
Medtronic is one of several new finalists this year and Brett Cromwell, Global Communications Manager at Medtronic Advanced Energy has this to share. "It's really exciting to see NHBSR giving an opportunity for companies to highlight simple things they are doing to help sustainability efforts. It's these small things that add up to big change. Our biggest focus is in creating a work environment that is inclusive and engaging for employees, and we're really excited to share a specific story related to these efforts with other companies across the state."
Velcro Companies is presenting sponsor of the event. Media Sponsors include NH Business Review, NH Public Radio, New Hampshire Public Television and Fiddlehead magazine. Slam Award Sponsors are Coca-Cola Bottling of Northern New England, Wire Belt and ReVision Energy. Creative director sponsor is EVR Advertising. Networking sponsor is Granite River Studios. Technology sponsor is @Website Publicity. Silent auction sponsor is Normandeau Associates. Supporting sponsors include Image 4, Monadnock Paper Mills and The RAM Companies.
For more information or to register, visit nhbsr.org.