Survey finds most N.H. residents happy to stay in N.H.
Gallup poll shows that less than a quarter of residents want to leave the Granite State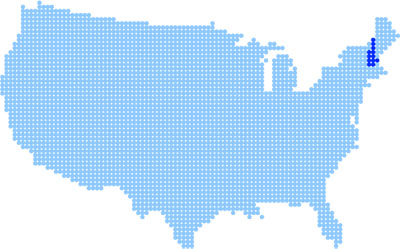 Half of the people who live in Connecticut and Illinois wish they could live in another state, but New Hampshire residents seem to be much happier where they live, with less than a quarter of them expressing an interest to move away – a smaller share than almost anywhere else in the country.
Those were the findings of a new Gallup survey, released April 30 and based on the results of a poll conducted through the last half of 2013.
The 50-state poll asked at least 600 adult residents of each state this question: "Regardless of whether you will move, if you had the opportunity, would you like to move to another state, or would you rather remain in your current state?"
On average, 33 percent of respondents around the country wished that they could live elsewhere. In three states – Illinois, Connecticut, and Maryland – about half of the residents polled said they would rather live in another state.
New Hampshire was among six states – the others being Montana, Hawaii, Maine, Oregon, and Texas – where fewer than one in four residents wanted to leave their home state. Only 24 percent of people living in New Hampshire would leave if they could, the survey found. Only 23 percent of those living in Montana, Hawaii and Maine would leave their state if given the chance.
According to Gallup, two-thirds of New Hampshire residents say that the Granite State is among the best, if not the best, state in which to live.
Maybe the state's new motto should be, "Live Free and Stay"?