Surgery gives Milford horse a second chance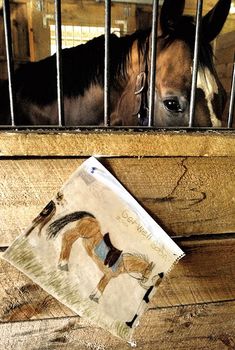 Kate Flanagan has endured some teasing lately from folks who can't resist comparing the 19-year-old redhead and the horse she loves to Seabiscuit and his accident-prone, carrot-top jockey.
Like the famous pair, Flanagan and Sadie are recovering from injuries at the same time.
Sadie recently underwent surgery to fix a leg injury she suffered at an international competition last June. A front leg snagged on a jump she was trying to clear, causing her to somersault over it and land in a pool of water.
It took six months before the Appaloosa's fractured left knee was stable enough to withstand surgery to remove the bone chips.
Flanagan, who has ridden and competed on Sadie since she began taking riding lessons at age 12, broke her left arm in a less dramatic way in November when she slipped on her kitchen floor.
The two banged-up friends reunited recently at Classic Bay Farm in Milford, where Flanagan, on winter break from her pre-veterinary studies at North Carolina State University, visited the post-op Sadie.
Her arm in a sling, the Nashua resident soothed the high-strung Sadie with her favorite peppermints as she talked about the horse's future, which may or may not include a return to competition.
Sadie pawed the stable floor, bumped Flanagan with her nose and kept going to the window in the two-stall area where she has been confined since her Dec. 4 surgery.
Flanagan knows this is Sadie's way of saying she wants to go outside. She understands the horse's impatience. She refers to Sadie – short for Mercedes – as an athlete. She knows how frustrated the 9-year-old horse must be to be kept from doing what she does best.
"She was on her way to becoming a star," Flanagan said. Now, "She spends a lot of time looking out the window."
Still, what matters most to Flanagan and to Sadie's owner, Laurie Shiffer, is that Sadie, their "princess," is alive at all.
The fall
Shiffer, who owns Classic Bay Farm, was riding Sadie when she tumbled.
A tri-athlete of sorts, Sadie was competing at the Bromont International in Canada, a three-day show jumping tournament.
When Sadie somersaulted over the jump, Shiffer was thrown in the opposite direction. When she stood, the horse was already up. Not realizing Sadie had fallen, Shiffer remounted and finished the course.
It was only later that Shiffer realized something was wrong with her horse, an all-brown creature with a white marking on her nose that makes it look as if a bite was taken from it. Vets have since marveled that Sadie was able to finish the course with a fractured accessory carpal bone in her knee.
While it isn't a weight-bearing bone, it's a bad place to injure, mostly because it's such a hard area for healing to occur. In veterinary books published before the advance of orthoscopic surgery, the prognosis for this type of injury is "very guarded" at best, Shiffer said.
Unlike fractures that occur elsewhere, the accessory carpal bone cannot be pinned together to promote healing. The joint is naturally and continuously bathed in joint fluid. This fluid washes away any cellular regeneration that is trying to bridge the gap between the fractures, Shiffer said.
"It's an awkward spot for healing," Flanagan said.
Bone chips caused by the accident still needed to be removed, but surgery had to wait until a certain level of mending had taken place. Otherwise, when Sadie went to stand after surgery, her knee might have blown out again.
Based on X-rays taken by a local veterinarian, the procedure was scheduled for September at Fairfield Equine, a large medical and surgical center for horses in Newtown, Conn.
Sadie was in luck. Her doctor would be Dr. Alan Nixon, a nationally recognized horse surgeon. Nixon is based at Cornell University but travels wherever he is needed.
Shiffer busied herself with all the necessary arrangements. She sent in Sadie's blood work, scheduled workers to feed her other horses, made plans for her 6-year-old son's care and set out for the three-hour drive to Connecticut, arriving a day before surgery.
She expected the operation would take one to three hours, after which Sadie would need a couple days of recovery time before coming home.
But it was not to be. After taking digital X-rays that were more sophisticated than the ones from home, Nixon called Shiffer into the office. The two looked at the new X-rays that ran along the length of one wall. The knee still looked like a train wreck.
Nixon was not convinced enough healing had occurred to risk surgery. He worried that when Sadie came out of anesthesia and tried to stand, her knee would be re-damaged. He tried to reassure an emotional Shiffer, who had begun crying from accumulated stress.
"We have to be patient to be as safe as we can," Nixon said.
He suggested waiting another six to 10 weeks before operating.
He and Shiffer went to visit Sadie in the stables. He felt her swollen knee and said he could feel the pouch of fluid.
"I can almost feel the chips rolling around," he said. "I wish you were going home with two chips in your hand instead of in your horse."
The operation
By early December, Nixon believed Sadie was ready. She went in for surgery Dec. 4.
Shiffer was able to watch the procedure from a library with a large window that looks into the operating area.
In some ways, the operating room looks like the human variety: It is white and sterile-looking, with large adjustable lights like those in a dentist's office. Huge, oversized IV bags hang on stands.
Other items, such as chains hanging from overhead steel beams, seem a bit odd, but are necessities when operating on patients this size.
Typically, when a horse is brought into the room, it is given anesthesia until it drops. The fall is broken by the staff, which then hooks loops over the hooves so the animal can be pulled into the air by chains. Once airborne, the horse is moved along an overhead conveyor belt until it is deposited onto an operating table.
Sadie's orthoscopic surgery took 2½ hours. During the procedure, Nixon removed three bone chips the size of human molars. He had expected two, but X-rays taken during the operation revealed another bone chip had migrated up Sadie's leg.
Once the anesthesia wore off, the recovery process took one nerve-wracking hour. A pipe had been placed around Sadie's leg so she couldn't rely on that limb to stand up, Flanagan said.
The staff then used ropes to help lift her from the floor. Even with all the precautions, Sadie fell over. After that, the staff held her down so she couldn't get up again and risk further injury.
Shiffer never called Flanagan to tell her when Sadie went into surgery because she knew the girl had finals and didn't want to worry her. She called her after it was all over and the two wept together on the phone.
Sadie was home four days later.
The recovery
To see Sadie being hand-led by Shiffer on her daily walks, you'd never know she had an injury. Still, Shiffer must sedate the horse before leading her out of the barn because Sadie gets so excited that she is liable to rear up on her hind legs and hurt herself again, Shiffer said.
It is difficult for an animal that is "not supposed to be contained to be stuck in a box," she explained.
Shiffer plans to lengthen Sadie's daily 5-minute walks by 5-minute increments each week. By April, she should be walking around quite a bit, and follow-up X-rays will be done then to assess her progress.
As far as returning to competition goes, the prognosis is fair, Shiffer said.
Meanwhile, she is "90 percent sure" she will breed Sadie in the spring.
A foal should be born by the spring of 2005. If it takes after Sadie, it just might be Shiffer's new competition horse, Flanagan said.
If Sadie's leg is healthy enough, she could compete in smaller, scaled-back shows even if she is pregnant, Shiffer said.
Still, those competitions will be "nowhere near the level she was at," Shiffer said. "Hopefully, she'll go back to a competitive career after the baby is weaned."
"We have a feeling she'll be a really good mom," Flanagan said.
When it comes to Sadie, Flanagan acts pretty maternally herself. To help Shiffer raise the many thousands of dollars needed for Sadie's surgery and associated medical costs, Flanagan held a garage sale last summer.
Shiffer also held benefits and received private donations. The combined fund-raising efforts totaled about $2,500, which went to offset Sadie's $8,000 medical bills, Shiffer said.
Shiffer had been shopping for insurance for the horse when the accident happened, so she has to pay the medical bills out of pocket.
Flanagan, who just received her doctor's OK to ride on her college's equestrian team again, plans to come home for another visit with Sadie in March. While she isn't sure in what condition she'll find her old friend, one thing is certain: Her pockets will be stuffed with peppermints.
Lynn Tryba can be reached at 594-6402 or trybal@telegraph-nh.com.