Surgeon general voices hope in NH opioid fight
Overcoming ignorance, stigma is key in fighting addiction, he says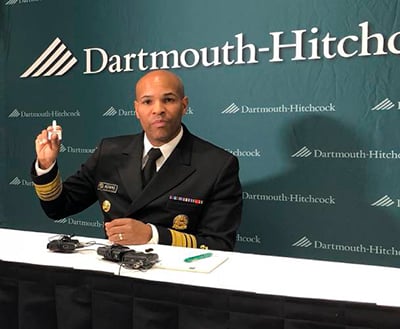 "Drug addiction is a chronic disease and not a moral failing," said U.S. Surgeon General Vice Admiral Jerome M. Adams, explaining that one of the most important ways to save families and children from the scourge of the opioid crisis is overcoming ignorance and stigma about addiction.
Adams was among the speakers at the "Our Families, Our Children, Our Future" forum focusing on the nation's opioid epidemic. It was held Oct. 5 in Concord.
Nearly every family is affected by addiction or mental illness, said Adams, an anesthesiologist, who spoke of the pain of having his youngest brother serving a prison sentence for crimes committed to support his addiction.
"While New Hampshire has among the highest opioid overdoses in the U.S., you also have taken steps to overcome the problem in response to the epidemic," Adams said. "At the end of the day, we all have blame but also have a role in overcoming the epidemic."
Adams pointed to his recently released digital postcard about the opioid crisis. He suggests talking about the problem, being safe in the use of prescription drugs, understanding pain, knowing addiction and being prepared to help someone who has overdosed.
He was joined by doctors, nurses, healthcare advocates, and even a recovering addict in Concord for the all-day forum.
"My children would tell people they didn't know me," said Cheri Bryer, who was in her 20s when medical issues got her hooked on opioids. But, after learning she was going to be a grandmother, she decided to get clean. Bryer was on medication-assisted treatment for 11 years. She's been completely sober for the last four-and-a-half years, she said.
"We all have a heart and a hand in this," Bryer said.
Major strides
Also at the forum was U.S. Rep. Anne Kuster, D-2nd District, who said that New Hampshire failed to see the opioid crisis coming because many mental health and addiction services were underfunded over many years. Now the state is in the forefront of responding to the opioid crisis largely because of bipartisan congressional legislation and funding.
"Addressing this crisis means educating everyone, especially our youth, but also our providers and prescribers," Kuster said. "Going forward, we need to have certainty that the funding continues and grows." She noted that ongoing funding, perhaps billions of dollars, may come from an emerging class action lawsuit similar to the tobacco settlement.
State Health and Human Services Commissioner Jeffrey A. Meyers said some major strides have been made in the battle against opioid addiction, pointing to the use of Narcan, which has saved an estimated 3,600 lives in New Hampshire. And in September, the Executive Council accepted $20 million in federal funds for opioid programs and approved a new contract to start adolescent substance treatment at the Sununu Youth Center in Manchester.
"Now that we have a funding stream coming over the next two years, we need to augment the system and tie it together across the state, so that anybody can access care in their community," Meyers said. "We need to know what's working."
The morning opened with remarks by Dartmouth-Hitchcock CEO Joanne Conroy and Gov. Chris Sununu, both of whom highlighted the importance of collaboration in addressing the opioid crisis.
"The opioid crisis continues to take a fierce toll on New Hampshire," Conroy said. "The devastation it has wrought on children and families is breathtaking. The serious implications for the youth of our communities are only beginning to reveal themselves and will continue being seen for many years to come."
She said "progress is being made" in the fight as "healthcare providers throughout New Hampshire and beyond are undertaking to confront these issues … driven by our collective need to care for the youngest members of society."
The Oct. 5 event is the first in a series of forums in Dartmouth-Hitchcock's Solutions to Opioid Addiction & Recovery Opioid Collaborative Series, which will focus on critical issues surrounding the opioid crisis in New Hampshire.