'Super Bowl of spelling' hasn't changed much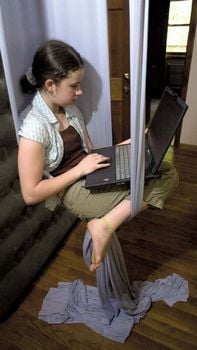 Kids dream of throwing a Super Bowl-winning pass and making presidential decisions in the White House – pressure situations for many adults but not for youths with big imaginations.
Conversely, many adults aspire – but often fail – to nail the tough words of a spelling bee, tongue-trippers that rarely seem to faze those cool and composed kids.
Ultimately, only one youth masters every word. But for several rounds, dozens of 9- to 15-year-olds practically breeze through words whose difficult spellings confound a highly educated adult audience.
And that's likely the appeal of the Scripps National Spelling Bee, perhaps the most celebrated academic event in America. ESPN even covers it.
Other educational contests also inspire students and draw rave reviews from adults. But they still fall s-h-o-r-t of the bee.
"Somewhere along the way for most people in their primary schooling, they develop a profound respect for the English language and the difficulty of spelling correctly," said Paige Kimble, director of the bee and the 1981 national champion and 1980 runner-up.
"So there's a certain amount of curiosity and fascination for those who can spell and who appear to have mastered the finer points of the English language."
Pull out those dictionaries. Unlike the increasingly watered-down professional sports, the bee will not be any easier this year than competitions past.
Granted, for the first time in bee history, misspelling one word may not spell elimination; participants will have their first-round written test scores combined with their first onstage round scores and potentially could survive a miscue. This rule change will allow all 265 kids to take the stage, unlike years past when not every competitor made it beyond the written test.
But the competition will still prove challenging. What with words like "ahimsa," "discerptible" and everyone's favorite, "onomatopoeia," this 77th Scripps bee hardly seems like a piece of braunschweiger – one of the many suggested words contestants should study.
If anything, the bee has become tougher. Some of the final words spelled by champions in the 1980s were "luge," "milieu" and "sarcophagus." In the past 10 years, winners have successfully tackled final words like "vivisepulture," "succedaneum" and "pococurante."
The bee "certainly improves one's vocabulary and one's understanding of languages," Kimble said. "I've heard anecdotes from spellers. Some, when they're older and in medical school, they say (the bee) helped them master vocabulary they've basically already had."
Complex, multi-syllabic words have a place in the bee, even though many adult observers think otherwise, Kimble said. The bee faithfully receives phone calls and e-mail messages from these adults, who are "perplexed or indignant" about the difficulty of words, she said.
But the bee won't lower its standards, Kimble said. The winning word shouldn't come easy.
"Yes, some children will see these words again, and some won't encounter them," she said. "But this is the Super Bowl of spelling. With this on ESPN, you're not going to stump them by giving them a common word. You have to give them a difficult word to challenge them."
The winner will receive a $12,000 cash prize and an engraved loving cup – and maybe an easier career path.
Past bee winners have pursued callings in medicine, law and art, Kimble said. Many have made use of their spelling talents by becoming writers, she said.
"The common denominator among all kids, not only this year but historically, is . . . they are avid readers," she said. "They start reading before their preschool years. Reading is the one thing that unites them."
The bee occasionally tweaks aspects of the contest, Kimble said. This year, spellers will compete on a new stage, she said.
"But in the end, the thing that doesn't change is the children. When they're up on stage, it's what they know and what they studied and what they can pull out of their heads in a pressure situation. In that sense, it doesn't look a lot different now than it did 20 years ago."
WINNING WORDS
Listed below are the champions of the Scripps National Spelling Bee for each year since 1980, and the final words they spelled to win.
1980 – Jacques Bailly, elucubrate
1981 – Paige Pipkin, sarcophagus
1982 – Molly Dieveney, psoriasis
1983 – Blake Giddens, Purim
1984 – Daniel Greenblatt, luge
1985 – Balu Natarajan, milieu
1986 – Jon Pennington, odontalgia
1987 – Stephanie Petit, staphylococci
1988 – Rageshree Ramachandran, elegiacal
1989 – Scott Isaacs, spoliator
1990 – Amy Marie Dimak, fibranne
1991 – Joanne Lagatta, antipyretic
1992 – Amanda Goad, lyceum
1993 – Geoff Hooper, kamikaze
1994 – Ned Andrews, antediluvian
1995 – Justin Tyler Carroll, xanthosis
1996 – Wendy Guey, vivisepulture
1997 – Rebecca Sealfon, euonym
1998 – Jody-Anne Maxwell, chiaroscurist
1999 – Nupur Lala, logorrhea
2000 – George Abraham Thampy, demarche
2001 – Sean Conley, succedaneum
2002 – Pratyush Buddiga, prospicience
2003 – Sai Gunturi, pococurante
Source: www.spellingbee.com