Sununu's first veto upholds zoning board procedures
Measure would set statewide requirements for variance votes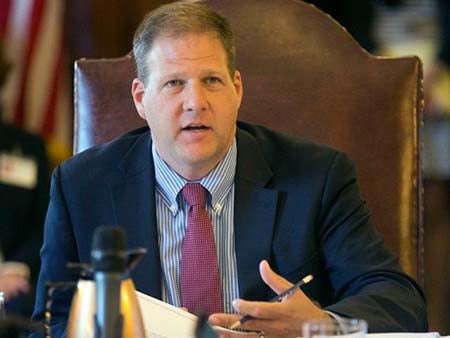 Gov. Chris Sununu's veto on Tuesday of House Bill 86 – his first – was over a rather obscure bill having to do with local zoning board voting procedures for variances. It was a bill that Realtors opposed and homebuilders, after it was amended, went along with.
HB 86 was a low-profile measure that slid though the process with little debate, passing both the House and Senate on voice votes.
Currently, state laws require a five-part test for a variance to be granted – such conditions as whether the project is "in the public interest" or whether the "surrounding properties are not diminished." Some municipalities hold separate votes on all five requirements while other towns to do it all at once. HB 86 would require all boards hold five separate votes.
"We have a great concern" about the bill, said Bob Quinn, who is head of government affairs for the NH Association of Realtors.
He said the measure would be particularly troublesome for larger projects where several variances are often in play, resulting in 15 or 25 votes. Not only is that a "big headache at the meeting," but if someone has to leave and there isn't a quorum on the last few votes, the project could be unnecessarily delayed for a month or two.
The NH Homebuilders Association echoed that concerned. "Variances are important," said Ari Pollock, the homebuilders' lobbyist. "In today's world, where most of the zoning is set, you need a variance to be successful."
But the bill clarified procedures for the towns that already hold five votes, indicating that a simple majority would be all that would be required for each vote.
On the other hand, Pollack said, he is "not critical of the veto. We are pleased that the governor takes into consideration the views of developers, so at the end, we are happy he vetoed it."
In his veto message, the governor said the bill would have taken away from zoning boards the option of using the "streamlined procedure" of one vote for five criteria – an option "which many boards have chosen to utilize."
Sununu also said the mandated procedure in HB 86 "needlessly imposes on local control and is inconsistent with any commitment to remove excess regulation and streamline development and economic growth."
Quinn, who had asked the governor to take another look at the bill, "applauded the veto. The bill made the process of getting a variance much more difficult."