Sununu says he wants state to opt out of FirstNet
Announcement would make New Hampshire first state to go it alone on first responder communications network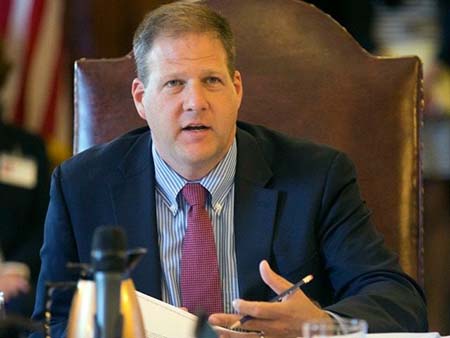 Gov. Chris Sununu has decided to make New Hampshire the first state in the nation to opt out of the federal contract with AT&T to build FirstNet, the public safety radio access network.
The decision means the state will contract with telecommunications company Rivada Networks in building a network. But at least two executive councilors are critical of the decision and a third is skeptical of its timing.
"New Hampshire's Statewide Interoperability Executive Committee determined from a technical standpoint that an opt-out of FirstNet is far and away our best option, as evidenced by their unanimous 15-0 vote," Sununu said Thursday morning. "If we successfully navigate the opt-out path, New Hampshire will retain a level of control that it would not have enjoyed in an opt-in scenario. I am pleased that we have the opportunity to pursue a plan that will provide the maximum benefit to our public safety community and all of our citizens. New Hampshire deserves nothing less."
The Executive Council will have the last word on those plans, when councilors vote sometime in January on a 25-year contract with Rivada Networks.
And, despite ongoing communication between Rivada, Sununu and the two committees formed to evaluate New Hampshire's options, the five council members have been largely left in the dark.
In fact, Executive Councilor Andru Volinksy, D-Concord, told NH Business Review that the FirstNet process, from the council's viewpoint, has been entirely different from the process leading up to another eagerly awaited upcoming vote, on a controversial plan to hike tolls on New Hampshire roadways.
"[Department of Transportation officials] spent nine months teaching me what I need to understand; there has not been a similar effort" in regards to FirstNet, Volinsky said. "And it's a big a project for the state."
"This isn't something where the governor is making a decision in the dark and doesn't know where the council is going to go," said Volinsky. "It makes no sense for him to head down one path and then have us refuse to approve what he's done. He should be trying to keep us abreast and help us with the briefings."
And Executive Councilor Joe Kenney, D-Wakefield, who was among the group of councilors who voted unanimously in 2016 to give Rivada exclusive rights to build the contract, should the state opt out, is also skeptical of Rivada.
"From a council standpoint, it was a service being provided by a company that's never really built a network, but from an entrepreneur side, we said, 'Go for it. See what you come up with,'" said Kenney, told NH Business Review last month.
Kenney released a strong statement on Thursday that he was "very concerned with the Governor's decision today to opt out of FirstNet/AT&T, and to instead contract with Rivada, an inexperienced startup that has never built a wireless network before."
"Rivada's plan is untested, unproven, and will not work. I cannot support this decision, nor support a contract with Rivada, which would mean giving up on enhanced rural coverage for my district and improving public safety. The North Country is waiting for FirstNet/AT&T build out and the possibility of using additional spectrum for commercial purposes," read Kenney's statement.
Last month, Kenney noted that when the Council voted to provide Rivada with exclusive rights in an opt-out scenario, AT&T had not yet been awarded the federal FirstNet contract.
That occurred in March 2017, when Rivada, which also bid on the contract with its vendors as Rivada Mercury, disputed the AT&T contract and sued in federal court. The court later ruled the U.S. Department of the Interior was justified in its selection of AT&T.
Both Volinsky and Kenney are concerned about Rivada's technical capability and financial backing, especially as FirstNet warns of penalties of up to $600 million should New Hampshire's network not be interoperable with other state networks.
'Not blind faith'
Statewide Interoperability Coordinator John Stevens, who gave the Executive Council a presentation this past July, thinks those figures – which FirstNet CEO Michael Poth conceded were if the network had to be built from nothing– have been distributed to discourage states from opting out.
With just 4.7 percent of the state's first responders using AT&T, Stevens argues and the Statewide Interoperability Executive Committee unanimously agreed, that New Hampshire would be better off with Rivada, which plans to ensure interoperability through agreements with cellular providers and connecting to the FirstNet core network.
"In some respects I have to trust the technical experts on how to do this, but it's not blind faith," said Volinsky. "When the state's experts, John Stevens, and other people on the SIEC present PowerPoints on how this technically is all going to work, I take it with a grain of salt. They haven't done it before."
Volinksy compared the process to engineering a bridge as it's being built.
He's also concerned about Rivada's plan regarding selling excess Band 14 spectrum to support the network, which AT&T officials, who have met with Volinksy, say has higher commercial demand in urban markets rather than rural markets.
AT&T Senior Vice President Chris Sambar told NH Business Review AT&T is not interested in buying excess Band 14 spectrum from Rivada.
"New Hampshire isn't densely populated like New York. AT&T is only using part of our spectrum, so why would we rent more? Sprint, T-Mobile, Verizon are in the same boat," said Sambar. "I don't' think [Rivada will] have the demand for it and if they don't the demand will fall apart."
U.S. Cellular has announced it will partner with Rivada to build out the network in New Hampshire.
"The governor appears enamored with the idea that New Hampshire would lead the nation in the opt-out option and that everybody would follow New Hampshire," said Volinsky. "It concerns me because the dynamic is one where he gets the political benefit now of this bravado and he'll be long out of office, as will I, when you-know-what hits the fan. I want to be a little less risky in the practical aspects of this because when some first responder in the North Country picks up his telecommunications device – a device I have no idea it will look like in 10 or 15 years – and tries to communicate that the fire's coming down a particular valley, it's got to work. And so having an untested company do this doesn't give me comfort."
Executive Councilor Russell Prescott, R-Kingston, thinks it would have been wise for the governor to postpone announcing his decision for as long as possible, in order to give the state more "leverage."
"If the state of New Hampshire still has leverage and is able to leverage our decision to go with Rivada or not with Rivada, then we should be asking for more for the benefit of our state," said Prescott.
States have until Dec. 28 to decide whether or not they want to choose the AT&T-FirstNet network.