Sununu family increases holdings in Waterville Valley real estate
Company continues effort to build on 'year-round recreation destination'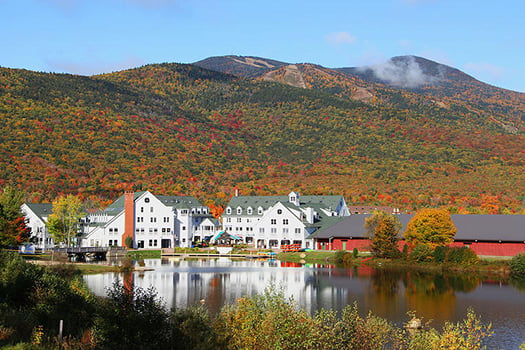 An investment group led by the family of Gov. Chris Sununu has acquired a majority of the remaining developable land owned by The Waterville Company Inc., the company founded by the late ski resort visionary Tom Corcoran.
No sale price was disclosed.
The Sununu family is now the principal investor in the Waterville Valley Resort, which was originally developed in the 1960s by Corcoran, a two-time Olympian who died in 2017.
Beginning in 1965 with the purchase of 500 acres of land nestled in the White Mountain National Forest, Corcoran soon realized his vision of a full-service destination resort modeled on a European-style pedestrian village. By the winter of 1966-67, Corcoran opened Mt. Tecumseh for skiing with four double chairlifts. Today, Waterville Valley is a massive second-home community with a ski resort that consists of two quad lifts, two triple lifts and three doubles on 62 trails.
The property sold to the new owners include parcels adjacent to the Town Square, the resort community's hub for shopping, dining, services and recreation. Waterville Company Inc.'s remaining landholdings, currently listed for sale, include residential lots across from Corcoran Pond and Town Square.
In 1994, The Waterville Company divested most of its operating assets, including the ski facilities, but retained the remaining developable land and continued to serve as master developer of the resort community.
In 1999, Corcoran stepped down from day-to-day management of the company.
According to Bill Cantlin, Corcoran's successor at the firm, "It was always Tom's desire to see that the development of the company's landholdings would be undertaken hand-in-hand with the careful management and growth of the resort. Having key assets under common ownership is essential to coordinated planning and growth."
He added: "The resort will be in good hands. We are pleased to able to move a step closer to fulfilling Tom's vision, and see that mission carried on by the owners of the Waterville Valley Resort."
Christine DeStefano, Corcoran's daughter, said her father would be pleased with the sale. "The closing marked the two-year anniversary of my father's passing. He spent his entire life master planning and developing the resort, and I know how happy he would be to see his life's work finally come to fruition."
Former Gov. John H. Sununu, chair of Waterville Valley Holdings, noted that the company has made several recent investments in the resort, including new trails, lifts, snowmaking and expansion of the base lodge.
"This transaction allows us to build upon those investments," he said. "Tom Corcoran was a friend and visionary, and we are proud to continue his work to make Waterville Valley a thoughtfully developed, year-round recreation destination."