Suncook doctor honored for career of compassion
Gerard Hevern wins national honor as Family Physician of Year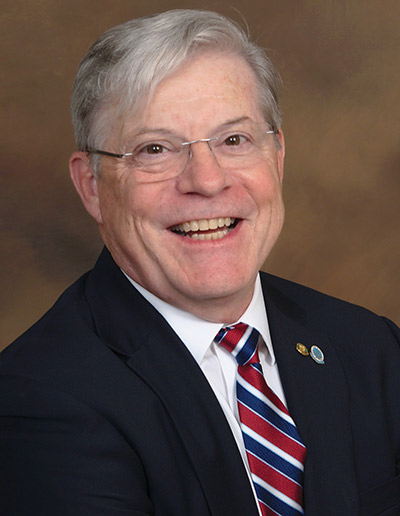 Dr. Gerard J. Hevern remembers how nervous his dad was when he made the decision to move away from his native New York City to practice family medicine in rural New Hampshire.
"When you grow up in New York and you're a New Yorker, the world ends at the East River," Hevern says. "He just couldn't comprehend why I would move out of New York."
But in New Hampshire, Hevern saw an opportunity to really make a difference in patients' lives, and in 1979, opened a general family practice office in Suncook, where he's been a physician ever since.
Now he's been named the American Academy of Family Physicians national 2018 Family Physician of the Year, the AAFP's highest honor and one that Hevern describes as "kind of like a Christmas gift."
"Coming to New Hampshire, I was looking to be able to do a full spectrum of family medicine," he says. "As a state, it's been a wonderful place to be and live. As a medical community, it's a wonderful place to be a part of … some of the solutions, rather than just another cog in the wheel."
He's applied that full spectrum of family medicine to focus much of his career on an issue that's currently gripping the state: Addiction and pain management.
In addition to his family practice, Hevern also serves as medical director of comprehensive pain management at the Elliot Hospital Pain Management Center at River's Edge in Manchester and as a member of the Manchester Cooperative Pain and Opioid Project, a collaboration between Elliot Health System and Serenity Place, a multi-faceted recovery program in Manchester.
New Hampshire's drug problem has gotten national attention. According to data from the New Hampshire Medical Examiner, New Hampshire had 485 drug-related deaths in 2016, including 424 that were opioid related, and President Trump even called the state a "drug-infested den" in a conversation with the president of Mexico.
But Hevern argues that the United States has long had a problem with substance abuse in general.
"We've had an alcohol crisis throughout the history of the United States," he says.
Indeed, the CDC blames 88,000 deaths per year on alcohol-related causes.
Compassion and empathy
Growing up on Manhattan's Lower East Side in the 1950s and '60s, Hevern says he watched his peers experiment with, and sometimes become consumed by, drugs and alcohol.
"I was intrigued as a teenager in watching some of my good friends begin to drink and act poorly, and it struck me to be a strange behavior," he says. "They wanted to recreationally escape the world."
Hevern studied sociology at Harvard, visiting jails, talking with prisoners, working with the sheriff's office and attending Alcoholics Anonymous meetings, and came away with a conclusion about crime and other societal ills that has informed the rest of his life.
"I started to look at root causes of community problems," he says. "Many of our behaviors and many of the problems that our society face are really based on substance use disorders."
Now, and for nearly four decades, Hevern has treated all of his substance abuse patients with compassion and empathy, noting that drug and alcohol abuse "hijacks" the brain, making it operate in a bizarre way.
"I got my compassion by recognizing early on that this was a health issue. It wasn't a moral issue," he says.
He argues that substance abuse disorder treatment should follow a chronic disease model, which marries elements of care like care coordination, self-care management, and community resources.
"You would not turn your back on a person who has diabetes and are beginning to have side effects," or tell smokers they can't get cancer treatment because they didn't care for themselves throughout their life," he says.
The whole person
Hevern's approach to addiction treatment mirrors that of family medicine: Caring for the whole person, which means using a combination of medically assisted treatments, including medications like acamprosate, naltrexone and buprenorphine to help with reducing craving and maintaining sobriety, as well as encouraging with behavioral changes and providing ongoing support.
He also lectures extensively, hoping to create educational opportunities for physicians in the community so that physicians are "comfortable managing this chronic disease and doing so in their own offices." He says he hopes that is part of his legacy.
Through it all, he seems to have a bottomless well of compassion that uplifts his patients, and in turn, himself, in a virtuous cycle.
"You can create the interaction with the patient so that your kindness and compassion shows up, which gives them hope for the future, because many people have lost that," he says. "When you get someone who gives you a gesture of kindness you feel re-energized that there's hope for the world, that things are better."
Of course, it's not only addiction and pain management patients that Hevern sees. He's also a family medicine doctor, which means he's cared for patients at all ages and walks of life, from babies to the elderly.
"I clearly have many patients that have had remarkable success in changing the course of their lives. On a weekly basis, people credit me for either making decisions or treatment choices for them that have either kept them alive or allowed them to live differently," he says. "That's the joy of being a family doctor."