Study forecasts less demand for single-family homes in N.H.
Demographic changes forecast need for additional rental housing construction and rehabilitation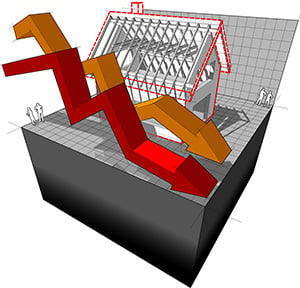 New housing construction is still needed to meet market demands, but not on the same scale as in the past, according to the latest installment of a study released by the New Hampshire Housing Finance Authority.
According to the study, "The Evolving Environment and Housing's Future," decreased market demand for new single-family homes due to a variety of demographic and economic factors will mean that the type of housing required by the state's population may change considerably in the future.
The study is part of the three-part "Housing Needs in New Hampshire" study commissioned by New Hampshire Housing and performed by the New Hampshire Center for Public Policy Studies and Applied Economic Research.
It finds that, while housing construction will continue to contribute to New Hampshire's economic growth, there is likely to be less demand for new housing and new construction of single-family homes. Instead, the market's focus will likely be more on the rehabilitation of the state's older housing stock and increasing the number of rental housing units.
According to the look at the evolving housing environment in New Hampshire, housing construction has declined significantly in recent years. Historically, New Hampshire added 5,000 to 7,000 units per year, but the number has dropped to 3,000 since the Great Recession. The study projects that a return to historical annual construction levels will be necessary through the year 2025 to meet market needs.
Affecting these market conditions are economic and demographic factors, according to the study.
New Hampshire lost 35,000 jobs during the recession and still has 1.5 percent fewer jobs than it did in December 2007. Two-thirds of the jobs created post-recession pay below average wages. Also, demand for homeownership remains low, as younger generations are increasingly less likely to form households and purchase a home. These changes are curbing demand even though, statistically, homeownership is more affordable than it was seven years ago.
And while home prices have fallen, the price of rental housing has increased. Rents for all units have increased by 9.7 percent since 2006, with the gross median rent for the state at $1,018 per month, including utilities. Incomes for renters have not risen as quickly as rental prices. Currently, almost half of renters in the state are paying more than 30 percent of their income on rent. Not surprisingly, low-income families in particular are overpaying for their housing.
The latest portion as well as the first and second parts of the Housing Needs study can be found at nhhfa.org.