Study finds Medicaid expansion would benefit thousands of employees in N.H.
The report focuses on 10 industries that have the most uninsured workers eligible under an expanded program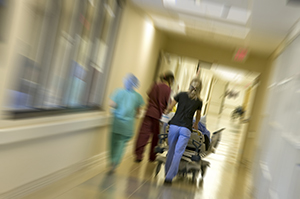 More than 10,000 workers without health insurance in New Hampshire's construction and hospitality industries would have incomes low enough to benefit if Medicaid eligibility were expanded to include people with incomes slightly above the poverty level, according to a study by the New Hampshire Fiscal Policy Institute.
State lawmakers are meeting in special session on Thursday to begin considering expansion of Medicaid, which Concord-based NHFPI supports.
"What we are saying is that the industries might benefit by having more of their workforce insured," said Deb Fournier, the NHFPI policy analyst behind the study. "What I am not saying is that these are bad employers. We are not tying to draw circles around the industries to focus on how many dollars they are spending on their workers."
The study focused on 10 industries, which have the most uninsured workers eligible under expanded Medicaid (adults between 19 and 64 with incomes at or less than 138 percent of poverty — about $15,900 for a single person and $32,500 for a family of four.)
Using census data, the study found that more than 31,000 of 74,000 employees in those industries would be eligible and that 17,000 – more than half of eligible workers – did not have health insurance.
Leading the way are restaurant workers. All told, 38 percent of the 59,000 people employed in that industry are without insurance. Of the 9,000 who met the guidelines, nearly 5,000 were uninsured.
There are fewer workers in the lodging industry – a little more than 7,000 – but more than 40 percent of them are uninsured and half of them are close to the poverty line, according to the report.
The 58,000 construction workers in New Hampshire are more likely to have insurance and less likely to meet the expanded Medicaid standards. Still, more than 7,000 of them would meet the income guidelines and less than 4,000 of those are now uninsured. Fournier said that's more due to the seasonal, part-time nature of the work, rather than low wages.
Medicaid expansion would also affect some 1,300 janitorial workers, 1,000 workers in the amusement industry, another 1,000 who work in the public schools system, and some 800 workers in retail, 700 truckers, 700 grocery store workers and more than 600 landscapers.
Medicaid expansion was originally supposed to be mandatory under the Affordable Care Act, but the Supreme Court, while upholding most of the federal law, ruled it was optional for states to expand the program. New Hampshire, one of the seven states yet to make up its mind on expansion, is considering a program that would subsidize workplace coverage when offered, as opposed to outright expansion.