Student loan practices are a big New Hampshire beef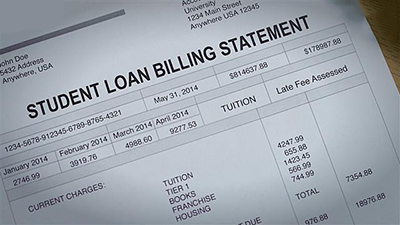 Of the six New Hampshire companies found on the Consumer Finance Protection Bureau's complaint database, five are either collection agencies or deal with student loans. That isn't surprising, for a number of reasons.
The CFPB was set up in reaction to the financial crisis and mortgage meltdown of the Great Recession. Mortgages are what people complained about at first, but that has now shifted to debt collection. While large banks and mortgage industries are based out of state, the state has a few collection agencies that attract complaints locally and nationally.
And New Hampshire consumers complain more about student loans than those in other states. Indeed, the Granite State has the third-highest ratio of student loans compared to population, only topped by Maryland and the District of Columbia in the first quarter of 2017, the last time comparative figures were compiled. But what would you expect in a state that has one of the highest average student debt loads in the nation?
"I feel like these lenders aren't willing to help in any way. They have the abilities to waive late fees and yet, they make it so hard on people who are trying their hardest to do the right thing and pay back these high interest loans," was one of the complaints against Granite State Management and Resources.
GSM&R, the Concord-based affiliate of the NHHEAF Network Organizations, tops the list of New Hampshire-based companies with a dozen complaints. (It had 78 nationwide.)
NHHEAF is perhaps best known in the state for helping students apply for financial aid, but in 2013 it began providing student loans on its own though EDvestinU, a private student loan program. GSM&R services those loans but also has a contract to service federal loans granted to students all over the country. Some of the complaints had to do with misunderstanding the different rules for each.
GSM&R complaints represent a small fraction of the over 700,000 federal borrowers with over 2 million separate loans it services via contract with the U.S. Department of Education, or even the 33,000 private borrowers with 80,000 loans issued by EDvestinU, pointed out Tori Berube, NNHEAF vice president of college planning and community engagement for NHHEAF.
Call frequency
Windham Professionals, a collection agency that employs 200 people in Salem (and another 500 in Nevada, Tennessee and upstate New York), primarily services student federal loans in default that groups like GSM&R turn over to them. It had fewer local complaints (four) but 249 complaints nationally, the most NH Business Review could find against any local company.
But that also is a small percentage of the 500,000 loans it services.
One of the big gripes against collection agencies is call frequency, particularly when at work, and Windham is no exception.
"Windham Professionals is endangering my livelihood," bemoans one anonymous complaint on the CFPB database. "It is very obvious when they call that they are a debt collector, as they announce as such. … They identify who they are looking for AFTER this announcement rather than simply asking to speak to me. I have asked them repeatedly not to call me at work."
But Windham, which won an extremely competitive contract with the U.S. Department of Education to collect these loans, is required to call the work number supplied by the borrower on the original loan, as well as use skip-tracing, a tool that among other things updates the borrower's employment information, explained Brett Lief, the company's chief strategic officer.
CFPB has "a number of regulators that we work with. I don't find them particularly onerous. A lot times [the complainers] are really upset at the college," he said, pointing out that sometimes a college doesn't do a good job in training them for a job or even closes down before the student can graduate.
The problem, he said, is that student loans, which started in the 1960s as a way of helping students get an education, has mushroomed into a $1.4 trillion industry.
"It started out as a social economic program, and it needs to be dealt with as a business," Lief said.
Windham's job is either to collect or work out a "rehabilitation" plan for those who wish to start paying their loans in order to improve their credit rating or prevent their wages from being garnished. (Student loans are not protected by bankruptcy laws.)
Collection agencies perform a "thankless job" but a necessary one, said Lief. "We are collecting from students who went to college on a government loan and they haven't paid what they owed the taxpayer. They are already defaulted, so we spend quite a bit of effort getting them out of debt and a large number of them have."