Street Team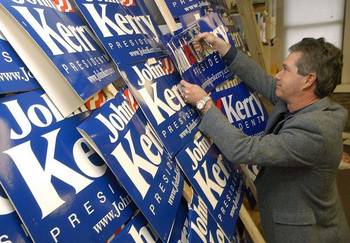 NASHUA – Eleanor Batchelder didn't bat an eye when she was asked to put on a form-fitting, red velour dress with white trim for U.S. Rep. Dick Gephardt.
She would do that for her candidate, she decided.
So when it came time for the Holiday Stroll in Nashua last month, 65-year-old, silver-haired Batchelder donned the dress and became Mrs. Santa Claus.
She strolled through downtown Nashua, handing out candy canes to children. She was surrounded by elves holding Gephardt signs.
Since then the Nashua grandmother has baked goodies for the other volunteers and staffers in Gephardt's downtown office. She has held campaign signs on Library Hill. She even has spent time on the phone calling people and asking for their support for the Missouri congressman.
"I'm just doing things to be helpful," she said. "I'll do whatever they ask me."
Batchelder is among a group of people who are volunteering for presidential campaigns for the first time in their lives.
They are teenagers, stay-at-home-parents, businesspeople and retirees. They are part of the unpaid work force behind the campaigns. But they are also the local supporters every candidate needs.
Some are volunteering because they have reached the point in their lives where they have enough time to do so. Others have gotten involved simply because they felt compelled to do something to bring about a change in the White House. Some said they were so inspired by a candidate they would do almost anything to help.
A combination of factors brought Batchelder to work for Gephardt, including her grandson, who is serving as an intern for the campaign. Perhaps more motivating than that was Batchelder's dissatisfaction with President Bush.
"I have time now to do this," said Batchelder, a Democrat. "It seemed very important to me to get involved at this time. If you believe in the candidate and what he stands for, I think it's a wonderful undertaking."
It's that kind of homegrown support that can make the difference between a winning and losing campaign.
"The number of new volunteers a campaign brings on board is a better barometer than the number of endorsements they get," said Dante Scala, a professor of politics at St. Anselm College in Manchester. "It's the campaign that brings in new blood into the process that wins."
Volunteers perform all kind of jobs for campaigns – everything from stuffing envelopes to hosting mammoth house parties as campaign events. But they are more than a free work force.
They give candidates local credibility. Their personalities become part of a campaign. Their enthusiasm can be catchy. Campaigns without a bevy of volunteers simply don't win, said Scala, who recently wrote a book about the New Hampshire primary called "Stormy Weather."
Volunteers become the face of a campaign as much as the candidate. They can be far more valuable than someone simply writing a check, Scala said.
And for their efforts, the volunteers get something out of it, too.
"It's really exciting for a first-time volunteer to see your action and energy can have an effect," Scala said. "Imagine someone who volunteered for Dean in the summer who can now see the fruits of their labor."
Scala said Howard Dean's campaign seems to be attracting the lion share of new volunteers in New Hampshire. That's probably a big reason why he has become the candidate to beat in the state, according to statewide polls.
Matthew Gardner, a spokesman for the Dean campaign, said several thousand people have volunteered for Dean in New Hampshire.
"Our volunteers become our representatives in the state," Gardner said. "They can go out and continue the discussion that Governor Dean has begun."
Helping Howard
One of those volunteers is 67-year-old Anne Gagnon of Nashua. She has seen 11 U.S. presidents come and go over the years, and she decided she would like to see the current president leave sooner rather than later.
She described herself as very upset with President Bush. Most of her anger is rooted in Bush's arrogant and sometimes ignorant diplomacy leading up to the war in Iraq that alienated several U.S. allies, she said.
"This time I felt I needed to be involved," she said. "I needed to do something."
As a retiree, she didn't have much money to give to a political campaign, but she had time. So she walked into Dean's Main Street campaign headquarters and asked what she could do to help.
That was in October. As a first-time volunteer, she expected to be stuffing envelopes. To her surprise, they asked her to make some phone calls to potential voters. Now she is in charge of the phone bank.
"They gave me a title, phone bank chief or something like that," said Gagnon, from behind wire-rimmed glasses. "I'm kind of a shy person. But it's been really interesting making the phone calls. I enjoy the interesting conversations I'm having."
More than that, she feels like she's making a difference.
"I'm part of a very exciting grass-roots campaign," she said, comparing the buzz around Dean to the support for John F. Kennedy in the '60s. "I'm amazed at the amount of enthusiasm people have for this candidate."
Gagnon said she chose Dean because she wasn't hearing the same old, same old anymore.
"When you've been through as many elections as I have, you get to hear the same words over and over again and after awhile it all blurs," she said. "Governor Dean has a fire in his belly."
Aiding Edwards
While Dean's campaign caught fire in New Hampshire, those of the other candidates haven't.
But that hasn't stopped 34-year-old Scott Burns from giving his time to John Edwards. After work at a local copy center, Burns goes to Edwards' downtown campaign office.
While Burns is no political neophyte, having worked as a staffer for other campaigns, this is the first time he is not getting paid for it.
That means he gets to do some of the less ceremonious jobs, like assembling 80 campaign signs to be stuck into the frozen turf in front of local homes. He also has been calling prospective voters for their support.
Burns is working for Edwards because he believes the North Carolina senator has the best chance to win the party's nomination.
"I know where to find my niche and who to help out," he said. "It's exciting. It's enjoyment. For me, I love it."
He said people who have never volunteered for a campaign are missing out.
"They're missing out not just on fun, but the process of what goes into making a candidate," he said, picking up pace as he speaks. "When you volunteer you see the making, but you also see the purpose. You're creating history here."
History will be made when people in the state go to the polls on Jan. 27. That's when the efforts of local volunteers will pay off, whether their candidates win or lose.
"You get out, you meet people," Burns said. "It's worth it just to be involved."
Signing up for Kerry
On a cold and windy day last week, Larry McGonagle spent an extended lunch break walking in downtown Nashua and holding up signs for U.S. Sen. John Kerry.
As the Massachusetts senator went inside stores and restaurants, McGonagle and other members of the self-described "sign-brigade" made their way over snowbanks and across crowded streets and did it all with good cheer.
"Falling down on the ice is not part of the job," McGonagle said as a throng of reporters and cameramen followed the candidate. "It looks bad on TV, too."
McGonagle said he decided to do something – anything – for one of the candidates vying for the Democratic Party's presidential nomination.
A 48-year-old salesman who used to live in Massachusetts, McGonagle said he was drawn to Kerry because of his experience and electability.
"I don't like what's going on in the White House," the lifelong Democrat said flatly. "A John Kerry supporter happened to call up. I said 'Hey, all right. I'm in.' "
Being a volunteer carries with it a sense of duty and civic purpose, as well as a little excitement, McGonagle said.
"It's a pretty good way to spend your lunch hour," he said. "Being involved in the political process is giving something back. It's a patriotic thing to do."
Another member of the sign brigade, Ellen Kong of Hollis, was helping out while her son, Kevin, was busy at school.
Kevin is an intern at Kerry's downtown Nashua office and as a result supporting the candidate has become a family affair, Kong said.
Volunteering has made Kong more aware of the political process and the differences between the candidates.
"It gets you involved with it," she said, standing in front of Martha's Exchange restaurant. "You get to know the candidates and what they stand for."
A nearby thermometer revealed the temperature was 38 degrees around 1 p.m., but the wind whipping down Main Street made it feel much colder.
"I'm freezing my butt off," McGonagle said.
Back at the campaign office, Kerry personally thanked McGonagle for his time.
Small gestures like that make it all the more worthwhile, McGonagle said.
"You feel appreciated to get a handshake once in a while," he said. "You don't do this for the money."
Jonathan Van Fleet can be reached at 594-6465 or vanfleetj@telegraph-nh.com.