Steps to protect the data on your wireless device
Loss, theft, hacking and viruses are legitimate concerns that everyone should be prepared for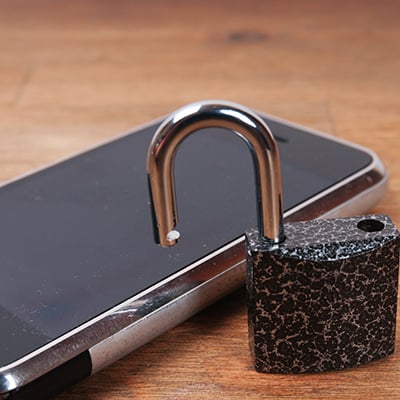 We use smartphones, tablets and computers every day, and much of our digital lives are stored on them. They are our main source of connecting with friends, family and work, and they hold photos, messages and data that help us organize and simplify our lives.
With the importance that these devices now have, loss, theft, hacking and viruses are legitimate concerns that everyone should be prepared for.
In a recent survey of smartphone users conducted by Maritz Research, U.S. Cellular found that 58 percent of people had lost, damaged or had their wireless device stolen. The survey also found that 80 percent of people take at least one precaution to protect their devices, including avoiding links in unsolicited texts, installing anti-virus or security apps and setting a password.
Since mobile devices are an essential part of our daily lives, taking just a few steps can help ensure that our valuable data is safe.
From preventing your data from being compromised to being able to access it if you lose your device, there are some steps that everyone can take to help ensure they are keeping their devices and their data safe:
• The first thing everyone should do when they purchase a new phone is protect it with a password. The password you choose can vary in length depending on what device you purchased, but it is a good idea not to choose a birthday or something that may be easy for someone else to guess. A password is one of the best and easiest ways to keep unauthorized people from getting access to the data on your device.
• Use the technology available to you: The Apple iPhones 5s and 6 and the Samsung Galaxy S5 come with fingerprint technology that provides an extra level of security for your smartphone. Because no two fingerprints are alike, it is a step beyond a password and allows only you to access your device. These devices also have built-in technology that allows the user to remotely lock and wipe their device to make it inoperable, otherwise known as a "kill-switch."
• According to the same survey, 79 percent of people believe their smartphone can get a virus, and while most people take precautions with regards to viruses on their computer, they may not do the same with their mobile devices. Don't open any suspicious emails and only click on links from a trusted source.
• Before downloading any apps on your device, read the reviews and ensure that they are from a reputable company. Many devices, such as the Samsung Galaxy Note 3, have a setting that can block apps or warn the user that the app may cause harm to the device.
• There are a number of Apple and Android apps that will remotely track, lock and/or erase information from your smartphone along with backing it up. By adding one of these apps, your personal information will be
protected in the event your smartphone is stolen or lost.
• Realizing your phone has been lost or stolen can be a hectic and upsetting time. One of the first things you should do is contact your provider to ensure that there is no unauthorized usage on your device. On the flipside, if you ever find a lost device, return it to a local store that sells that service. They may be able to find its owner and send some good karma your way.
Matt Kasper is director of sales for U.S. Cellular in New England.