State's colleges adapt to the changing world of business education
All you need to know about business schools in New Hampshire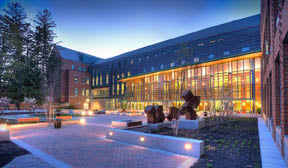 At a time of stagnating college enrollment nationwide, business schools and programs in New Hampshire are thriving and finding new ways to attract and teach students.
The 15 institutions granted a total of more than 4,000 business degrees in 2011 – the latest figures available – with more than 1,250 coming at the graduate level or above. Most report that they have grown since then, as they rush to adapt to globalization and technological change.
The schools are, for the most part, ramping up their efforts by investing in accreditation, online education and additional facilities and revamping their course offerings to cut costs. They're also building connections with local businesses and reaching across borders, both to entice international students and internationalize their offerings.
The education being sought in college has come a long way in the last generation. In the early 1970s, more than a fifth of undergraduates earned a bachelor's in education, while nearly another fifth went into social sciences and history. Business-related degrees accounted for 14 percent of the total. But in the 1980s that changed in a big way, and today 22 percent of all degrees are in business. Social sciences make up 10 percent of the total, and 6 percent are would-be teachers.
As business education has grown, so has the variety of offerings and programs, ranging from the Tuck School of Business at Dartmouth College, where an MBA can cost $118,000, to the state's seven community colleges, where you can earn a one-year accounting certificate for about a tenth of that cost. There are programs like those at Southern New Hampshire University, which conferred more than 1,500 degrees of all sorts in 2011, and there are those at Antioch University New England, which granted 22 MBAs in 2011.
Explaining accreditation
Those attending the state's business schools are not just seeking degrees in business administration and accounting. They are pursuing degrees in sports management, health care administration, digital media, project management. There are business degrees combined with the culinary arts, those aimed at nonprofits, those specializing in international finance and others for entrepreneurs. There is even an MBA in sustainability.
There are programs such as those at SNHU that can be taken online from anywhere in the country – indeed, the world – and there are other business programs offered at schools like Colby-Sawyer College, New England College and Saint Anselm that are tucked into the liberal arts curriculum. There are programs that include studying abroad for a semester (that's at Tuck) as well as those that require an internship at a local business (Franklin Pierce University).
Before delving into the highlights of some of the programs offered in New Hampshire, a word about accreditation. All of the institutions are accredited, but most business programs are reporting an increasing demand for specialized accreditation.
Accreditation offered by the Association to Advance Collegiate Schools of Business (AACSB), also referred to as "Double A," is regarded as "the gold standard" of accreditation, in the words of Daniel Innis, dean of the Peter T. Paul College of Business and Economics at the University of New Hampshire, the only business school in the state aside from Tuck to achieve it. It takes years to earn accreditation, and then it has to be renewed every five years.
"It's a grueling process – a much higher level of accreditation," Innis said.
Others – usually those that don't have it – describe the AACSB accreditation as primarily aimed at larger research institutions.
Headquartered in St. Louis, AACSB is the oldest business program accreditation agency. It started in 1916 to put its stamp of approval on U.S. MBA programs, but now it is international in scope and accredits bachelor's programs as well. All told, some 682 schools in 40 countries – roughly a quarter of the world's business schools – have AACSB accreditation.
"We aren't just for large schools," said Bob Reid, AACSB's chief accreditation officer.
Today, 22 percent of all degrees are in business.
The Accreditation Council for Collegiate Business Schools and Programs (ACBSP) – also called "Single A" – was founded in 1988 and accredits colleges that also offer associate degrees, bringing community colleges into the picture. Indeed, four community colleges in New Hampshire have such an accreditation, and a fifth is a candidate. And the business programs at two universities that offer MBAs in NH – SNHU and Plymouth State University – also are ACBSP-accredited.
"Double A is more for research schools," said William Gillett, dean of SNHU's School of Business. "Single A is for teaching schools. It's a better accreditation for us, because when I go to conferences I learn more."
Colby-Sawyer College, the New London school that granted 36 bachelor's degrees in business in 2011, says it intend to seek its ACBSP accreditation.
"We have considered this for 10 years," said Tony Quinn, chair of Colby's business administration department, "and this year we have decided to go for it. It's a significant effort, both time-wise and financially."
Then there's the International Assembly for Collegiate Business Education (IACBE), founded about 15 years ago, which aims for schools somewhere in the middle, with a more explicit emphasis on outcomes education as opposed to programs and facilities. No New Hampshire school is so recognized, but Franklin Pierce University in Rindge is a candidate.
"It's pretty exciting," said Mary Ann Gaal, the university's interim business division chair, of seeking IACBE accreditation. "It forces us to look at our program and do a bit of soul-searching."
Still, accreditation is not for everybody.
"We need to be bigger," said Amy Schmidt, chair of the business department at Saint Anselm. "We have 10 full-time faculty, and we never felt the need."
"We are not planning to seek it," said Greg von Lehmen, provost of Mount Washington College. "We are very focused now in consolidating face-to-face programs and launching a national online program."
Von Lehmen added, "We wouldn't rule it out in the future."
Tuck was the first school of business – and not just in New Hampshire. Founded in 1900, it claims to be the first school in the world to offer an MBA.
It still only offers an MBA – about 254 of them in 2011. In some ways, Tuck is in a league of its own, "the top of the heap," as its dean, Paul Danos, puts it. It doesn't really compete against other New Hampshire schools, he said, but with the top 15 business schools in the country.
Like any Ivy League graduate school, Tuck is selective. Only about a fifth who apply get in, and though students pay through the nose, they get a lot in return.
The school's operating budget is $65.5 million, or an average of $1.4 million for every faculty member, and the average class size is under nine students. Some 95 percent get job offers after obtaining their degree, with an average salary of $115,000.
"The things rocking higher education don't have as much of an effect on Tuck," said Danos. "A lot of schools are challenged to make it a value proposition. At Tuck, they can take the top jobs of the industry."
But that doesn't mean that Tuck isn't trying to change with the times. Already an international school, Tuck is now requiring that students go abroad.
"Companies don't want someone who will never leave the country," Danos said.
It also isn't oblivious to the increasing competition for students. Tuck is working at offering an elective to Dartmouth undergraduates, as well as setting up a way to reduce the actual graduate program to a year. It already offers a health care MBA to hospital administrators, and is thinking of offering one to administrators at universities or other nonprofits as part of a "growing outreach for the nonprofit sector," said Danos.
Peter T. Paul College of Business and Economics
Although the Paul College has the same accreditation as Tuck, it is a state school, with more of an emphasis in New Hampshire. Some 77 percent of those who apply get in to the MBA program. The degree is less expensive than Tuck's – $63,000 total program cost, according to Businessweek.
But Paul serves undergraduates as well, about 2,225 of them. It has an operating budget of $34 million. Undergraduate classes average 21 students, but that permits graduate students to get one-to-one access.
Paul has been growing, with about 500 more students enrolled than five years ago, according to its dean, Dan Innis. And 40 percent of those students are from New Hampshire, but an increasing amount are coming from outside the state.
"We are not a brain drain but a brain faucet," Innis said.
That additional demand led to construction of the $50 million building that bears the school's new name (it previously was the Whittemore School). But it's more than just the 950 new classroom seats, said Innis, who described the new facility as "transformative."
Southern New Hampshire University
SNHU grants more business degrees than any other college in the state, but a good chunk of those are online. The Manchester-based college is one of the largest online universities in New England, with some 12,000 business students online (they account for about half of its online population).
On campus, the breakdown is 1,200 undergraduate and 1,800 graduate students, but many of the on-campus students take online courses as well. Graduate students in particular are usually working in addition to pursuing a degree, which is why it's unfair to compare SNHU to a more traditional university.
Serving a population of people who already have jobs is one reason SNHU is proud of its efforts to cut costs of earning a degree – which, in turn, recently earned it recognition from President Obama in a recent speech on reducing the cost of education.
SNHU's latest initiative is a three-year bachelor program previously reserved for honor students. Dean William Gillett stresses that it is not an accelerated program and would not mean extra classes.
For Brian Ward, an Army reservist from Derry entering his second year in the three-year SNHU program, it has been a blessing. Although he does get living expenses paid through the GI Bill, his parents – an electrician and a nurse – have helped with the rest, and they just put his older brother through school.
"Cost is definitively a factor," said Ward.
The other factor, is that, after taking a year off for the military, he could still graduate with his friends. With a bachelor's in business administration and a specialty in organizational leadership, he is hoping that he could move up the ranks if he remains in the service, and find a suitable career after he leaves it.
Plymouth State granted nearly 300 business degrees in 2011, the third-highest total in the state, thanks to strong on-campus accounting and sales programs and online MBA programs. Some 850 PSU undergraduates – nearly a quarter of the student population – are business students. Unlike UNH's Paul School, Plymouth's business department welcomes those from the community colleges.
"Send me more," said Trent Boggess, dean of the College of Business Administration, who said the school has more of an emphasis on the practical side of business education.
"We have a hybrid blend of faculty that includes academics like myself, with a card-carrying Ph.D. in economics, and those who have graduated from the school of hard knocks," Boggess said.
The college boasts one of just 60 sales leadership programs in the country, headed by a 25-year veteran in the business, Robert Nadeau, who notes that while business schools produce marketing majors galore, sales jobs outnumber other marketing jobs by 60 to 1. And having a sales advisory board that includes such heavyweights as HP, Apple, Microsoft and IBM doesn't hurt either.
But accounting is the school's flagship program, said Boggess, with some students getting job offers in the fall and early winter of their senior year. Some of the students, two years after graduation, "are making more money than I do, as they should," said Boggess.
Like many business schools, Plymouth has also upgraded its international business offerings, by recruiting both professors and students. Indeed, Boggess was about to embark on a recruiting trip to Beijing before he spoke to NHBR.
At the master's level, most of the 600 students take their courses online, as they have been for the last 11 years, making it the oldest accredited online program in the state, said Boggess. Health care administration is the most popular master's, with accounting the newest.
The business department is also heavily involved in the new business incubator being developed by the university in conjunction with the Grafton County Economic Development Council. The grand opening of the Enterprise Center at Plymouth is scheduled for Oct. 15.
The Kaplan Inc.-owned institution – formerly Hesser College – recently closed two of its five campuses because of declining enrollment, but that is not the case when it comes to its business program, where enrollment actually rose 5 percent, said Provost Greg von Lehmen. Business majors account for 28 percent of the college's population.
But that may be just the beginning, since the school – with the help of Kaplan – is planning to go national with a new online program. Mount Washington already offers online courses, of course, but they are similar to face-to-face classes, with the same teachers, ending and beginning at the same time.
The new program, launched this school year, will be different than "traditional online education," promised von Lehmen.
"It won't be instructor-led," he said.
There will be instructors, but their role will be more as mentors, as students go through the online program at their own pace.
There is no specific time to start or end, and students won't be at the same level at the same time when they join online discussions. That can be a good thing, von Lehmen said, because some students further along can help the other students (and get credit for doing so).
The program will be aimed at those wishing to pass a CPA exam, he said.
Von Lehmen said that the online launch, in the planning stages for years, has nothing to do with the closing of the two bricks-and-mortar campuses.
This small Henniker-based college is going all-out to capture more business students, resulting in its largest freshman class in that discipline, said Mark Watman, vice president for academic affairs. It is offering a number of specialized MBAs – health informatics, nonprofit leadership and digital social media, sports and recreation – both online and off. On campus, it is replacing Larter Hall, where it currently houses its business program, with a new state-of-the-art building that, it's hoped, will house an incubator for startup business to attract new students.
It also has opened an educational storefront on Main Street in Concord that will offer an MBA in strategic leadership (as well as a non-business master's in public policy).
The program, Watman said, doesn't emphasize Wall Street "but more of a holistic focus on business, on entrepreneurship, on taking what they learned and putting it in real-life application."
But Watman emphasizes that there will be small-college feel, even online, with classes of less than 15 students.
"The learning is very personalized," he said.
Franklin Pierce, in Rindge, offered the most business degrees in 2011 of any liberal arts colleges surveyed.
"We really pride ourselves in our advising, in getting to know the students," said Mary Ann Gaal, interim chair of the Business Department.
The local business community gets to know them as well. While other schools encourage internships, Franklin Pierce requires one of at least 155 hours. The students advise the businesses, write up business plans and develop brochures and marketing strategies.
"We want to get that interaction with real companies, working hand-in-hand with them," she said.
The school is expanding its majors, offering a health care administration degree, and has a program that makes it possible to graduate in four or five years with a bachelor's and an MBA.
Saint Anselm, another liberal arts college in Manchester, only offers bachelor's degrees, and business students are all exposed to the "liberal core," which includes various humanities and writing courses, said Amy Schmidt, who chairs the Economic and Business Department. "We offer more critical reasoning development than the average student going to a just-business school."
But the school is able to provide some of the specialized equipment that some liberal arts schools might lack, such as a Bloomberg terminal that provides real-time stock information and data.
This year, the college is also enabling students to graduate with fewer classes, though that's a campus-wide reform, by switching courses from three to four credit hours. That means incoming freshmen will only have to take 36 as opposed to 40 classes.
"We are going to more depth rather than breadth," Schmidt said.
Business is the largest major at Granite State College, even though it doesn't have a business department per se. But then, GSC – once called the College of Lifelong Learning – has never been a traditional school, even though it's an often-overlooked part of the state university system.
"We are very workforce-oriented," said Laurie Quinn, provost and vice president of academic affairs.
And while UNH's Paul College might brag that 40 percent of its students stay in the state, Granite State College boasts a 92 percent state retention rate.
Business majors are so popular at Granite State that the school started offering three business-related master's degrees – project management, leadership and management.
This New London liberal arts college has also begun reaching out online with a new certificate in human resources and leadership and a new bachelor's in accounting in 2014.
It's all part of an effort by the Business Administration Department to increase affordability and convenience for students," said Tony Quinn, chair of the department.
"As it gets more competitive, we have to offer a variety of pathways for people to help them pursue an education," he said.
New Hampshire Technical Institute
As a feeder college, NHTI, like the state's other community colleges, doesn't offer a bachelor's degree, but it does offer associate degrees and certificates in business. (The state's seven community colleges each have their own business programs with NHTI being the largest, granting some 95 degrees and certificates in 2011.)
"It allows people to incrementally grow. You get that certificate in a year, and that gives you an entry-level position. Then you can go to an advanced certificate," said Alan Blake, director of communications at NHTI.
It also enables students to combine their degree with specialized courses offered at any of the campuses, like the culinary and tourism programs at Lakes Region Community College.
Then, if students want to move on to a bachelor's degree, there are colleges that have an articulation agreement with the community college system, including Plymouth State, New England College, Franklin Pierce and Daniel Webster.