State resource center learns to mine trade shows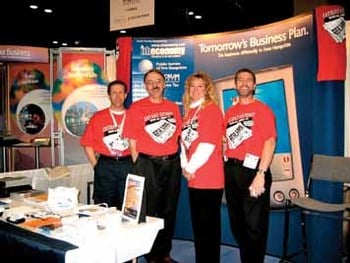 "Persistent opportunists" is one way to describe New Hampshire Business Resource Center's development managers Michael Bergeron and John DiNapoli. A better description may be real estate agents for New Hampshire.
But no matter the description, Bergeron and DiNapoli are experts at bringing new businesses to New Hampshire and ensuring they have everything a business needs to get up and running and be successful. One important way they make connections with businesses is through trade shows and recruitment missions.
DiNapoli and Bergeron have developed a targeted yearlong trade show schedule that included attendance at CoreNet Global in Chicago, the nationally recognized real estate show. Attendees at CoreNet included senior corporate real estate directors of Fortune 500 companies, as well as national and international real estate site consultants. Attending the show for New Hampshire were Bergeron and DiNapoli, along with Pat McDermott and Lynn Crowell of Public Service of New Hampshire, which provides support for the Business Resource Center's trade show schedule, along with Fulcrum Associates Inc., the New Hampshire Economic Development Association, Bank of New Hampshire, Laconia Savings Bank, First Colebrook Bank, Berlin City Bank, VHB Associates and TEAM NE.
"An event like CoreNet allows the development managers to cultivate one-on-one relationships," said Business Resource Center Director Roy Duddy. "Relationships are the primary way we bring companies to New Hampshire. The process can take time, but the benefits are well worth it."
For example, at the 2004 CoreNet event, Bergeron and DiNapoli began working on a lead from a site consultant for a 1.2 million-square-foot warehouse distribution facility that might hire over 500 workers.
"This project may take months or years, but the seed is planted and we're optimistic," said DiNapoli.
After a recent trip to San Antonio, the development managers began working on two leads — one for a 100,000-square-foot warehouse and distribution space and the other for office space for a well-known college.
"We're salespeople for the state," said DiNapoli in describing his job. "We connect with decision-makers and provide them with the data they need to make the best choice for their business."
"We provide detailed state-to-state comparisons for our clients, and we're always optimistic that they will choose New Hampshire," said Duddy. "But we won't be successful unless we build the relationship. Each lead takes 12 to 24 months to cultivate. That seems to be the cycle for economic development."
Team efforts
The fruits of that cycle can be seen in the recent closing by Sea View Technologies on a 68,000-square-foot facility in Exeter.
Initial contact with the firm was made in May 2002 at the NEPCON East event in Boston. Following the show, DiNapoli worked with Sea View Technologies President Roland Brewer.
"I was very impressed with the service and attention to detail that John gave me over the months that we worked together in trying to identify a site that fit my needs," said Brewer. "The site surveys that he prepared gave us an understanding of the market. He noted that being patient has its rewards in economic development. It does not happen overnight. He was right. It took us 18 months to identify and close on our new facility. We've doubled our space and plan on hiring additional employees to keep up with our demand."
A critical portion of this deal were the connections DiNapoli brought to the table through his involvement with the New Hampshire Commercial Investment Board of Realtors.
"His contacts saved us time and money, and in business that's critical to our overall success," said Brewer.
Janos Technology recently closed another deal that has roots in a meeting at a May 2001 trade show.
Janos met with DiNapoli and Gordon Tuttle of PSNH, following a cold call meeting made by Bergeron to the company in Townsend, Vermont the year before.
Bergeron remained in touch with Janos, which was purchased in 2004 by the Monroe Group. At the time, Bergeron was contacted by Janos to provide a presentation and real estate survey on New Hampshire and Keene. After a team effort by local and state officials, Janos relocated from Vermont to Keene, bringing 75 new high-tech jobs.
Not all relationships lead to a relocation to New Hampshire, but that is most often due to factors beyond anyone's control, but the relationship may still pay dividends in the future, said DiNapoli.
For example, three years ago DiNapoli and Bergeron attended a CoreNet event in San Diego and worked on a 350,000-square-foot warehouse distribution lead that would have employed over 200 New Hampshire workers for Clayco Corp.
"Due to an unfortunate economic downturn, we were not able to expand our operations," said Clayco President Tom Schroyer. "It was very realistic to expect New Hampshire would have been selected as home for our distribution client. I can't wait to work with John and Michael on another project in New Hampshire. They are true professionals and a credit to the state."
For more information, contact DiNapoli or Bergeron at the New Hampshire Business Resource Center at 271-2591 or on line at nheconomy.com.
This article was provided by the New Hampshire Business Resource Center.