State rep taps China's bounty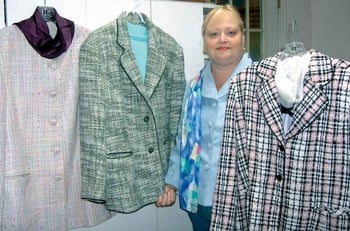 Ten years ago, state Rep. Fran Wendelboe, the staunch conservative deputy House majority leader from New Hampton "wouldn't have dreamed of doing business in China." Even now, as a "pro-life person," China's encouragement of abortion and its one-child policy, "absolutely makes me sick."
Yet Wendelboe and her partner are today doing business in China — a custom clothing business for plus-size women called Fit and Style — that went online in March. Over the past few years, Wendelboe has been repeatedly traveling to one of the few countries that remains run by communism in an attempt to get her company off the ground. She briefly ran a factory there, and now plans to lead "escorted" shopping trips to Shanghai, beginning this fall.
"Shanghai is the fashion capital of China," raves one of her websites. "You will find incredible buys on custom-made clothes, handbags, silks, pearls, jewelry … Almost anything you can think of can be purchased in Shanghai at prices you will not believe."
Wendelboe has changed. Once, she— along with critics of China, both left and right — wanted to isolate China and routinely lambasted those who promoted free trade with the country. For instance, in a U.S. Senate primary in September 2002, former Sen. Bob Smith criticized then-Congressman John Sununu in a New Hampshire Right to Life newsletter because he "rolls over for China," voting for trade benefits, "even though China forces abortion on their young mothers every day."
Wendelboe appeared in the same Right to Life newsletter in an advertisement that boasted that she was the only true conservative running in her congressional primary. She didn't mention China in the ad, but, she said, she once echoed many of those anti-China sentiments voiced by Bob Smith.
But, said Wendelboe, "having gone there and seen what capitalism has done for the Chinese people for their attitudes, I have concluded that the way to stop communism is to let the masses taste capitalism."
Thinking big, Wendelboe started her odd Asian odyssey almost on a whim, a vacation trip to Hong Kong with her friend, campaign finance manager and future business partner Linda Luhtala, several years ago. Wendelboe had just endured a frustrating run for Congress, not just because she lost the primary, but because she couldn't get enough business suits that fit her, even in plus-size clothing stores.
The problem wasn't just a matter of size. Most stores, she said, don't sell clothes that fit well, and match people with a large top and smaller waist and vice versa. Often she had to buy two suits — if she could find two that matched — to assemble one suit that fit.
But in Asia, custom suits were both available and affordable, and she soon was filling a closet that, she said, was the envy of the legislature.
Wendelboe, who once worked for Montgomery Ward, had a few businesses under her belt (day care, real estate, floral design, not to mention assisting her husband's plumbing business), saw an entrepreneurial opportunity: import custom clothing for heavy-set women.
Wendelboe and her partner thought big, perhaps too big. They bought a factory in Shenzhen (which they have since sold), they invested in an expensive computer program to design patterns for larger women (which they no longer use) and they went in on a deal with a larger fabric company in another plant in Shanghai (abandoned after the would-be partner moved to Beijing). But through all these fits and starts, they got to know the country, and in particular Shanghai, better.
Wendelboe remembers the first time she ventured into a Shanghai restaurant without a translator and had to walk around with the waiter and discretely point to what other patrons were eating. She ended up with turnips, tripe soup "and some kind of dish I think was chicken." Since then, she has translated a list of her favorite Chinese dishes and just hands it to a waiter.
She also learned to direct taxi drivers by pantomime, though she is about to break down and take a course in Mandarin. More importantly, she learned that local Shanghai tailors can make custom clothes better than any computer — and after spending nine months finding several computer-savvy and reliable tailors — set up her website, fitandstyle.com.
At the site, one can either use a chart to click on some 30 different types of measurements or just send in an existing suit that fits to allow the tailors to create another one. But the very restrictions on trade that China critics have advocated in the past have become what Wendelboe calls her "biggest headache."
Once there were no quotas on imports, and Wendelboe could ship as many suits as she desired. Now businesses can apply for a portion of the quotas in increments of 100,000 suits, leaving niche businesses like Fit and Style out in the cold. Such quotas don't apply, however, when delivering clothes in person. So that means less shipping and more tripping off to Asia. And that's how the escort business idea got started.
To piggyback on these trips, Wendelboe is inviting her customers to come along. While the customer will pay for the airfare — and what they actually pay for clothes — Fit and Style will do the rest. For a $1,200 flat fee, Wendelboe said, her company will pick you up at the airport, set you up in an apartment, feed you — including stops at some choice restaurants — measure you and go shopping with you, topped off with a river cruise. Wendelboe doesn't expect to make much on these trips. Only three or four are scheduled a year, with the first leaving in October, and fewer than half a dozen patrons are expected for each trip.
But they hope to build a customer base for repeat Internet business, she said. Some of Wendelboe's legislative colleagues are a bit bemused by her endeavors, but reluctant to criticize the deputy majority leader.
Rep. David L. Buhlman, R-Hudson, recently co-sponsored a resolution last year condemning some of the movement toward free trade. The resolution — which was passed by a voice vote in the House, only to be permanently tabled in the Senate — specifically mentions China, which it said, had "engaged in a wide range of unfair trading practices, including the manipulation of currency and dumping below-cost subsidized products into the United States market."
Buhlman said he thinks that there should be some limits on what is being shipped over from China, though he added, "I don't know about plus-size dresses … but there should be room to do that over here."
Wendelboe said she looked into that, but said that tailors simply don't do the kind of custom work here for competitive prices. Buhlman replied that "they used to make them here, but business has fallen off because we can't compete with the wage level over there."
The resolution, he said, was not just aimed at China, but "various trade agreements that hurt workers, not companies. The companies make out just fine."
Wendelboe, however, anticipated such concerns about the low wages in China. The mostly transient workforce is happy to send money back to their families, she said.
"What we consider slave labor rates support many people back in their villages," she said. "You have to see it to understand."
For example, she said, the workers who make fabric for suits work in small groups of five or six in various homes. She stopped off in one person's home, and it wasn't some big capitalist exploiter, but a small entrepreneur.
"We have opened doors for so many people," she said. Those who fear competition with China once feared competition with Japan, she said. But it works two ways. China is a huge market, and if capitalism results in an increased living standard there, the Chinese people will buy more goods from the United States.
"They all want to buy American stuff," she said. Buhlman didn't want to be drawn into an argument with Wendelboe. "Fran is right. Introduce them to capitalism. Everything she says is right," he said.