Startup Stories: Ray Pasquale, Unified Office
Unified Office -- a Portsmouth-based startup that helps small businesspeople virtually access their office from anywhere in the world -- recently expanded to the abi Innovation Hub in Manchester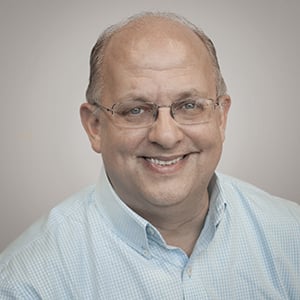 Ray Pasquale is founder of Unified Office, a Portsmouth-based startup that, according to Pasquale, helps small businesspeople to virtually access their office from anywhere in the world.
The 18-month-old business communications service, which was founded at the New Hampshire Innovation Commercialization Center, recently expanded to the abi Innovation Hub in Manchester after its official March launch at the Enterprise Connect conference in Orlando, Fla.
With the service, businesspeople can load an app on their own portable devices — whether tablets, smartphones or laptops — that gives them on-the-go access to Unified Office's suite of communications features, which include visual voicemail, audio-video calling and conferencing, a virtual receptionist and instant messaging. Pasquale said he hopes to bring the reliability, uptime and quality that are the hallmarks of big service providers to small and mid-size business customers.
Pasquale is no stranger to the technology field; his resume includes stints at Digital Equipment Corp., Cascade Communications — which was purchased by Ascend Communications, which was ultimately absorbed by Lucent — and Westford, Mass.-based Sonus Networks, a "pioneer in VoIP switching" that went public in 2000.
NHBR had a phone conversation with Pasquale, who was speaking over his iPad. Here's the edited conversation.
Q. What does Unified Office do?
A. We don't sell products, we sell services. We're kind of like a new breed of service provider, like a Verizon or FairPoint would be, except we have a focus on small to medium-sized businesses. We think our sweet spot is between the five-person office and the 75-person office, and there are two reasons for that. For one, they're not likely to have an IT person on staff and two, that represents about 78 percent of the total market across the United States.
We deliver a very high-quality voice communications experience to them on a variety of devices to support a global lifestyle or a virtual office construct.
Before founding the company, what I saw was two things: I saw the old-fashioned PBX phone systems going the way of the mop in the Swiffer commercial – "Remember me?" — and then the other extreme of the market, the Voice over IP cloud-based providers, like magicJack, Vonage, etc., which were pretty disruptive to the old-fashioned phone market when they first came out — you didn't have to buy anything, and your monthly cost was pretty low. So I saw a gap in between those two extremes and I said, "Why isn't anybody filling this?" It seemed pretty obvious to me.
I think this is a next big opportunity. Over the last five to six years, things have changed, the way we conduct business has changed fundamentally — we do business almost in real time. The response to the market is critical to today's small businessperson. The existing providers that typically provide them with their communications services, they can't take them to where they need to be.
Q. What kind of services do you offer?
A. I'm in a conference room, I'm using my iPad, and I don't have an old-fashioned phone on the desk. I have three or four offices and I travel constantly. My office manager knows where to find me by dialing four digits. I could be at a Starbucks in Paris and it would work just as well. It's really bring your office with you.
You don't have to have a desktop at every one of your offices. I wanted to build that kind of virtual calling experience for our customers so you can bring your own device to work.
Q. Why the expansion to Manchester?
A. We're expanding into the market into Manchester because I think it's an extremely vibrant market — look what they did with all those mill buildings. I want to be part of that and get closer to the Manchester market.
Q. Who are your customers?
A. We've got about 14 beta customers; our flagship account is the Greater Portsmouth Chamber of Commerce.
Q. How have you funded the company?
A. We are now in fundraising mode. I bootstrapped the company, the founders have for the first 18 months or so, now we have investors coming on board in our first capital-raising mode.
Q. Have you had any challenges finding investors?
A. If you randomly go to angel groups and venture capital firms, it's too difficult, unless you're Mark Zuckerberg. I'm an investor in a limited partnership in a venture firm in Massachusetts, and I can tell you it's not anything like it used to be, and that's why I bootstrapped the company.
When I started, I had one decision to make: I'm either going to waste a year of my life trying to raise money, or just spend my time building the company right, tweaking it, making sure there's a market for it, making sure that company will pay me, and when I'm done and confirmed to myself and that we have a company, now we will raise money.
I'm raising money from wealthy individuals. They're not angels, but they're not venture capital firms either.
Q. How many employees do you have?
A. We have seven full time, and we can surge up to about 13 people. They range from Web developers to a couple of very high-powered people on my advisory team — professional people that are really knowledgeable about building channels. The way we acquire the customers in this market is through resellers. They're selling the old mop and they need something new to sell to make it relevant again.
Q. What challenges have you faced in starting a business in New Hampshire?
A. I would argue that the economy today is such that there really hasn't been a better time in my history to build a company than now. Jobs are just not as plentiful as they were. There are people out there who used to make $150,000 a year who are underemployed, the large companies are still laying people off quietly, so I actually think it's a good time to build a company. Necessity is the mother of invention, as they say.
I think New Hampshire has an advantage. I like what the ICC is doing and being around like-minded entrepreneurs. Building a company is probably one of the most irrational things people can do. When you're somebody like me, you're living on the edge all the time — Can you live it? Can you sell it? It's not for everybody but you need entrepreneurs, and the nice thing about being around these incubators, of course the real estate price is right, but it's sort of our own internal support group.
I think the biggest challenge is the macroeconomic challenge that is still sitting as a dark cloud on top of the market in general, whether raising money or just getting people to get about the business of doing business again.
Q. What are your goals for the future?
A. It's hard to nail this one down. We have a plan over the next three years where hopefully we can employ 50 or 60 people, and the revenue for that company is somewhere south of $80 million dollars. Then our plan is to roll it out in the U.S., but we're going to start in our backyard.