Stamping out long lines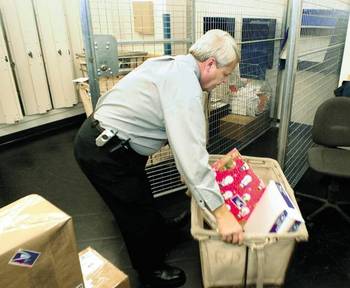 NASHUA – With a noontime line of about a dozen people in the downtown post office, John Lavalliere skipped past them all and headed to the new automated postal center.
In a matter of moments, the Merrimack resident had the required postage for a gift from his wife to a city friend.
"It definitely saves me time," Lavalliere said Monday.
Others also complimented the new service on what the U.S. Postal Service forecast as the busiest shipping day of the year.
"No line, no waiting, no pain," said Mary Beth Woodward of Nashua, as she purchased her book of Santa Claus ornament stamps, stuck the holiday stamps to her cards, mailed them and went on her way.
It's the first holiday season that the ATM-like machine is available at the Hugh Gregg Post Office on Spring Street.
The machine is proving itself a popular alternative to waiting in line. On Sunday, when the post office is closed, the machine did some $400 worth of business. On peak days, the machine takes in between $1,600 and $1,800 worth of business, according to Postal Service officials.
And most anything available from a clerk is available at the machine.
A customer can weigh a package, post a letter, or buy a book of stamps using the self-service machine. International stamps are available, but not packages to be mailed overseas.
Customers use a touch-screen keypad to find ZIP codes around the country. There are tools to help people who are handicapped. The automated system only takes credit and debit cards for payments, however.
Don Trudel, supervisor of customer service, said the machines are located in the largest post offices in the state. In the future, one might be put in the post office branch in south Nashua, he said.
The post office has extended hours with the machine. Customers can take care of business from 5 a.m. to 10 p.m., seven days a week.
Ken Smith, of Littleton, Mass., used the machine during his lunch break from a Nashua job to ship a package to Vermont.
Smith figured how to use the machine on his own. He called it "idiot proof."
Joan Huff of Nashua took care of Christmas packages to family members in Idaho and Maryland in no time.
"I was ready to accept (the lines). It's nice to be able to get in and get out," Huff said.
The mailing deadline for Christmas packages is approaching. Monday was the busiest mailing day of the year and Wednesday is expected to be the heaviest mail delivery day of 2004. Express mail is suggested to ensure items arrive in time for Christmas Day.