St. Mary's Bank
Harvey Construction completes $9.5 million construction of new corporate headquarters for St. Mary's Bank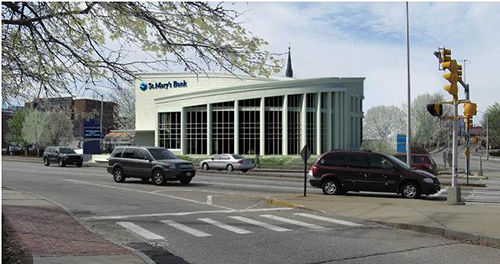 When it came time to construct a new corporate headquarters, the leadership at St. Mary's Bank made one thing particularly clear: just because a new building was being erected didn't mean the bank's commitment to excellent customer service
would be sacrificed. So the bank branch already in operation at the location for the new headquarters stayed open throughout the construction process, ensuring seamless, typical visits for any customer stopping by to make a transaction at America's first- ever credit union.
Making this happen seems a tall task for any builder, but Bill Stevens of Harvey Construction says it was a breeze to complete the three-story, 29,000-square-foot St. Mary's corporate headquarters at McGregor Street in Manchester – or at least as close to one as possible.
"Of course there are hurdles to overcome in any construction project," Stevens explains. "But this one was as smooth as they go. It was a great opportunity for us and we were happy to be a part of it."
Stevens attributes much of that ease to Harvey Construction's lengthy, excellent relationship with St. Mary's Bank. Their working partnership extends back over a decade, and over the five-year commitment that went into the planning and construction of the new headquarters at McGregor Street, Stevens and Harvey Construction got a chance to see firsthand what a personal stake the St. Mary's leadership had in the project. St. Mary's President & CEO Ronald Covey was a significant contributor to the project's momentum, Stevens says.
"It's a unique thing to see such a high level of engagement from someone in his position, but I think Ron's involvement really helped to keep the project moving along at a good pace," Stevens says.
Covey was one of several vital contributors to the St. Mary's effort. Other significant project members included Harvey Construction project manager Anne Dodd and project superintendent Mike Halliday, and Dale Dollar from Lavallee Brensinger Architects and Dawn Horan from Stibler Associates both in Manchester. The combined expertise and effort of these and others from Harvey, St. Mary's, and various subcontractors is apparent in the final form of the building, which is packed with impressive features dedicated to form, function, and overall efficiency.
The building is both the corporate headquarters for St. Mary's Bank and a separate branch office, which means it combines features for the corporate side of the business, like executive administration offices, human resources staff, and state-of-the-art conference rooms, as well as features for banking operations, ranging from mortgage and commercial lending divisions to a four-lane drive-up banking structure, a drive-up ATM, a safe, lockboxes, and much more.
St. Mary's McGregor Street headquarters was also designed and constructed with the maximum possible environmental friendliness and efficiency in mind; St. Mary's Bank is pursuing LEED Silver Certification for the building, and notable features toward this end include energy-efficient insulation of the exterior walls and roof; an eco-friendly interior carpet made from recycled materials; a high-efficiency HVAC system consisting of a condensing unit and fan coil system; a heat recovery unit included in the design recaptures interior heat from exhausted building air; a solar photovoltaic array installed over the teller drive-up canopy to supplement electricity in the building; LED light fixtures on exterior and interior of building; and water-conserving plumbing fixtures.
Even with this considerable focus on efficiency and functionality, the team from Harvey Construction and St. Mary's Bank made sure to devote time to making the branch office an appealing place for customers to visit.
"The lobby alone is worth going to see," Stevens says. "The space is very welcoming with the cherry veneer wood panels, masonry stone work, large glass curtainwall and always a smiling greeter as you enter the space."
It seems there's a litany of reasons to stop by the new headquarters for St. Mary's Bank, from the customer service people have come to expect to simply admiring the architectural and construction handiwork of the project's dedicated team. In other words – there's no reason not to head down and see it for yourself.