St. Joseph Hospital delivers first triplets in 30 years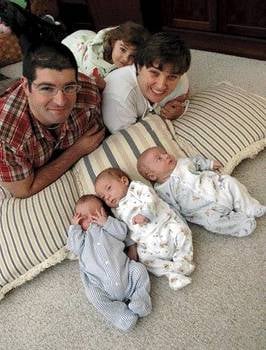 Kari Husson is an organized person, so organized that after she and her husband, Joe, learned they were having triplets, she addressed the birth announcements and did her Christmas and birthday shopping.
But two weeks before her scheduled Nov. 4 Caesarean section in Boston, the 32-year-old mother of 20-month-old Abigail went into labor in her Windham home and was rushed by ambulance to St. Joseph Hospital in Nashua.
On Oct. 19 at 8:47 a.m., Samuel Joseph, 3 pounds and 15 ounces, was born. He was followed at 8:48 a.m. by Maxwell Dean, 4 pounds and 7 ounces, and at 8:49 a.m. came Ryan Matthew, 4 pounds.
They were the first triplets born at St. Joseph in more than three decades.
"Samuel changed the plan," says the mother during an interview in the kitchen of her spacious Windham home. "He flipped himself and started heading out."
While Kari sits at the kitchen table talking, her mother, Judith Jackson, feeds one of the babies. Another naps in a baby swing, and the third sleeps in a nearby convertible crib.
Kari says the day the triplets were born, her husband kissed her goodbye at 4:30 a.m. and left for work in Boston, where he is a plastics engineer. At 6 a.m., she woke, feeling nauseated and in pain.
"I called Joe and told him, 'I can't call my mom.' It hurt so much, I couldn't talk," she remembers.
Joe called his mother-in-law, who lives with the couple, but on the other side of the house."The doctor said to call 911. I wanted my mother to drive me to the hospital," says Kari, recalling the details as if they happened yesterday. "We're not a family that does that. I didn't want the drama."
Kari was in so much pain, however, and so concerned about distressing her mother, that she agreed to call the ambulance.
It was a wise decision.
At the hospital, a nurse who examined Kari announced that she was fully dilated. An attending doctor told her, "Breathe if you don't want to deliver vaginally."
"I stared at a dot in the ceiling and breathed until it was time for me to go (to surgery)," Kari remembers.
Meanwhile, 32-year-old Joe Husson raced to the hospital, making the drive from Boston in 35 minutes.
"The doctor said to my mother, 'You can go in if Joe doesn't get here,' " says Kari, remembering how her husband flew into the operating room, catching the scrubs an attendant tossed his way.
Triplet births are rare at local hospitals. Usually, local women planning multiple births use the teaching hospitals in Boston or Lebanon.
So after doctors at St. Joseph Hospital assessed the situation, they called extra help: doctors, nurses and others, including specialists from the neonatal unit at Southern New Hampshire Medical Center, where there have been five sets of triplets born over the past four years.
"The best part was being wheeled down the hallway and seeing about 15 people in scrubs lined up against the wall," says Kari.
At St. Joseph, the Hussons later learned, doctors and nurses hadn't delivered triplets for more than 30 years.
The mother says early in her pregnancy, her doctors recommended a C-section to avoid potential complications with both babies and mother. During a vaginal delivery, doctors said, it is sometimes difficult to identify each baby's heartbeat. The C-section would allow medical staff to carefully monitor and safeguard both children and mother.
As it turned out, the delivery was textbook perfect, as were the two weeks the three babies spent in the hospital afterward.
"Everything just fell into place like it was meant to be," says Dr. Mark Dubay, the obstetrician/gynecologist who delivered the triplets.
Seven weeks and one day after the births, Ryan weighed 7 pounds, 13 ounces; Max was 8 pounds, 5 ounces; and Sam was 8 pounds. Kari and Joe are likewise doing well, sharing care of their boys with Kari's mother and sister.
The family cares for the boys in shifts: Judith Jackson sleeps from 9 p.m.-3 a.m., when she gets up for baby duty; Kate Jackson is on standby to assist her mother starting at 3 a.m.; Joe takes the evening shift, covering from the time he gets home from work until midnight; and Kari is on from 8 a.m.-3 a.m., a schedule she accepts without complaint.
"I'm the mom," she says.
Kari and her mother share laundry duties – three loads every other day. Judith Jackson does the grocery shopping and cooking.
And Kate Jackson, the fourth adult in the extended family household, helps with the babies and the care of her 20-month-old niece.
"It's a good balance," says Kari, adding that she sleeps during her mother's shift.
She says she also gets a break on Tuesdays and Thursdays when her mother-in-law and mother share baby care during the day, giving her time to nap.
For the most part, family members get enough rest. But given their shared passion for reality TV shows, the four adults sometimes stay up late watching their favorite programs and paying for the lost sleep the next day.
"We're a calm family and it works," says Kari. "We groove very well together."