Spanish-language paper finds a home in region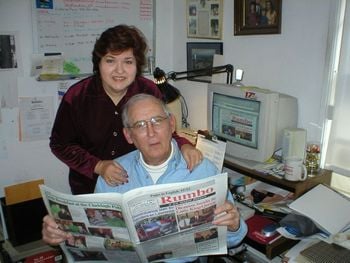 It's safe to say that there are few newspapers in northern New England quite like Rumbo, the free weekly newspaper for the Spanish-speaking population up and down the Merrimack River Valley, from Lawrence, Mass., through Nashua and as far north as Manchester.
Published mostly in Spanish with English sections included on a biweekly basis, Rumbo is a throwback, a newspaper that combines the latest of local soft and hard news. The eclectic content includes such things as releases from community groups, news stories about public official malfeasance in cities like Lawrence and Methuen, articles about securing government grants and a fund-raising visit by a major presidential candidate from the Dominican Republic — a trip covered by no Anglo publication, but of immense importance to the region's large Dominican population.
Rumbo, which translates as "direction," is based in Lawrence, the former mill city with a predominant Hispanic population (40,000 out of 70,000). The newspaper's editorial, advertising sales and circulation staff numbers two — they are the husband-and-wife team of Alberto Suris and Dalia Diaz, who run the whole show from their home and neither of whom knew a thing about running a newspaper when they started Rumbo in August 1996. But as Cuban emigres they wholeheartedly embraced the ideal of a free press — and the power of owning one.
"For years I'd complained to Alberto about how we couldn't get any of my press releases in the local paper or any good news or coverage" about the Spanish-speaking population, said Diaz recently in her editorial/advertising sales office, a small den off the living room of her house. "Finally he said I should stop talking and do something about it. So we started Rumbo."
Diaz is a former public relations specialist for the Lawrence School District and once the host of a Latin-American community weekly television show, "De Todo un Poco," on Channel 56 in Boston. She writes stories and composes the paper with PageMaker computer software and sells ads.
Suris is a retired banker (he worked for 24 years for Fleet Bank) who in addition to his circulation duties (it takes him two days to drop off 5,000 copies of Rumbo to its more 100 drop-off spots along the Merrimack River Valley), sells ads and writes stories.
Suris and Diaz started Rumbo as a part-time venture, but it has evolved into a full-time occupation and become profitable enough for each to draw a salary. The pair hasn't taken anything resembling a vacation in years, but say it fits in with their hefty work ethics (Diaz remembers when she was 16 working for $1.65 an hour as a shrimp sheller) and their passion for making sure the Latin-American community isn't neglected.
"Our focus is local, local, local," Diaz emphasizes. "For many people who read us, this is their only local news. They probably know more about what's happening in the Dominican or Puerto Rico than they do here."
It's not only Latin Americans but Anglos who read Rumbo, according to Diaz. "We could get far more advertising if we published more pages in English — and in fact we've been asked by some to print only in English. But then, it wouldn't be Rumbo."
Well received in N.H.
As it stands now, Rumbo garners advertising from banks, salons, health clinics, dentists, health food stores, auto dealerships, community groups and, in New Hampshire, from auto auction dealers and charitable organizations like the Salvation Army.
"We would like to do more, much more in New Hampshire because we never get any returns from Nashua and Manchester," Diaz says. "We would really like to find a bilingual reporter in New Hampshire because we know the readers are there."
One local observer says that more coverage by Rumbo in Nashua and Manchester would be a good development for the more than 30,000 Spanish-speaking residents in New Hampshire.
"The population is certainly large enough to support" more coverage, says Felix Torres, executive director of Manchester Neighborhood Housing Services. In Manchester, Torres says, the coverage of Hispanic community affairs by the local paper is "usually good. They cover cultural events fairly well and something like the closing of Jac Pac, which affected many workers … but the main obstacle is language, and a lot of the smaller-scale details aren't covered."
If Rumbo does expand its New Hampshire coverage, the small but growing Hispanic population would be informed and likely entertained by Rumbo's spicy brand of journalism. Diaz admits to causing headaches for local government and school officials with her coverage of issues ranging from school budgets to parking spot abuse around city hall in Lawrence. (Rumbo lost a distribution spot at local schools for "constant negativity" in its coverage, the superintendent wrote Diaz.)
Diaz says Rumbo lost advertising in Methuen when the paper's local affairs columnist provoked controversy by her coverage of "the stars of pork town, those bad boys and naughty girls, performing daily in the lovely confines of Methuen," as the columnist wrote.
"Some of it is tough but deserved. And we print commentaries from local people, anybody who wants to have a voice in our pages. We have a Marxist here who used to put their stuff in and I hated it, all of it, but we printed it because they are local, one of voices of the community," says Diaz.