Soldier takes long-distance chance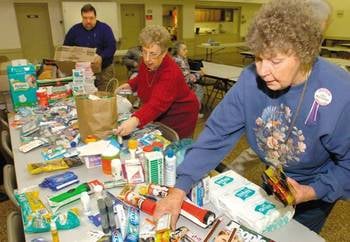 WILTON – Help sometimes comes from unexpected places, and this aid was from a long way away – Afghanistan.
Sgt. Lance Emond of Wilton, a member of the Army National Guard's 210th Engineering Detachment of Peterborough, has been in Afghanistan for almost a year.
Every week, his wife, Heidi, sends him a copy of the Monadnock Ledger. Recently an ad caught his eye: a raffle for a Mini Cooper convertible to support restorations at the Temple Town Hall. Two e-mails and a long-distance phone call later, Emond had a $100 raffle ticket.
"It may sound odd," Emond wrote in an e-mail to his wife, "but I just happened to see the ad in the Ledger."
Emond grew up in Greenville and, until last December, lived in Wilton. His wife is head fund-raiser for the 210th Engineering Detachment's Family Support Group.
"Our main fund-raiser is the yellow support ribbon magnets for the back of cars," Heidi Emond said. "Proceeds go to families here at home, or supplies for our men. We sent them some maple syrup and some waffle makers. And we're saving for a celebration when they come home."
The fund-raising efforts for the troops and the Town Hall are unrelated.
Heidi Emond said she had no clue as to when her husband's unit would return home.
According to Anne Lunt, a member of the Friends of the Temple Town Hall, the car being raffled is "a cheerful liquid yellow with five-speed manual transmission."
It is outfitted with 15-inch wheels, panther black upholstery with gray accents, a tilt steering wheel, a centrally mounted speedometer, air conditioning, a six-speaker stereo with CD changer, power windows, power locks, and power mirrors. The car has the same suspension as the current BMW 3 Series.
Should Emond win the car, his wife said, it will be waiting for him when he comes home.
"It's a five-speed and I don't drive a standard," she said. "I wouldn't want to try it out."
The car will be on display in Wilton on Sunday from 9 a.m.-3 p.m. in the parking lot on Main Street, and at the Amherst Wal-Mart on Thursday, Nov. 18, from 9 a.m.-3 p.m.
The drawing will be held on Friday, Nov. 19, at 7:30 p.m. No more than 500 tickets will be sold, and Lunt said the group has so far sold more than 300.
To purchase a ticket, call 878-1220. Visa and MasterCard are accepted.
The Friends of Temple Town Hall are raising funds to restore the 1842 Greek Revival Town Hall and return it to use as a community center. It was used as the town's main meeting place until population pressures forced the construction of a municipal building outside the village center.
Plans call for restoring the now-unused balcony, and adding to the rear of the building for a modern kitchen, updated bathrooms, a small meeting room, and storage space.
"It just needs help," Lunt said of the building. "It's shabby but it is structurally sound. We need to improve the acoustics (in the present meeting room) and make it what it used to be."