Social entrepreneurs sought for UNH business competition
First-ever Social Business Innovation Challenge will culminate in a keynote speech by Nobel laureate Muhammud Yunus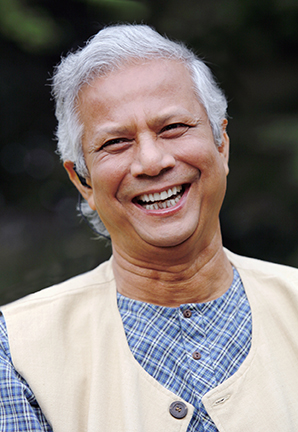 Have a business idea that you think could change the world, or at least New Hampshire, for the better?
The University of New Hampshire wants to hear about it, and if it's good enough, you just might take home a cash prize and an invitation to join the accelerator program at the New Hampshire Innovation Commercialization Center.
Oh, and Muhammud Yunus, the Nobel laureate who pioneered the microfinance industry, will present you with the award.
The Peter T. Paul College of Business & Economics and the Carsey Institute are hosting UNH's first-ever Social Business Innovation Challenge, as part of its statewide Social Business and Microfinance Forum to be held on Monday, Sept. 30. (Yunus is keynoting the forum.)
The challenge has two tracks: one for current New Hampshire college or university students, and one for New Hampshire residents who are, or aspire to be, social entrepreneurs.
The challenge asks participants to identify a social or environmental issue – whether at the state, national or global level – and develop a business-oriented approach to solving the problem. As a social business, it should aim to fund its operations and growth through earned revenues rather than donations, and have an objective that is primarily social, not financial. Submissions are welcomed from individuals or teams.
Deadline to register is Sept. 13, but final submissions are not due until Sept. 20. Participants do not need to submit detailed business plans, but rather proposals in the form of a three-minute video and a two-page paper.
Entrants should either be starting up a new enterprise or growing an existing social business, but submissions from existing businesses should either be in their early, formative stages, or should represent a new entrepreneurial initiative for the established business.
Finalists in each track will be notified by Sept. 25 whether they'll be moving on to the final competition. A final round of judging will be held on the morning of the forum, and Yunus will announce the winners during his keynote address.
The first-place winner of the community competition will take home $3,000 in cash, 100 hours of consulting from PixelMEDIA in Portsmouth, and six free months in the company accelerator program at the NH-ICC. The second-place winner will take home $2,000, and the third-place winner will get $1,000, though the cash prizes could end up totaling more thanks to a crowdfunding campaign that aims to raise another $5,000 for the challenge.
As of Wednesday afternoon, it had raised $2,350 toward its goal.
For more information, visit unh.edu/socialbusiness/social-business-innovation-challenge.