Snow, cold cause trouble in the region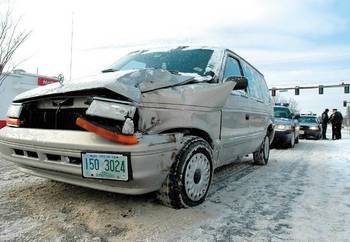 Although the season's biggest snowstorm may not have been powerful enough to leave a massive amount of snow in the region, it was strong enough to cause massive headaches for area travelers.
The storm, which began dropping snow in Nashua shortly before midnight Sunday – about 24 hours before the first day of winter – iced up roads throughout the region, causing numerous traffic accidents and even forcing state police to close a section of I-93 near Concord during the lunchtime hour.
The early morning commute on the F.E. Everett Turnpike, initially slowed by the snow, was made even slower when two cars collided on the southbound side near Exit 1.
The driver of one of the cars involved sustained minor injuries and was transported to a local hospital, according to Nashua fire officials.
The 11:45 a.m. closure of southbound I-93 near the area of Exit 19 due to road conditions was just one more event in a hectic morning for travelers and troopers statewide.
By 10:30 a.m., members of the department had already responded to 129 reports of motor vehicle crashes and cars off the road statewide, according to a statement from state police headquarters.
And although some local police departments reportedly experienced an easy morning, for others it was the same story.
In the Souhegan Valley, road conditions were reportedly treacherous. At one point, Route 13 near Purgatory Road in Mont Vernon was home to five stuck cars, each of which failed to make it up the notorious Mont Vernon hill.
Here, as elsewhere, dozens of minor accidents were reported.
Shortly after noon, Milford Officer Craig Frye blocked off North River Road near the town dump while a tow truck pulled a Chevrolet TrailBlazer away from a maple tree. The SUV had skidded while rounding a narrow curve, gone up on a stone wall and struck the tree. The driver wasn't injured.
Frye said it was the sixth accident he had worked since starting his shift at 7 a.m.
He agreed that at least part of the problem was first-storm driving errors, with people relearning their winter skills. He advised one driver to get "more aggressive tires" to deal with slick slush.
Aside from driver habits, Frye said there was another difference between a storm in December and one that comes deeper into winter
"In February there will be snow banks," he said, gesturing to the crumpled front bumper of the TrailBlazer.
The morning started off slowly for the Hudson Police Department with no accidents in the early morning.
That changed at 7:50 a.m. with the first of what would be 11 accidents that day, according to Capt. Ray Mello. Most of the accidents were cars off the roads, he said.
Mello cautioned that drivers should slow down, leave more distance between them and the other car and be careful on back roads, hills and curvy terrain.
In Amherst, Police Chief Gary MacGuire said the conditions were not too bad for the first snowstorm of the year. Although he was in meetings for most of the morning, he had only heard of one minor accident. Traffic volume was about the same as it normally is, he said.
"It wasn't a normal Monday, but it wasn't near as bad as you sometimes see in the first snowstorm of the year," MacGuire said.
Nashua police officials reported few accidents as well as a result of the storm.
Melody Christman, assistant manager at First Student, said things went "very, very well," considering the conditions.
The weather caused some area schools to begin 90-minutes later than usual, however by that time the snowfall had still not let up.
"Things just seemed to get worse. But that's a very difficult call to make," Christman said.
The bus company is working with several new drivers this year, but they performed well through the first storm of the season, she said. The company received only a few calls about late buses, and there were no accidents.
"All in all, it went very well," she said.
The mid-Atlantic storm blew onto land Sunday night bringing high levels of moisture to the region and in some cases rain, according to National Weather Service meteorologist Joe Dellicarpini and AccuWeather meteorologist Michael McAuliffe
Snowfall began at about 11 p.m. after that storm system mixed with the low temperatures from a strong cold front that had also blown into the area Sunday, Dellicarpini said.
The snow continued to fall throughout the night and into the mid-morning hours, accumulating to an average of 4 to 7 inches throughout southern New Hampshire, he said.
Wilton received 3.2 inches of snow throughout the storm, Nashua 2.6 inches, Hudson 2 inches, Dellicarpini said.
Bennington took the record for Hillsborough County with 6.5 inches of snow, according to McAuliffe.
Wind gusts throughout late Sunday and into Monday averaged at about 30 to 35 mph, and temperatures that remained in the teens throughout Monday were expected to drop throughout the night, reaching lows of about 5 degrees below zero before beginning to rise into the mid-30s by Tuesday afternoon, McAuliffe said.
Although temperatures in the region took a tumble throughout Sunday, both meteorologists said the area would be heating up considerably throughout the week.
"It is going to seem like a heat wave, said McAuliffe, adding that temperature highs for both Wednesday and Thursday were expected to be in the 50s.
The high temperatures would remain steady through Thursday night when rain showers were expected to begin, McAuliffe said.
Those showers were expected to continue through Christmas Eve morning when the temperatures were expected to drop into the 30s by midafternoon and into the teens that night.
"Christmas is going to be cold. No better than 25 degrees," McAuliffe said, adding that a developing storm system just southeast of Cape Cod meant a light-white Christmas was still a possibility.
"We will have to watch to see if it goes further out to sea," McAuliffe said.
"A little bit of snow can't be ruled out at this time."