SNHU incorporates real-life cybersecurity scenarios to evaluate students' skills
CYBRScore Labs provides a series of 30 scenarios integrated within three cybersecurity graduate-level courses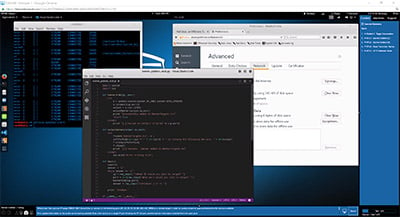 Command & Control Technologies group, an arm of Melville, N.Y.-based Comtech Telecommunications Corp., has partnered with Southern New Hampshire University to integrate Comtech's CYBRScore Lab solution within three courses in SNHU's Masters in Cybersecurity program.
Precisely measuring a students' hands on skills in cybersecurity is challenging. CYBRScore Labs are a hands-on solution powered by Comtech's patented PerformanScore dynamic scoring technology, which evaluates students' cybersecurity skills and abilities via quantifiable metrics.
Comtech provides a series of 30 cloud-based lab scenarios integrated within three core graduate level information security courses, including Network Assessment and Defense (IT-643), Investigation and Digital Forensics (ISE-640), and the Cyber Security Capstone (ISE-690). All labs are conducted in a virtualized environment that features real networks, real machines, real tools and real-world scenarios. Each lab scenario lasts from 30-60 minutes.
"We are thrilled to partner with Comtech to integrate their CYBRScore lab solution within our cyber security program," said Scott Overmyer, assistant executive director, academic STEM programs, Southern New Hampshire University. "We are measuring real-time competency and gaining never-before-seen insights to understand exactly where students need to improve their cybersecurity skills."
"Leveraging CYBRScore Labs, universities are able to enhance both their cyber security degree and certificate programs and, at the same time, build practical hands-on competency that increase a student's job market readiness," said Fred Kornberg, president and CEO of Comtech Telecommunications Corp.