Smuttynose Brewing Company complex certified LEED Gold
McHenry Architecture was lead architect on the project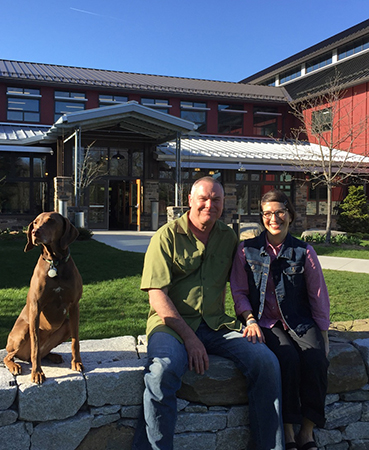 Smuttynose Brewing Company's Hampton headquarters has been certified as LEED Gold, making it the second brewery in the United States and the third industrial facility in New Hampshire to attain the certification.
LEED (Leadership in Energy and Environmental Design) is a worldwide green building standard and accreditation program administered by the U.S. Green Building Council that creates benchmarks and criteria for environmentally responsible construction and operation of buildings.
"With climate change increasingly threatening the agricultural regions where malt and hops are grown, I knew it was important to make as many environmentally-considerate choices in building our new home in Hampton," said Joanne Francis, Smuttynose's creative director and co-owner. "The decision to pursue LEED made the process more involved and more difficult in some places, but it put us in a much better position for longer term operations. One place we can't and won't cut corners is in our process and ingredients."
McHenry Architecture of Portsmouth was the lead architect on the project. The complex was completed in 2014.
"LEED certification is an integrative process and our role was to conduct the symphony of designers and contractors," said Jeremiah Johnson, senior associate at McHenry. "The evaluation process is comprehensive and examines a tremendous amount of factors from site selection and development, quality of construction, evaluations of construction supply chain and practices to less obvious aspects like the health and comfort of the building's occupants."
He said the project review documentation consisted of over 2,000 pages of quantitative data, certifications, schematics and other supporting documents and took 12 months to review.
Among the factors were:
• A tight building envelope and strategic over-insulation in building panels helps keep consistent internal temperature, reducing environmental heating and cooling needs
• Trees cut down from the site during construction were milled and turned into table for Hayseed, the brewery's on-site restaurant.
• Installation of a multi-zone, short-cycle on-demand LED lighting system reduces electrical draw for interior illumination
• 21.5 percent of construction materials were sourced from a 500-mile radius, including wooden timbers, concrete, and granite rocks
• 89.3 percent of construction waste was diverted from landfills
• 30.4 percent water use reduction
• Rain gardens and bio-retention areas control stormwater run-off
• 74 percent of all the wood used is sourced from sustainable forests.