'Small' Micronetics is making waves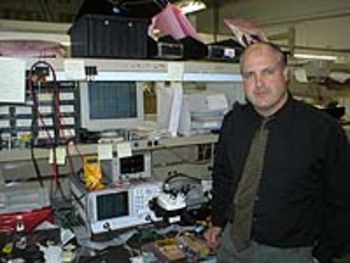 When Forbes magazine ranked Hudson-based Micronetics as No. 55 on its Oct. 28 list of "200 Best Small Companies," it was a "bittersweet moment," says David Robbins, Micronetics' chief executive officer.
Bittersweet because the Forbes recognition came but weeks after Richard Kalin, the previous CEO and president, was killed in an automobile accident. "Richard Kalin really would have liked to see Micronetics on that list," said Kalin. "He was the driving force behind growth when we were struggling to make this business philosophy work."
The "business philosophy" Robbins cites has propelled this small, public company (Nasdaq: NOIZ) to more than $11 million in annual sales and mid-sized stature in the highly competitive RF (radio frequency) microwave industry. Micronetics designs and creates RF components, integrated subassemblies and test equipment used in a variety of defense, aerospace and commercial applications. (Robbins says the breakdown is about 60 percent defense-related and 40 percent commercial.)
As he gave a recent tour at the firm's headquarters in Hudson, Robbins gave a layperson's breakdown of the products Micronetics produces.
"The components we make link the antenna to the digital world. For example, we are making components for AeroSat, a local company making satellite TV antennas for use on airplanes. Our components link the antenna to the set-top converter box. For the military, our components are used in radar systems used to guide weapons as well as fighter self-protection systems that jam enemy radar. Our specialty is high power components and components that generate electronic noise."
Financial savvy
Micronetics provides subcontracting support for such companies as Raytheon, Northrup Grumman and ITT. And Robbins — who has been with the company since following it from New Jersey in 1988 (it took over the former New England Microwave) — points out that Micronetics components can be found on a variety of military aircraft, including the F-14, F-15, F-16, F/A-18, F-22 and Eurofighter.
The company has about 100 employees — 50 in Hudson and others in branch facilities in Massachusetts, New Jersey and Connecticut. These branch operations were the result of acquisitions made over the past five years of companies specializing in particular facets of the RF microwave industry.
Though its sales are relatively small compared to many other up-and-coming Forbes "Best Small Companies," Micronetics' overall financial strength garnered notice. Its market valuation is $26 million, earnings per share rose by 100 percent and sales grew by 39 percent over the previous five years. Robbins says that increased the consolidation of acquisitions, increased defense contracts and product innovations provided the recent growth figures.
But the company also has a reputation for financial savvy — in part, Robbins explains, due to an unorthodox move made by Kalin during the last burst the of tech bubble in 2000. Micronetics' stock price shot up and its valuation reached atmospheric levels that Robbins says the company could not have sustained. Kalin sent out a letter to investors stating that Micronetics' stock was overvalued. The stock returned to saner levels and investors were spared the shock of a stock price collapse.
Entrepreneurial drive
As for the company's "business philosophy," Robbins says, the key to its current and future success is a decentralized, entrepreneurial emphasis.
"We are organized into separate business units, each with its own profit/loss (standard). This gives opportunities at leadership roles that (workers) otherwise would not get. For a small company, we spend a lot on leadership training."
The entrepreneurial drive extends to a surprising level. "We encourage employees to leave and start their own businesses," Robbins says. "We do this because Micronetics is there to give them their first orders. It's not just our own employees. In a couple of cases we heard that someone had hung out their shingle because the company they were working for shut down, and we jumped on the opportunity to give them business. We now have very close relationships with these businesses, so we refer to them as manufacturing partners."
In an industry that he believes will consolidate into a few major players, Robbins predicts Micronetics won't be able to survive as a middle-of-the-pack company. "We will have to be bigger to handle larger contracts from fewer vendors."
But for today, the engineer and CEO roles Robbins inhabits are a good fit. "These are fun times to be in a small-growth company. In general, it seems the future is away from traditional thoughts of business. It's not about brick and mortar or start times or thick employee handbooks or punching the clock. It's about giving flexibility to the employee, and the reward is more productivity. Small groups of people, maybe 10 to 20 people, can accomplish amazing things."