Small employers hammered by health insurance law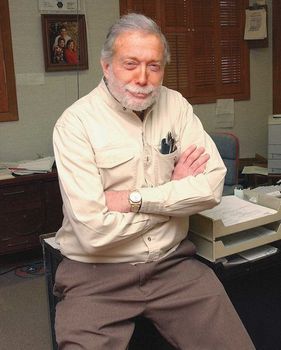 Rich Krasnow blames himself for the 50 percent increase in health insurance premiums at his company, Payroll Matters in Manchester.
Krasnow has only seven employees — clerical workers who are young and healthy. Under a new state law that went into effect on Jan. 1, insurance companies can now take medical history into account, as well as age, occupation and location — all factors that would seem to favor Payroll Matters.
The problem is that Krasnow, the 48-year-old owner of the firm, has Crohn's Disease, a liver condition that requires medication and occasional surgery. Thanks to the new law — and because the Payroll Matters group is so small — Krasnow's condition increases the premium for everyone in the group.
"I'm the culprit," said Krasnow. "I'm the bad guy on this. I can't help it, but my employees are getting hit because of me."
Krasnow's tale is not the norm, but it is not so out of the ordinary either. While it's far too early to reach any conclusion about its overall effects, the first few weeks under the law — known as Senate Bill 110 — have raised some troubling issues.
Interviews with insurers and retailers reveal that, for a small percentage of businesses — ranging from a tenth to a third — rates have gone down or remained the same. However, most businesses have seen their rates increase by double digits, and a substantial chunk have seen increases of over 20 percent.
No one seriously thought that SB 110 would bring down insurance rates, but there was the hope that it would slow down the increase. Instead, the average burden on small business continues to grow rapidly, with the particular costs shifting to the backs of those small groups with individuals who need health insurance the most.
And things will probably get worse before — or if — they get better.
First, many small businesses with employees who have medical problems — those whose rates are expected to climb the steepest in January — renewed their insurance plans in December before the new law took effect. For instance, Anthem reports 200 such early renewals. But next year, those businesses won't have that luxury and could experience even higher increases.
Second, some protections limiting the size of those increases will expire at the end of next year, and all such limitation will disappear entirely in by 2006.
Finally, real competition, which was supposed to drive down the cost of insurance, has not yet materialized. And it's unclear whether competition will lower rates very much in any case.
Why the change?
The problems that SB 110 raise are not unique to New Hampshire. What is unique was the system that New Hampshire had for nearly a decade before SB 110 was instituted: community rating.
That health reform forced any insurer that offered insurance to one small business to offer it to all small businesses (defined as having between one and 100 employees) at essentially the same rate. Insurers were able to take age into consideration, but even that was limited as a factor. They could not take experience into consideration, or location, or occupation, or the size of the group.
The idea, said proponents, was to spread the risk around, which is what insurance is all about. The problem, said opponents, is that assessing risk is what insurance is all about, and many left the state, leaving the state with three major insurers.
Supporters of community rating argued that premiums were on the rise all over the place, and that insurers were fleeing from small rural markets like New Hampshire anyway. But such arguments were drowned out in the relentless chorus for competition. Once Gov. Jeanne Shaheen — one of the architects of community rating — was out of the State House, community rating's days were numbered.
Under SB 110, health insurers must still cover all small businesses (now defined as up to 50 employees) if they cover one, but insurers can charge vastly different amounts, depending on experience, location, occupation and size of group.
Furthermore, age differentials are weighted more heavily, which means that an older group's rates could be four times the amount of a younger group.
The law offers some initial protections against premium shock, but the protections are thin. Premiums can only rise 15 percent a year because of health experience and no more than 25 percent a year with all other new factors. But that 25 percent limit does not include age, nor other factors that face everyone such as "cost and utilization trends" (translated: the rising cost of health care.) So in reality, rates can go up much higher than 25 percent, and have.
Making matters worse, the 25 percent cap expires on Jan. 1, 2005, although the limitation doesn't apply altogether for those who take advantage of competition and go with a new carrier. Nor does it apply to groups between 50 and 100 people.
Winners and losers
Of course, some companies are faring rather well under the new law.
At Coreflex, health insurance rates increased by only 3.9 percent this year. While that doesn't offset the increases it experienced a few years ago, "things have normalized for us," said CEO Michael Connors.
That's because, Connors said, "in the last three years we haven't had a real catastrophic injury."
It also could be that the group is relatively large — 26 employees — so any illness gets spread out.
For one Nashua manufacturer with young healthy, workers rates have gone down by as much as 20 percent, said Ray White, a Manchester insurance agent who supported the law. "It's like being self-funded," he said.
On the whole, White would grade the reform a "B or a C+ É not the catastrophe everyone predicted, but not the be-all and end-all."
But a lot of his business customers are "getting whacked," White said. "For them the law didn't work."
Several of his customers — most of them small groups with one or two employees — have been hit with 50 percent increases. "Every once in a while, you will get a real meltdown," said Connors.
After Krasnow, of Payroll Matters, learned of his increase he could have passed on the increased cost caused by his medical condition to his employees, but he swallowed almost all of the increase himself.
"I have no control over it, but it affects innocent people. It's unfair that they should be hurt," he said.
He said the extra cost, "is a drain on my business. Will it drive me out of business? If these increases, keep up, maybe at some point they will."
What happened at New Age Software Service Corp., a Hampstead firm of six people, might be called a partial meltdown.
Rates went up more than 30 percent because of the employer's medical history, or rather that of his wife, who had a baby and a related surgical procedure.
"I never thought that starting a family is considered high risk," said Tim O'Donohue, New Age's president.
That risk caused the entire group's rates to go up. Even though O'Donohue was willing to chip in half, the employees decided they couldn't afford it and declined coverage.
"I think 'reform' is the wrong word to use," he said. "This doesn't solve a problem. It creates more of a burden for small-business owners."
"Right now we are in a tailspin," said Norm Sedgley founder of Managed Health Concepts of Tilton, another agent who supported the reform. "The hope is that we would have more competition."
Without such competition, Sedgley thinks that, on average, rates for small companies will increase if only because the size of a maximum group covered under the law went down from more than 100 to under 50.
"If you have fewer bodies to spread the risk, and less people to claim the claims, it has to translate to higher rates down the road," he said.
But thus far insurers haven't been rushing back into the state. Aetna, for instance, will not be entering the small group market in a big way. And Tufts Health Plan and Oxford Health Plans' marketing departments wouldn't even return phone messages asking if they were planning to return to the Granite State.
Complicated issue
Even if the competition does arrive, the focus might be on competition for the best and healthiest groups. While the law states that insurers must cover everyone, it doesn't mean they have to market to everyone, or that they have to offer an insurance product that will appeal to small groups with a bad medical history.
"You will have these groups scurry around to meet the new rules and to cherry-pick the new groups. Everybody is going to try to get a good group," Sedgley said.
Already that appears to be happening. The first insurer that has returned to the New Hampshire market is Fortis Health, which offers a high-deductible plan designed to bring down the size of premiums. That will mean most routine medical costs will come out of an employee's pocket. That's fine for those who don't have such medical costs but who want to be covered in case of a catastrophe.
Such plans weren't competitive in the past because "the richer benefits had been the only choice," said Tom Murtagh, manager-agent at Atlantic Plans and a leader in the effort to pass SB110.
But those who are in poor health might need those richer benefits, and now that their premiums are rising so high they might consider such a plan, said Sean Lynch, district manager of the John Alden Plan, one of the plans offered by Fortis.
Aside from Fortis and some relatively small companies, only MVP Health has expressed interest in entering the market, according to the state Insurance Department.
But MVP, a company based in Schenectady that offers rural plans in upstate New York and Vermont to a half-million subscribers would have come anyway, said MVP spokesman Scott Averill.
"It was just the next logical step in the growth of our company. We have a niche in the rural health care market, and New Hampshire fits into that. We were coming before we knew of the new law," Averill said.
Indeed, MVP now will have to shift focus. It was planning to offer a health plan to all small groups. Now it will aim for those larger groups and wait to see what happens under the new law.
"We think a shakeout is under way," Averill said.
While Averill will offer another alternative to Anthem, he cautioned against expecting that such competition will lead to lower rates.
"The fundamental flaw is there isn't enough provider competition. If health-care costs are high, we can't print money. We are not going to buy business and be foolish about our pricing, and have to leave like Tufts did. You can't just have competition among insurers and expect things to change. You need competition across the board," he said.
His views were echoed by Tom Harte, president of Landmark Benefits Inc. in Hampstead
"The reason health insurance is expensive is because health care is expensive," he said.
Pinning down the real reasons behind an increase in health care premiums is a tricky business. Take Tech NH in Merrimack. The company's premiums rose 18.5 percent under the new law. Ironically, Tech NH mostly manufactures products for the medical industry.
"We know what we sell those parts for, and we look at the margins we make on them and then we see how much they [providers] charge [insurers] for them," said Pamela Young, the company's CFO. "And I think: How do they get away with that?"