Small businesses find power in co-op numbers
Membership organizations offer 'empowerment and hope'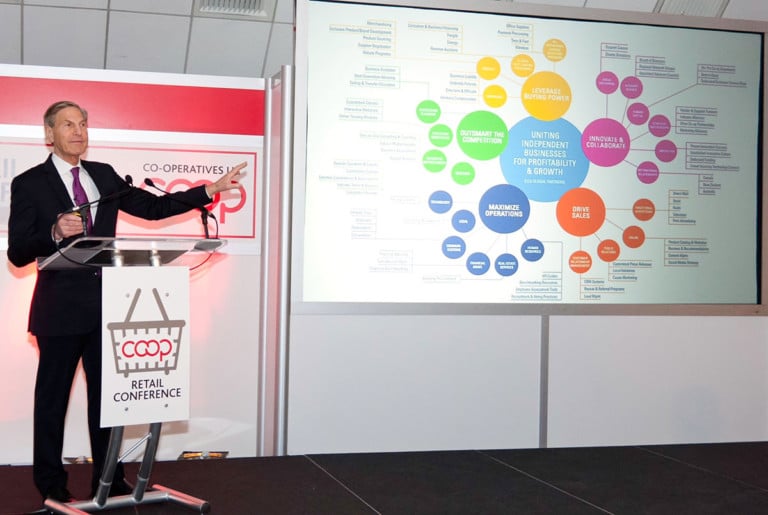 Howard Brodsky, co-founder of CCA Global Partners (Courtesy photo)
Housed in the Manchester Millyard are the offices of a $10.6 billion international cooperative, the second largest company in the Granite State in terms of sales.
CCA Global Partners oversees a complex empire of 14,000 business members and affiliates, ranging from carpet stores to bike shops to day care centers. Its chairman, Manchester native Howard Brodsky, co-founded CCA, "yet I don't own a single share," he said.
When Brodsky and his late co-founder, Alan Greenberg, launched CCA in 1984 as a cooperative of some 13 Carpet One stores.
"We were the first one to co-op the floor industry," said Brodsky proudly.
Of course, there had been other large retail buyer co-ops before, dating back to the 1934 founding of the Grange, which helped struggling farmers unite to compete better by buying in bulk and bringing produce to market, as well as sharing other services.
CCA's real innovation came later, when it acquired International Design Guild (IDG) in 1995, Flooring America at the turn of the century and then moved into bicycles and day care centers.
While the Carpet One co-op grew from 13 to thousands of stores, the number of co-ops under the CCA umbrella grew from one to 13.
"Our model is unique because it services multiple industries," Brodsky said.
The setup is a bit complicated. The carpet stores own CCA, which in turn invested in other co-ops, which pay a fee to the parent. But each of these co-ops is owned by their members and elect separate boards.
Similar industries are grouped together. For instance, Keith Spano oversees Flooring America and Flooring Canada (500 locations — eight in New Hampshire), as well as IDG (81 stores) and The Floor Trader (31 outlets with two more possibly in the works in New Hampshire).
The division has launched a startup called Drive, a non-co-op subsidiary, which helps stores increase sales by using big data, giving the salesperson a heads up on what a customer may be looking for.
From flooring to bikes
That's not the only glue that holds the different stores together. The Flooring America stores cooperate even though they are often at a competitive distance. There are stores in West Lebanon, Newport and Belmont, for instance, as well as in Hudson, Nashua, Bedford, Plaistow and Hooksett.
Ed Cross, owner of Ed's Flooring America, is a member of the Flooring America co-op, under the CCA Global Partners umbrella. (Photo by Karen Bachelder)
Ed Cross, who owns the latter two stores and a warehouse that total at 20,000 square feet, said that working together through the co-op spills over into referrals and camaraderie.
"That's one of the biggest benefits," said Cross. "Before I had only 'Ed's world' and Ed didn't know what was going on all around him. Now I share ideas to make a better company. And if I'm short on something, I can get it from another store."
CCA's bike cooperative, which started in 2003, perhaps deviates most from the home and construction industry model CCA usually caters to.
The 300-member cooperative (with one store — Papa Wheelies Bicycle Shop of Portsmouth — in New Hampshire) works differently from Flooring America. Co-op members are not buying a name, said Carl Michelakos, vice president of operations. They are too fiercely independent for that. Instead, they are buying better rates on bike parts and back-end equipment, marketing services and financing, as well as ownership.
And all for $300 a month.
"It's lower than some people's cable bill," said Michelakos.
Michelakos also oversees Sports Retail Services, which services some 200 independent ski, fitness and outdoors retail stores. It's not a co-op, but a membership service organization.
CCA also has a number of other membership organizations that offer bulk buying and other services, including BizUnite, which helps companies save on such things as credit card processing fees, shipping, office supplies, fleet management and wireless services. It also has a nonprofit arm, CCA for Social Good, which does the same.
Hardware and groceries
CCA for Social Good's biggest division is ECE (Early Child Education) Shared Resources, which provides services for a fee to some 10,000 child care centers, with savings on educational supplies, bulk food buying and payroll processing. There is also a web platform that provides materials for assessment, curriculum literacy and other teacher resources.
CCA has also started a co-op support and advocacy group called Cooperatives for a Better World, one of a growing list of co-op advocacy organizations, including the regional Cooperative Development Institute (a New England consulting organization), the Cooperative Fund of New England (which fills funding gaps for co-ops), the Neighboring Food Co-op Association and the National Cooperative Business Association.
For Brodsky, the growth in co-ops has been, and is currently, a response to an economic system that seems increasingly out of the control of the average consumer and worker.
"The inequality in the country and increasing consolidation make it more and more difficult for smaller businesses to be independent and thrive by themselves," Brodsky said. "Co-ops provide a sense of empowerment and ownership and hope. It's a very old model, but it's now being built for the future."
One of the board members of Cooperatives for a Better World is the CEO of Ace Hardware, which is based in Oakbrook, Ill., but has 15 member stores in the Granite State. Ace ended last year with $5.1 billion in revenue nationally.
Ace isn't the only hardware co-op operating in New Hampshire. In fact, True Value has twice as many member stores. Nationally, its revenues were $1.5 billion last year.
"We give them the ability and the guidance to compete with the Home Depots, Lowes and even Amazon," said Bruce Carrozzi, divisional vice president of retail growth at True Value.
For instance, True Value developed a website that allows people to purchase products online and either pick them up for free at the local store or pay for shipping.
"Eighty percent of them go to the store, so the store gets that profit, and besides, it drives the consumer there, so they might pick up something else," Carrozzi said.
Food is more perishable than hardware, so those co-ops tend to be regional rather than national.
The central New Hampshire town of Pembroke is home to Associated Grocers of New England, which started in 1946 as New Hampshire Wholesale Grocers in Concord. Now its roster of independent grocery and convenience stores stretches down to northeast Maryland and as far west as Albany, N.Y.
The association, which has sales of about $500 million ($100 million in New Hampshire), employs 390 at its headquarters and 380,000-square-foot distribution facility in Pembroke. It primarily buys wholesale and distributes to some 600 stores. Some are member owners, such as EM Heath Supermarket in Center Harbor, Bunny's Superette in Manchester and Patch's Market in Glen. Others, like Sully's Superette in Goffstown and Allenstown and Vista Foods in Laconia, are owned by the cooperative.
In New Hampshire the company services some 49 supermarkets and superettes (all but five are members) and 80 convenience stores (a quarter of whom are members), said AGNE CEO Michael Violette. The company's latest expansion, in 2014, allowed AGNE to add more products in smaller packages, which helps with slower-moving but growing niche products like organic and prepared foods
NH Electric Co-Op
Usually most members voluntarily join a co-op. That's not the case for the 84,000 member-owners of the New Hampshire Electric Cooperative, a utility based in Plymouth that serves parts or all of 115 municipalities, from Derry to the White Mountains. In terms of sheer membership, it is the largest co-op in the state that is not a credit union.
Steve Camerino, CEO of the New Hampshire Electric Cooperative
It is also one of the oldest, dating back to 1939, three years after Congress passed the Rural Electrification Act to bring power to areas not served by the private market. NHEC, like any utility, is a monopoly in the areas it serves. While companies and individuals can get their power elsewhere, they buy about $130 million worth from the co-op. And they must purchase their distribution and transmission services from the co-op, unless they completely leave the grid.
"That makes us different from a traditional co-op," said CEO Steve Camerino.
Once customers sign up for service they also become members, with an equal vote in electing the co-op's board of directors that Camerino answers to, no matter how large or small a user they are.
"It is a challenge" to get people to participate, Camerino said. Fewer than 10,000 actually vote and only about 150 actually show up to the annual meeting.
But while many consumers may not appreciate the cooperative form, the workers are very aware of it, Camerino said.
"The employees have a clear understanding that they are serving the owners of the company, and I think most customers notice that in the way they interact with them," he said.