Slow recovery seen as June foreclosures drop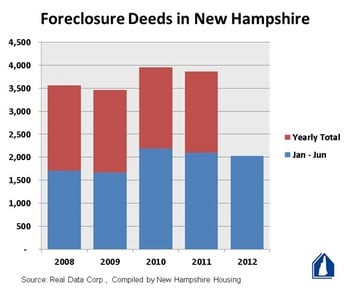 Foreclosures continued to slow down in New Hampshire in June, dropping from both the previous month and the same month last year, but they are still near the record-high numbers of the last several years.
According to the New Hampshire Housing Finance Authority, there were 331 foreclosure deeds recorded in the state in June. That's a 3 percent decrease from June 2011, when there were 343, and a 6 percent decline from May, when there were 351 deeds recorded.
The cumulative total through the first half of the year — 2,029 foreclosure deeds — is about 3 percent below the same period in 2011, when there were 2,100, and 7 percent below the same period in 2010, when there were 2,188.The update "shows the continuation of what appears to be a long, slow improvement in the state's delinquencies and foreclosures," the authority said.
"Barring disruptions in the economic recovery, there is reason to believe the number of new foreclosures in New Hampshire will continue to decline," said the authority. Still, it warned that "the pace of improvement in foreclosures will be slow.
"Meanwhile, the number of foreclosure action notices — an up-to-date indicator of the number of households that have fallen seriously behind in mortgage payments — are also on the decline. In June, there were 562 foreclosure auction notices — a 15 percent decrease from the 663 in May and a 9.5 decrease from June 2011.Cumulatively for the year through June, there have been about 6 percent fewer notices than there were at the same time last year.