Ski industry outlook is good this season
Travel and tourism levels are back to, if not better than, pre-pandemic levels
State Tourism Director Lori Harnois has told members of the state's ski industry to expect more visitors and spending this winter.
Speaking at a Dec. 2 event held by Ski NH — the industry's trade association — Harnois said her department's research shows the state has recovered from the worst of the pandemic and that travel and tourism business levels are either back at the levels of the 2019 winter season or actually have exceeded that.
She said the state is anticipating 2.9 million visitors this winter season and continued growth in spending with estimates of $1.3 billion for the season.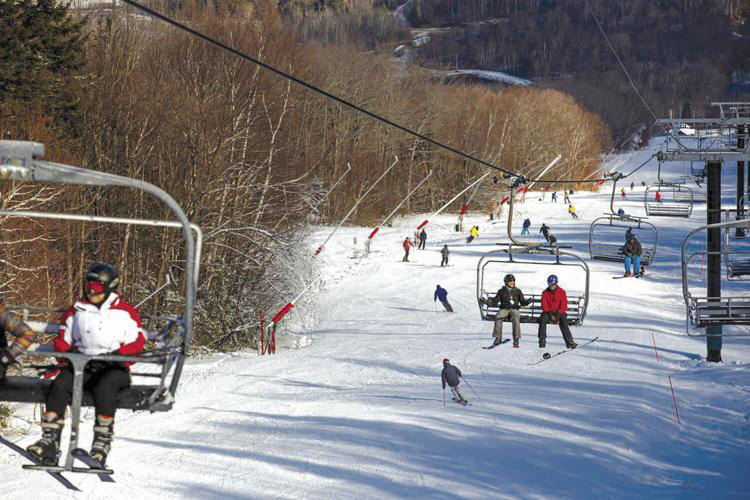 Skiers at Bretton Woods on Nov. 19, opening day for the season
"We are very excited for the winter season," Harnois said, noting that tourism is the second largest sector of the state's economy.
Harnois noted that the state is again partnering with the industry for an advertising campaign that will highlight the state as the adventure destination for New England.
In terms of the target audiences, the state is going after a northeast market and southern Quebec and has advertisements placed for the New York City audiences, and at the New England Aquarium in Boston.
Meanwhile, the price of same-day adult lift tickets for Cannon will increase by $5 for both adults and seniors this ski season, after approval by the Joint Legislative Fiscal Committee.
The department had proposed a $15 increase for one-day senior ski lift tickets. But some committee members balked at that request over concerns of raising rates too dramatically and deterring tourism.
One-day adult tickets will now cost $94 online, or $104 if purchased at the mountain. Wednesday tickets for New Hampshire residents will stay the same price: $45 online or $55 at the window. And New Hampshire state employees can purchase same-day tickets for $52 or buy them online for $47.