Six nonprofits vie for community-funded makeover
Building on Hope to make decision for 2016 renovations in April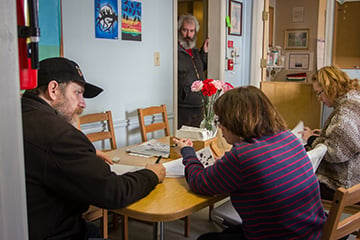 Building On Hope, the New Hampshire-based volunteer organization that has completed $800,000 in community-funded renovations for area nonprofits in the past six years, has selected six finalists that will vie for the opportunity to become the organization's next makeover project in spring 2016.
The organization, after making site visits earlier this month, will choose one of the nonprofits for a New Hampshire version of "Extreme Makeover."
The candidates are:
• Child and Family Services of Concord, is seeking renovation of a duplex home at 14-16 Perley St. in Concord's south end that has been home to 81 homeless youth in the past 14 years.
• Mental Health Center of Greater Manchester, is seeking renovations to its 16-room, single-occupancy home for men and women with severe and persistent mental illness at 323 Manchester St., Street that has been home to nearly 200 individuals since 1982.
• Manchester Police Athletic League is requesting support for renovations to the Michael Briggs Community Center at 409 Beech St. in Manchester – a 105-year-old structure where youth come daily to participate in a wide range of activities.
• Merrimack Valley Day Care of Concord is seeking renovation of its Fruit Street location to ensure future success as a child care facility – specifically, updates ranging from new boilers to roof replacement and ADA compliance.
• Greater Nashua Mental Health Center is seeking help in renovation of The Child and Adolescent Department located at 15 Prospect St. in downtown Nashua – a 19th century building that has fallen into disrepair.
• Family Promise of Greater Nashua at Anne-Marie House, which supports the needs of families experiencing homelessness, has a 17,000-square-foot dormitory that has not been renovated since 1983.
"The structures and facilities of service groups are more than just buildings. They are like homes where lives are changed and hearts are mended or strengthened," said Building On Hope co-chair Karen Van Der Beken. "By enhancing those locations we help these vital organizations in their work and bring renewed hope to their efforts. The benefits are far-ranging, helping not only the people being served by the non-profit, but also empowering and inspiring workers, volunteers of the groups and the communities around them."
The organization will review formal applications and make a selection. The winning nonprofit will be selected by late April.