Six N.H. businesses file for bankruptcy in February
But total monthly filings lowest in 25 years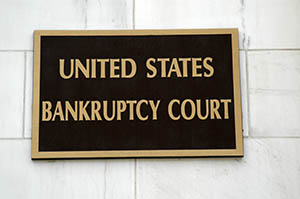 The number of New Hampshire bankruptcy filings continued at historic lows in February.
According to bankruptcy court figures, 163 households and businesses filed for bankruptcy protection, the lowest February number and the third lowest of any month filed in the last quarter of a century, unless you count 2006, the year after bankruptcy law changed and made it more difficult to file. That year, there were 155 filings in January and 157 in August.
Before that, you have to go back the beginning of 1990, when 135 and 148 were filed, in January and February respectively.
There were eight more filings in February 2015 than in January and 33 fewer (17 percent), than February of 2014.
All told, six of the filings related to a recently troubled business. One filed as a business, but five households filed with recent business-related debt. As in past practice, NHBR will list the related businesses, but not the individual. It is possible that some of the companies listed are still in business:
• Bill Powers Painting, Rochester, filed Feb. 4, Chapter 7. Assets: $263,616. Liabilities: $302,241.
• Revolution Tuning Services, Hampstead, filed Feb. 4, Chapter 7. Assets: $6,085. Liabilities: $93,315.
• G Bosworth Mechanical, Raymond, filed Feb. 4, Chapter 13. Assets: $296,185. Liabilities: $184,914
• Brooks Real Estate Services, Londonderry, filed Feb. 25, Chapter 7. Assets: $266,426. Liabilities: $537,774.
• Sandogardy Floral Design/Gifts, Tilton, filed Feb. 26, Chapter 7. Assets: $$154,297. Liabilities: $207,565.
• Sanza LLC, Dover, filed Feb. 27, Chapter 11. Assets and liabilities: $100,000 to $500,000 (Business filing).